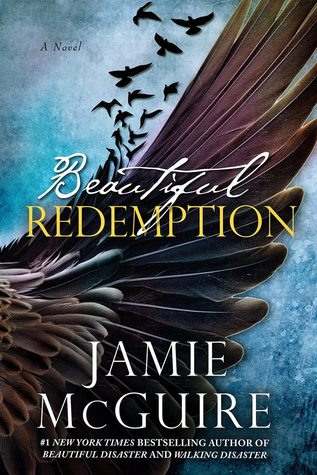 Beautiful Redemption

by Jamie McGuire
on January 27, 2015
Buy on Amazon
Goodreads


If A Maddox boy falls in love, he loves forever. But what if he didn't love you, first?

No-nonsense Liis Lindy is an agent of the FBI. Deciding she is married only to her job, she breaks off her engagement and transfers from Chicago to the field office in San Diego. She loves her desk. She is committed to her laptop. She dreams of promotions and shaking hands with the director after cracking an impossible case.

Special Agent in Charge Thomas Maddox is arrogant, unforgiving, and ruthless. He is tasked with putting away some of the world's toughest criminals, and he is one of the best the Bureau has to offer. Though, as many lives as he's saved, there is one that is beyond his reach. Younger brother Travis is faced with prison time for his involvement in a basement fire that killed dozens of college students, and the media want a conviction. Travis's only savior is his unusual tie to the mob. In a deal that will spare his brother, Thomas has agreed to recruit Travis into the FBI.

Liis is stubborn, defiant, and yet somehow softens Thomas's rough edges, making her the perfect agent to accompany him to the ceremony. Posing as a couple, they must travel to Travis & Abby's beach vow renewal and give him the news, but when the pretending ends, she finds herself wondering if they were pretending at all.

In the second installment of the Maddox Brothers books, experience firsthand the mysterious world of the elusive Thomas Maddox, and how good love can be when you're not the first, but the last.

Our Dual 4 STAR Review!!
Christine: WOW! What an intro to meeting Thomas Maddox! *fans self* I fell in love as soon as we met him in Chapter 1!
Denise: I do not recommend reading this one unless you have read Beautiful Disaster, Walking Disaster and Beautiful Oblivion. I know that sounds like a lot of books but it is truly the best way to appreciate this layered story.
Denise: FBI Agent Liis Lindy and Special Agent in Charge Thomas Maddox make one hell of a pair! They truly understand each other, they understand their drive to be successful and their dedication to their jobs.
Much of the story in Beautiful Redemption revolves around the trouble Travis Maddox got himself into in Beautiful Disaster (it is also woven into Walking Disaster and the end of WD ties into the end of this one). Also the heartbreak Thomas experiences in Beautiful Oblivion is a central part of this book.  If you have not read these books, go download some great reads, find a quiet place and come meet the Maddox boys!
From the moment Thomas and Liis connect it is clear these two have an attraction like nothing neither had felt before.
I loved that Liis was smart, and strong and was the top of her profession! I also loved the she is the best in her field and it is why Thomas brought her into his unit.
Christine: Liis has a no nonsense attitude. She is feisty and strong. But can an attempt at a coworkers only relationship work when the attraction between Liis and Thomas is instant and undeniable? Both characters having their own pasts, their own baggage and married to their jobs. What I enjoyed about their push and pull dynamic is that they both challenged each other; forced each other to look within themselves to admit truths about themselves and their feelings to move forward both personally and professionally.
Denise: Thomas' work to save Travis has them at Abby and Travis' vow renewal posing as a couple and puts Liis in the face of danger.
Christine: I enjoyed seeing Abby and Travis again; being able to feel their love and devotion to each other. There were scenes between Thomas and Liis that were so heartfelt and sweet that I couldn't help but want more for them.
Denise: There were times during reading this book that I hated that I needed to put it down to attend to life as I truly wanted to see how Thomas and Liis worked out their problems both at work and with the back story both bring to this relationship.
Christine: I so agree Denise! Thomas may be my fave Maddox brother to date though there will always be a special place in my heart for Travis. Thomas had the ability to truly make Liis feel which was so out of place for Liis' controlled character. He is exactly what she needed in her life. Thomas had some of the most romantic quotes that really made my heart swoon…
Denise: In the end, the happy they found had me smiling and wishing I could see just a bit more of happy Thomas and Liis!
Christine: I SO AGREE! I completely enjoyed the epilogue and had a smile on my face from cheek to cheek though like you, I wish I had more time to see them together as a couple.
Christine: There were a couple of things that I would have wanted to see included in this book. We know about Thomas' previous relationship from the previous book in the series but I wanted to understand more about that dynamic and his relationship now with his brother, Trent. I did feel that a conversation between them was missing and would have loved to see it in this story to take away any awkwardness in their relationship. A true heart to heart between brothers to show them moving forward would have really been a nice addition. But all in all, I love these Maddox men and look forward to more!
P.S. We yet again I loved Jim Maddox the patriarch of these men!

"Me, too. I'm … Thomas, by the way," he said softly. He rolled over and relaxed beside me, his head propped by his hand. Instead of getting dressed, he looked as if he were ready for conversation.
I pressed my lips together. "I'm," Do it. Do it or you'll just be kicking yourself later. "…emotionally unavailable."
♥READ THE SERIES♥
Book 1 – Beautiful Oblivion
Book 2 – Beautiful Redemption
♥READ THE BOOKS THAT STARTED IT ALL♥
Book 1 – Beautiful Disaster
Book 2 – Walking Disaster
Book 2.5 – Beautiful Wedding