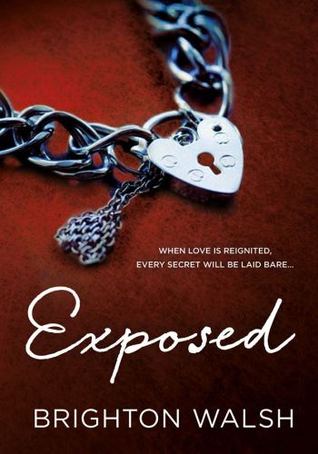 Exposed

by Brighton Walsh
on July 21, 2015
Pages: 256
Buy on Amazon, Buy on B&N, Buy on iTunes, Buy on Kobo
Goodreads

In this sexy, suspenseful New Adult novel, a young woman hiding from her criminal past is taken captive by her ex-boyfriend, the ultimate bad boy.

Evie is about to embark on the perfect life. Beautiful, poised, and engaged to a rising business star, she fits the part of trophy wife perfectly, except for one thing: her entire identity is a lie.

Five years ago she created a new identity for herself, but it all crashes back when something she witnessed years ago comes back to haunt her. Now she's in danger of losing more than her social status.

Determined to protect the careful life she's built for herself, Evie doesn't want anything to do with Riley, the criminal for hire who broke her heart years ago. But Riley has other ideas. He's never forgotten Evie, and to protect her, he steals her away. Hidden from the world, sparks begin to fly as old memories resurface and their passion reignites.
Happy Release Day to Brighton Walsh and her new book EXPOSED. Enjoy a sneak peek into the book below!

When I once again had the mask in place, I pushed off from the wall and turned to face him. And even though I'd taken the time I'd needed to get myself in character, it hadn't helped. I might as well have done nothing at all as the shock of seeing him once again after so long with only my memories to keep me company hit me full force, a roundhouse kick to the chest.
I'd been right—he had filled out since eighteen. While still not as bulky as Ghost, Riley had grown, his once lanky body transforming to something lean and muscular.  His hair was longer than  it'd been  when  I'd known  him, no longer  the buzz  cut he'd once  favored.  The sides and back were trimmed close now, but the top was grown out a bit more and shaggy. His eyes, even in the dim light, were still just as piercing as they'd always been, the crystal-clear blue of the ocean reflecting back at me. His jaw was shadowed with a day or two's worth of stubble—something he'd never done back when he was a kid. It made him look older, harder, harsher —another thing he'd never been in all the time I'd known him.  Though he'd tried,  though he'd put  on a front  be- cause he looked  up to his brother and wanted  to be like him— something I knew he'd never admit to—he hadn't ever really fit in with the crew. He was too laid back, too easygoing, too happy to truly fit in with a group of people who broke the law for a living.
And yet here he was.
How much had these past five years changed him?
Forcing  myself to snap out of my musings on the kind of guy R iley was now—because it shouldn't matter;  it didn't  matter—I asked, "Why are you here?"
He was quiet for a moment, and if he was shocked to see me, he didn't let on.  Had he known I was here this whole time?  I wondered if, despite my attempts to keep myself hidden  from him, he'd  found  me  anyway somewhere along  the  line.  The thought that he'd known where I was but hadn't made any effort to see me shouldn't sting the way it did.
His face was a mask, hardly different from the one I put in place every day. Finally, he said, "Ghost sent me."
I  swallowed  against  the  disappointment I  felt,  pushing  it down,  down,  down.  Burying it deep where it belonged. There wasn't room here, in the life I lived now, for those kinds of emotions. Especially not when they were for Riley. "Why?"
He stared at me for another moment, then blew out his breath and shook his head, a hollow laugh leaving his lips as he looked toward the floor. "Apparently my ex-girlfriend, who I thought was dead, is alive and well, living in a fucking mansion in Minneapolis." He looked up at me, his eyes locked on mine. "Engaged to a rising attorney."
He didn't let me answer, didn't even give me time to contemplate the look in his eyes, before he plowed on, "A picture-perfect life to anyone looking in. Not for long, though. You've got a bull's- eye on your back, and people are coming to collect. Soon."
♥ Read this Series ♥
Book 1 – Captive
Book 2 – Exposed