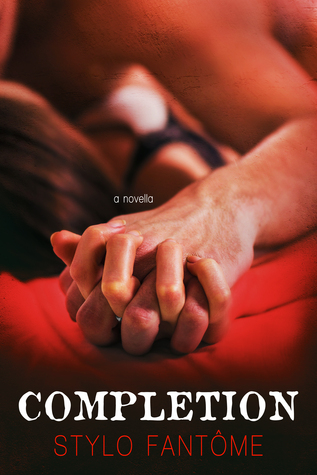 Completion

by Stylo Fantome
on February 13, 2015
Buy on Amazon
Goodreads


The Devil gets his dues.

What happens when Satan in the flesh meets Lillith in real life?

Some name calling, a lot of fighting, and even more loving.

For two years, Jameson Kane and Tatum O'Shea have made their relationship work. It might not work for anyone else on the planet, but it's perfect for them. Their own personal fairy tale.

But can Jameson give Tatum a true "happily ever after"? He's not sure.

Where would the devil go to buy a throne, anyway?

WARNING: contains little plot, a lot of sex, and was written for the author's own personal enjoyment. Also graphic sexual situations and sadomasochistic themes.
Happy Release Day to Stylo Fantome and her new novella – Completion. Completion is the final novella in The Kane Trilogy where we finally see The Devil gets his dues. For those who have not read this series, this is a MUST READ! Fun, sexy and unforgettable! Make sure to enter the giveaway below.
The Kane Trilogy was my number 1 erotic romance series of 2014 – needless to say when I found out Stylo was writing a novella, I was ecstatic to get more of some of my favorite characters, already anticipating the fun conversations I would be privy to and the combustible heat that is only Jameson and Tate, I couldn't wait to jump right in and devour this novella.
Completion is 2 years after the end of Reparation and the prologue had me smiling from ear to ear….ahhhh…and Sanders…just love love these characters! <3
"Jameson, " she breathed, laying down on his chest. "Even when you piss me off, I am still happier with you than I have ever been in my whole life."

I wanted to save her. Took me all these years to figure it out, but even back then, I wanted to be her prince on a white horse.
These sentences define the relationship, the push and pull of Jameson and Tate. Yes, in every relationship, there is anger and fights – it's reality. But through it all, they have always just wanted to be with each other. Jameson is still the ass we have known and come to love but he always wanted to take care of Tate, to save her, to love her. In Completion, I adored seeing how well they have come to know each other, how much their relationship has grown.
I enjoyed going back into the past and seeing in Jameson's POV, his realization of his feelings for her. Most of all, I enjoyed watching Tate show her strength when it came time to see her parents…this novella proves just how much Jameson and Tate only needed each other when it came down to family and being there for each other.
Seeing some of our beloved characters – Angier and Sanders is like returning to family.
I must admit that I had a sense of what was to come in this book and the way it was done was complete PERFECTION. I couldn't have imagined it any other way and the style was so true and fitting to the characters that Ms. Fantome created.
I will be honest and say that I will truly and honestly miss these characters – sometimes you want authors to continue to write about characters you love because you want to know what will happen after…what will happen to them..what journey in life will these characters take…and I have to say that I wish that this series can go on and on forever…that's how much I loved each and every character in this series!
Ms. Fantome has found a forever fan in me and I can't wait to read more of what she has in store for us next.

The Brazilian made sexy eyes at Ang for a while, but it was obvious that Jameson was her ultimate goal. As they all took their sides of the tennis court, Tate glared as the other woman flirted and touched Jameson. Leaned against him. Breathed on him.
"What are we doing here?" Ang asked in a low voice.
"That chicks wants to fuck Jameson. He's trying to pawn her off on you. Be sexy," Tate advised him.
"Bitch, I was born sexy."
Tate had to agree. Ang was wearing a pair of old fashioned looking Ray Bans, and his hair was cropped extremely short on the sides, but long and wild on top. There was a touch of James Dean about him; something 1950's. His bad boy smile was firmly in place, and though Isadora was focusing on Jameson, she threw a couple flirty glances Ang's way.
"Well, sexy it up some more, get her attention. I don't want to spend the rest of the day trying to talk Jameson out of an orgy," Tate hissed.
"We could end up in an orgy!?"
"Angier, don't make me serve the ball into the back of your head."
Tate was rusty – tennis had never really been her sport. She could knock the ball back and forth, but she wasn't great. Ang couldn't play for shit, it was comical watching him lope up and down the court. They both laughed a lot, collapsing into giggle fits enough times to earn a snap from Jameson.
Isadora played the game beautifully and elegantly, like Tate knew she would, and of course Jameson was good at it. If there was something Jameson wasn't good at it, he simply didn't do it, so Tate had figured he'd do well at tennis. Together with the Brazilian bombshell, they dominated the game. Tate couldn't quite figure out why they didn't switch, place a bad player with a good player, to at least even the odds.
But it quickly became apparent that Isadora didn't want to even the odds. She cooed in Jameson's ear, wiggled her ass in his face. Tate spent half the game making puking faces at him, which just earned her wolf grins and him feeding into the flirtation.
"I don't think she's interested in my sexy," Ang informed Tate, looking over his glasses as Isadora bent straight at the waist, keeping her knees locked while she tied her shoelaces. Jameson stood directly behind her, waving his racket at them.
Tate gave him the finger.
"Yeah, we're not here to play tennis. She invited us here so she could become fuck buddies," Tate grumbled.
"Wouldn't be all bad. She's kinda hot," Ang pointed out. Tate snorted.
"I didn't come all the way to Hong Kong to have an orgy with Jameson's ex girlfiend."
"Does this kind of thing happen a lot?"
"Yes. We went to the Met gala last fall, and god, what a nightmare. There was this model, some young blonde thing that Jameson had slept with like a million years ago. Followed him around all night. I don't want to go through that again," Tate told him.
"What are you going to do about it?" Ang asked.
"Whore you out."
Before he could argue, Tate jogged up to the net, scooping up the ball as she went.
"Oh, thank you, Tatum," Isadora gushed in her syrupy accent, running up to the net as well.
"No problem. Say, Ang has never been to Hong Kong before, you should totally show him around after this," Tate blurted out, not even trying to be subtle.
"Really? I was hoping to catch up with Kane a little more. So little chance to talk during the game. I would be very glad to keep him company while you show Angier the sites," Isadora offered.
Hmmm, I'm not the only one lacks subtlety.
"See, I kind of had plans with Jameson," Tate lied. There weren't any set plans, but she figured she didn't need them. He was her boyfriend. If she said he was busy, then he was goddamn busy.
"Yes, of course! The party!" Isadora exclaimed. Tate blinked in surprise.
"What?"
"The party! Kane told me all about it, thank you so much for inviting me!"
"Are we gonna play, or fucking chit chat all day?" Jameson yelled from the back line. Tate stepped to the side.
"Your lovely partner was just telling me all about our party!" Tate shouted back, shielding her eyes with her hand. His own eyes were hidden by the bill of his hat, but the set of his jaw was ominous. He wasn't happy.
"My partner should learn to keep her mouth shut. Let's finish this game," he called back.
"Oh, I'll finish this game, alright," Tate grumbled, stomping away.
"Something up?" Ang asked, walking up close to her. Tate leaned into him, pressing her face against his chest and letting out a mock scream.
"What the fuck is going on?" Tate breathed, turning her head to the side and resting all her weight against him. "First dinner with my parents. Then fucked up tennis. Now a party? Jameson hates parties, he hates physical activity that isn't sex, and he hates my parents."
"Maybe he's trying to turn over a new leaf," Ang suggested, but she could feel him trying not to laugh.
"When you're done dry humping, some of us would like to keep playing!"
Tate glared as Jameson's voice carried across the court. Oh, so he could let some hoochie Brazilian rub her ass all over his crotch, but Tate couldn't hug Ang!? Oh, it was on. It was soooooo on.
"Ang, could you do me a favor?" Tate started, running her hands up and down his sides.
"Hmmm?"
"Just go with anything I do."
"Huh?"
Tate ignored him and peeled her top off. She wasn't being scandalous, she was wearing a sports bra – there were plenty of women running around the courts wearing the same thing. No, that wasn't enough to get the reaction she wanted. But turning around and pressing her back to Ang's front and doing a toe touch stretch, she was pretty positive that would inspire a response.
"Does he look mad?" Tate asked, not even trying to hide her smile as she pretended to stretch from one leg to the other.
"Murderous. Are we trying to piss him off?" Ang questioned.
"Just having some fun, messing with him. He made me sweat with all his flirting, now it's his turn," Tate laughed.
"Then let's make it count."
Ang smacked her on the ass, hard enough to cause her to fall forward and place her hands flat on the ground.
"I'm not fucking around, Tate. You have two seconds to knock it the fuck off!" Jameson yelled.
"Ooohhh, feels like a challenge to me! Game!?" she yelled back, slowly standing up and stretching her arms above her head.
"Don't push me – you won't win."
"Pffft, I always win."
Tate spun around, facing Ang as she stretched her arms back, forcing her chest out. Ang didn't even hide the fact that he was staring at her tits.
"I'm not really sure what kind of game you're playing, but I gotta be honest, I like it," he joked. Tate snorted and lowered her arms, coiling them around his neck. He rested his hands on her hips.
"Does he look mad?" she asked. Ang glanced behind her.
"Hard to tell. He always looks mad," he pointed out, walking backwards and forcing her to follow.
"If he's standing still, he's not mad," Tate explained.
"Oh, then he's definitely mad."
"Is he moving?"


♥READ THE SERIES♥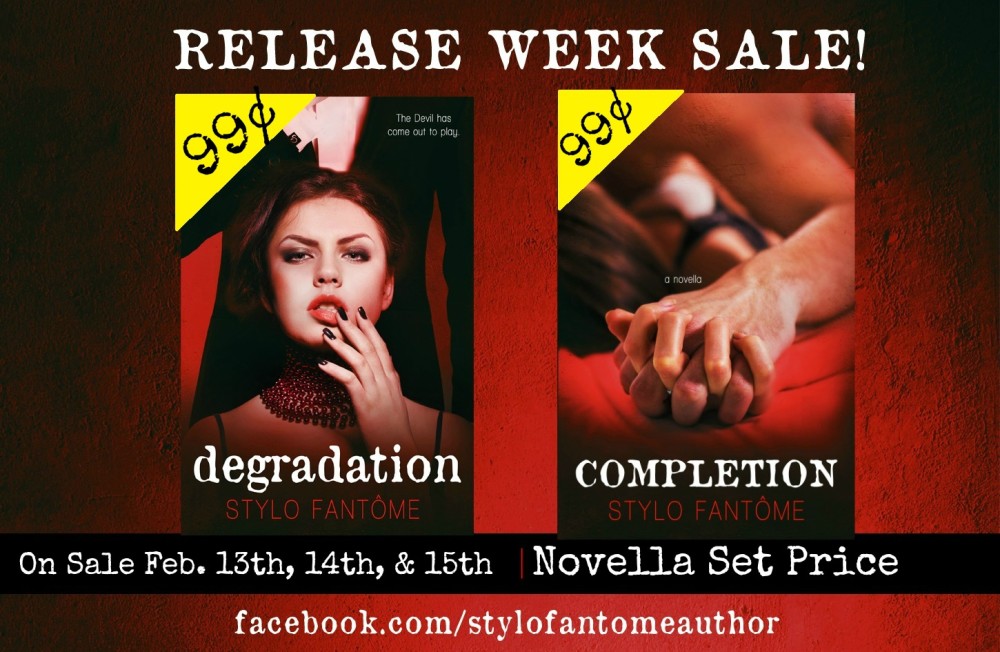 Book 1 – Degradation – AMAZON | B&N Paperback
Book 2 – Separation – AMAZON | B&N Paperback
Book 3 – Reparation – AMAZON | B&N Paperback