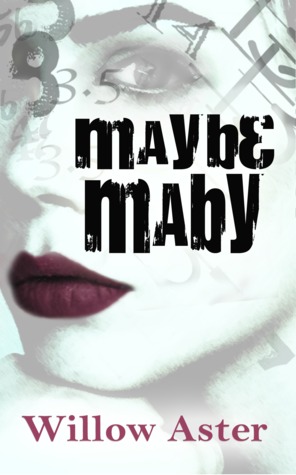 Maybe Maby

by Willow Aster
on July 13, 2014
Buy on Amazon
Goodreads


Mabel Armstrong is on the verge of giving up. But just when things feel bleakest, there seems to be a shift in the universe. People come out of the woodwork. Her ex won't leave her alone. An old friend finally tries to become more. Even the cute guy at the coffee shop starts paying extra attention.

Maybe Maby is a heartbreaking, and at times, hilarious story about coping with loss, finding love in New York, and learning to recognize hope in the middle of it all.
Happy Release Day to Willow Aster!
♥BUY YOUR COPY OF MAYBE MABY♥

I take off running with him not far behind. When we reach the stairs, he swoops me up, takes the stairs two at a time, and tosses me on the bed. He stares down at me.
"Now what?" he asks.
"Let's not sleep with our clothes on tonight."
His shirt is over his head with one yank from the back. I lean up on my elbows to watch.
"Your turn," he says.
"Your pants are still on."
He unbuttons them slowly and takes his sweet time pulling them down. His thumb loops under the waistband of his boxer briefs and my mouth waters waiting for him to take them off. He says something, but I don't hear any of it.
"What?" I ask.
"I said—are you sure?" He puts his hand over his mouth and looks at me, his eyes narrowing. After a long pause, he says, without conceit: "When we make love, it's gonna change things. I want to know if you're ready for that before we do."
I move until I'm on my knees in front of him. "Things have already changed for me. I'm ready … if you are."
He grins and pulls my dress over my head. "Haven't you been hearing me? I've been ready for you for a long time, Maby Armstrong."
His hands travel down my chest and he unhooks my bra, sucking in a breath when it falls to the ground. He smiles at my yellow thong with black skulls.
"You're so edgy," he smirks, getting on his knees while he pulls them off. He looks up at me. "I plan to spend a lot of time in this general vicinity." He waves his hand over the area from my lips to my thighs. "And especially here," he whispers, pulling me into his mouth.
I hold onto his hair for dear life. I nearly fall back on the bed, but his hands are gripped on both cheeks, keeping my buns of nothing close to steel in place.

I went in blindly and got the unexpected.  I love Willow Aster's prior books and there was no doubt in my mind that I would love this one too – what a gem of a book!  Emotionally beautiful, well written and deeply moving.  Dare I say that this is my favorite from her to date!
Maby is quirky and eccentric and a deeply layered woman.  Ms. Aster created such an amazing character that I took to her immediately and I loved being in her head and hearing her thoughts. I don't want to give away too much about Maby's character as I truly feel that you need to experience her for yourself but kudos to Ms. Aster for her magical writing that had me experiencing what Maby was experiencing and living her life.  What I loved most about Maby was her deep need to heal herself and I enjoyed being with her on her journey to find herself and her own happy.  She is a strong woman and this made me connect with her even more.
There are several characters that we meet throughout Maby's journey that are both good and bad for her…I don't want to tell you too much about them as I would like for you to experience her interactions with them yourself and form your own opinions.  I will say that there is one in particular who made my heart soar.  Not only because many of his interactions with Maby put a huge smile on my face but because when she was with him, she felt a sense of belonging and family.  He was her home.
I will say that this book was so hard to put down that I consumed it within a day. Maybe Maby touches upon many real life situations including insecurity, loss, trust, love and most importantly the sense of belonging.  I was an emotional mess while reading this book; I loved every aspect most especially how different, original and new this was.  This is unlike anything you have read before.
Anyone looking for the next fresh read that is both captivating and heartwarming, look no further than Maybe Maby by Willow Aster.  My hope beyond hope is that we will get more of these cast of characters who have embedded themselves into my heart and mind.  This book is definitely one of my favorites of 2014 and I think it will be for you too!  Read it and share it with your friends…this is a book that everyone should read at least once.