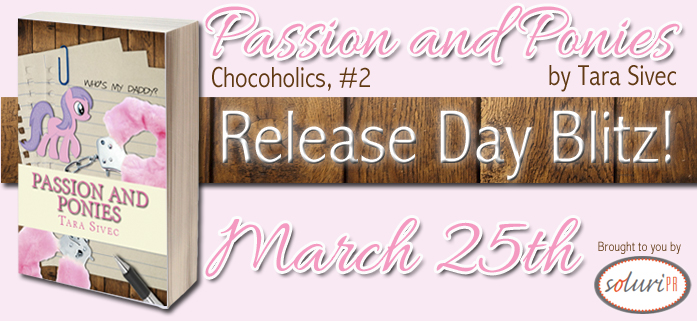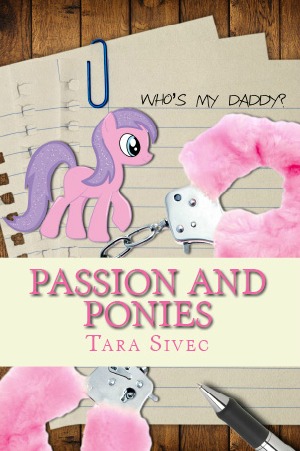 Happy Release Day to Tara Sivec and Passion and Ponies – book 2 in the Chocoholics series! Make sure to enter below for a chance to win some amazing giveaways! Good luck!!!
Please join us TODAY for a day long Facebook Party celebrating the release of Passion and Ponies. Tara will have special guests and giveaways going on all day!  You can join us HERE.
---

Ava Gilmore has the perfect life. She's surrounded by people who love her, she's having sex on a regular basis and her Coach bag collection just grew by three. The problem? She's expected to follow in her family's footsteps at Seduction and Snacks, working with sex toys and baked goods.
Ava loves vibrators and cupcakes as much as the next person, she'd just rather play with them than sell them. With her shopping addiction reaching an all time high and her credit card bills piling up, Ava decides to put her obsession to good use and start a fashion blog. But she has one other problem – the guy she's having sex with has a My Little Pony addiction.
While dealing with her family's disappointment and confusion over her choices, she finds support in the unlikeliest of places – Tyler Branson. Tyler has slowly wormed his way into her bed, her a$$ and her heart and he refuses to leave. Tyler has his own family problems to deal with and for the first time ever, Ava finds herself feeling bad for the annoying, immature guy and chanting "Friendship is magic!" during the sex she'd swore to stop having with him.
Ava needs to get her life in order once and for all before she finds herself doing something she never wanted to do – fall in love with a Brony.
I LOVE LOVE everything and anything by Tara Sivec.  Whenever I am in a book funk or need something uplifting, I know that reading one of her books will do the trick.  Passion and Ponies was no different.
Tara gets me every single time.  There aren't many books that I will read aloud and laugh out loud and have to share with my husband but Tara's books do this for me each time.
Admittedly, I had NO IDEA what the heck a "brony" was but I have definitely learned a thing or two reading Passion and Ponies.
I love Tyler, his funny antics and every word that comes out of his mouth.  Watching his relationship and feelings for Ava change over time made me see him in a new light.  Yes, he says dumb things and for the most part is immature but underneath it all he is a kind, gentle soul who listens, supports and wants complete happiness for the people he cares about.
I enjoyed Ava in this story – her strength to finally stand up for the things she believes in but to also see her grow from her conflict of feeling attracted to Tyler while thinking he is a complete idiot had me really rooting for this couple to work out despite their differences.
The sex was completely HOT, the story both funny and with some interesting reveals that will keep you on your toes and joyfully immersed in Tara Sivec's world of characters you just can't help but fall in love with and want to be a part of.
Job well done and I look forward to more from this fun loving series that consistently brings a smile to my face! <3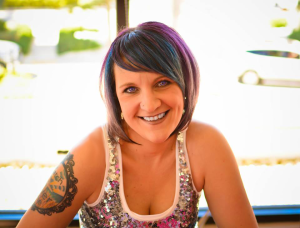 Tara Sivec is a USA Today best-selling author, wife, mother, chauffeur, maid, short-order cook, baby-sitter, and sarcasm expert. She lives in Ohio with her husband and two children and looks forward to the day when they all three of them become adults and move out.
After working in the brokerage business for fourteen years, Tara decided to pick up a pen and write instead of shoving it in her eye out of boredom. She is the author of the Playing with Fire series and the Chocolate Lovers series. Her novel Seduction and Snacks won first place in the Indie Romance Convention Reader's Choice Awards 2013 for Best Indie First Book.
In her spare time, Tara loves to dream about all of the baking she'll do and naps she'll take when she ever gets spare time.
Tara also writes under the pen name T.E. Sivec. Check out the page for T.E. Sivec for more information.
---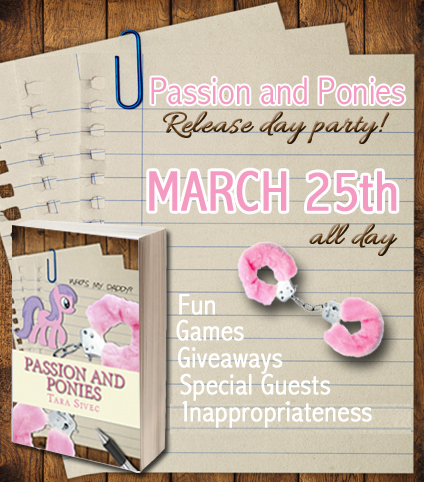 a Rafflecopter giveaway

Chocoholics Series Reading Order
Book 1 – Love and Lists

Book 2 – Passion and Ponies

Read the series where it all began – The Chocolate Lovers featuring the parents!!!
Book 1 – Seduction and Snacks

Book 2 – Futures and Frosting

Book 3 – Troubles and Treats

Book 3.5 – Hearts and Llamas