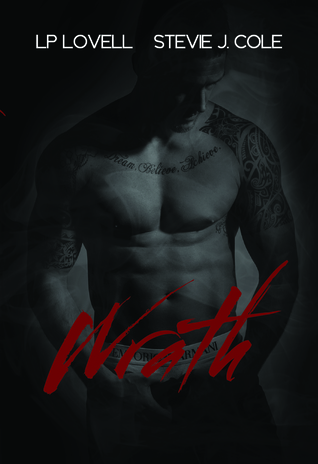 Wrath

by LP Lovell, Stevie J. Cole
on August 25, 2015
Buy on Amazon
Goodreads


Tor
Jude Pearson could just as well kill me as kiss me most days. He was my captor, my living hell, and yet, he became my saviour, my heart. Stupid. He's heartless, conditioned to feel nothing, and so I ran... straight into the clutches of his enemy. Joe Campbell wants Jude to suffer, and I just became a pawn in a very dangerous game.
Joe has broken me in every way, everything that I once was stripped away, and in it's place is festering hatred and a rage so cold I feel nothing else. I have one purpose. Revenge.
Jude
Love makes you weak, it makes you irrational. She was collateral, completely innocent when she was unwillingly dragged into my corrupt world. With the damage I'd already caused her, I couldn't let her love me, so I let her go, and now...he has her.
No matter where she is, she will always be mine. This man has taken every-fucking-thing from me, and he has the last thing that matters to me. I will kill him. Slowly. Joe Campbell better run because the devil is fucking coming for him.
Sometimes two wrongs can make a right.
Rage.
Hate.
Revenge.
Our Wrath binds us, but it may also break us.
Wow! So this was the last book I read while on vacation and what a way to end it! After reading Wrong, I couldn't wait to get my hands on Wrath and Lovell and Cole did not disappoint. What a great writing duo!
Dark and gritty, violent and intense, I was scared and tortured for Tor from the opening scene and dying a little inside for the violence I knew she would endure at the hands of her abductor, Joe who is Jude's biggest enemy. Tor is Jude's weakness and what makes him vulnerable and Joe knows it, he plays on it and it broke me to see her tortured at the hands of this monster.
This book is not for the faint of heart as the authors didn't hold back and gave it to the reader hardcore and with a fury that could not be matched. And yes, though it killed me a little inside, I loved every moment because I knew that Jude and Tor would come out on top in the end…I knew that revenge in this case would be so sweet.
These characters so broken from their experiences could only go up from here and in each other, they find healing and strength to go after what they want most….revenge and only a happiness that they could find in each other.
The road on their journey is rough at every turn and it won't be easy but its action packed, exciting and in the end complete perfection.
Readers looking for their next thrilling read, should look no further…this is a love story that will keep you on the edge of your seat in suspense to the very end.

♥READ THE SERIES♥

Book 1 – Wrong
Book 2 – Wrath