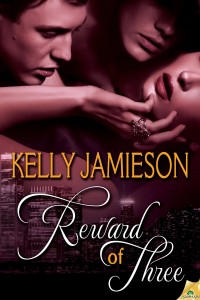 Reward of Three

by Kelly Jamieson
on July 8, 2014
Pages: 135
Buy on Amazon
Goodreads


Sometimes the darkest nights produce the brightest stars.

When the pregnancy test turns positive, Kassidy, Dag and Chris are thrilled they're going to be parents at last. Their polyamorous relationship has blossomed, and there's more than enough love to go around for their long-awaited little "Belly Bean".

Then reality sets in. Dag grew up without a father. Does that mean he's too damaged to be a good role model? Kassidy is at a critical point in her career, working long hours on a high-profile project. And Chris gets a disappointing—but not exactly unexpected—reaction when he contacts his parents with the news.

As worry nibbles at the edges of their happiness, fate is poised to tear it to shreds, leaving a loving foundation three years in the making cracking under the weight of grief and guilt. And the trio in the fight of their lives to repair their unconventional bonds.

Warning: Our sexy threesome is back for their happy ending. Keep extra tissues on hand for tears, a fan on standby for hot sex, and a post-it note to remind you to take a deep breath. It's time to find out if the juice is really worth the squeeze.

"What should we name her?" she asked.

Chris and Dag both laughed. "Her?" they said.

She grinned. "It could be a girl."

"You want a girl, babe?" Dag laid his palm on her stomach.

"I'm supposed to say I just want a healthy baby, but I kind of do want a little girl."

"A little girl would be awesome."

"But I really do just want a healthy baby," she added. "Boys can be fun too, and since he'll have two dads, I won't have to worry that I don't know how to entertain him."

"We'll take him to strip clubs," Dag said. "And teach him how to shoot tequila."

Kassidy giggled and gave him a little punch. "Right."

"Hey," he said. "Those are important things in a man's life. Along with hookers, fast cars and guns."

Kassidy stared at him in horror. "Hookers?" Her forehead tightened. "You've never gone to a hooker, have you?"

"Fuck no. I'm kidding, babe. About the guns too. Fast cars, maybe not."

"Oh. For a minute there I was having second thoughts about this."

Dag nuzzled her neck and Chris laughed. "You know he's full of shit."

"November." Dag sighed. "That's not far."

"About nine months," Kassidy said, trying not to smile, and earned herself a tickle.

"Can we have sex?" Chris asked.

"Right this minute?"

His lips twitched. "I meant for the next nine months."

"Christ," Dag said. "Please say yes."

"God yes," Kassidy said. "But even if we couldn't, you two still could with each other. Major benefit of a poly relationship. However, I've already Googled it and learned all about sex while pregnant. Apparently there's increased blood flow to your pelvic area during pregnancy, which can make your genitals swell and heighten sexual sensation."

Dag blanched. "My genitals are gonna swell?"

Kassidy giggled. "I certainly hope so. But no more than usual. Come on, follow along here. My genitals may swell."

"Christ," Chris said.

"However, some women report they can't orgasm as easily."

"We'll just have to try harder," Dag vowed.

"Thank you," she said demurely. "I appreciate that. Apparently, many couples find they feel more pleasure from foreplay, oral sex or masturbation than intercourse. So lots of foreplay would be good."

The two guys gave each other evil grins.

"Assuming I don't have morning sickness," she continued. "Because barfing during sex is not, well, sexy."

"Uh…no."

"But it's supposedly important to keep some level of intimacy going throughout pregnancy, to keep the relationship healthy but also to prevent sexual problems after the baby is born."

Chris frowned. "Why would we have sexual problems after the baby is born?"

"Possibly because after I give birth I will not want you to touch me ever again."

Both guys' jaws dropped.

"Kidding! Sort of. Seriously, it might take a while after the baby's born before I'm ready to have sex again—with one man, never mind two! You two could get antsy. But then again, you have each other, which takes some pressure off me." She beamed at them. "This is going to work out great. Not only that—three of us to take turns with diapers and middle of the night feedings."

"Diapers. Ugh." The corners of Dag's mouth turned down.

"You'll be changing your fair share," Kassidy said with a little smack to his shoulder. "Don't even think otherwise."

He groaned, but she caught the soft look in his eyes.

"I'm scared too," she whispered. "This is a big deal, you guys."

"Babe." Dag curled his hand around the back of her neck. "You're amazing. You're gonna be a great mom. The best. Love you so much."
"I love you too, Kass." Chris nuzzled her ear. "He's right. And we're right here with you all the way."

"Th-thanks." She swallowed. She didn't feel much different. Her breasts were a little tender, like around the time of her period. Luckily she didn't feel sick at all. She hoped that continued.

"Speaking of sex…" Dag rose and pulled her by one hand to stand. "Let's go celebrate."


First I love these three… second if you have not read Rule of Three and Rhythm of Three stop reading this review and go 1-click Chris, Tag and Kassidy.
It is not often I give a novella 5 stars, but I adored this look into Chris, Tag and Kassidy's life. Yes, this is a novella so the review is short as to not reveal the story.
My love for these three may be wrapped-up in those 5 stars as it was so enjoyable to continue to watch Chris, Kassidy and Dag live their lives, they continued to evolve and continued to face the struggles that comes with living as three in a world that sees a happy as two.
As the blurb reveals, these three face a pregnancy in Reward of Three; first I love how Kassidy tells her men the news and two their plan for parenting felt so true to these three!
I adored how in this book pregnancy did not make everything hearts and flowers – we are dealing with three adults, with lives and career and plans. This aspect of the book felt so real to me!
In true Ms. Jamieson fashion this book is hot!! These three steam up the pages as do the men; because yes in this menage all three people love each other. Reward of Three gives the reader a Chris more comfortable with his love of Dag; these two men are there for each other and have now woven love into their long-term friendship.
Reward of Three allows the reader to see Dag as happy and domesticated, the look at possessive Chris was awesome, and the glimpse of jealously from Kassidy felt so real in the moment.
Chris' family was masterfully used in this story; you may remember they were not accepting, in book 2 it was painful to watch their rejection; well in this book their evolution was wonderfully done.
No, things are not perfect but the place they come to, the way things move forward felt so true to the characters and in the case of Chris' Mom I loved how she was used to help Kassidy (nope not telling you how read the book to find out how)
Ms. Jamieson's look at these characters is raw, realistic and in the end it warmed my heart. The epilogue was such a wonderful happy for these three. Kassidy, Chris and Dag fought for their forever; one Ms. Jamieson did an amazing job painting for the reader throughout all three books. This journey will stick with me for sometime and these three characters will forever hold a place in my heart.
The Rule Of Three series by Kelly Jamieson

Rule of Three: GR // Amazon // Kobo // Barnes and Noble
Rhythm of Three: GR // Amazon // Kobo // Barnes and Noble