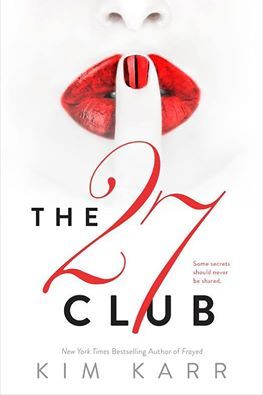 The 27 Club

by Kim Karr
on March 3, 2015
Buy on Amazon
Goodreads

You don't know when…
You don't get to choose if…
When it's time to join…you'll know.

You might think you want to be a member—but trust me this is one club you don't want to join. It's not a place where people go to live out their deepest, darkest sexual desires—there are no handcuffs or blindfolds.

The 27 Club only admits those who die young and tragically. My brother was recently bestowed membership and joined many of our ancestors before him. I know I'm next. This is my destiny, and I was ready to yield.

But then I met Nate. He awakened a sensuality in me that had never been explored, never satisfied. I knew then I could no longer accept my destiny. Nate's presence controls me. I'm overwhelmed by his touch, his words; my every thought is consumed by desire. I believe he was brought into my life for a reason.

Nate doesn't believe in destiny.

But I do.

And if there's a way to cheat it—I must.
Happy Release Day to Kim Karr and her new book THE 27 CLUB! Enjoy a sneak peek into the book below and make sure to enter the giveaway below! Good luck!

His hand wraps around my upper arm and he pulls me toward him. "I'm not here to see Leo, and you know it."
"Do I?" My sarcasm isn't really me, and I reel it in.
"Look, I fucked up, but that doesn't give you the right to do something I strictly forbade you from doing."
"Forbade?" I hiss.
"You know what I mean," he sneers.
"No, tell me."
"I don't want to do this here. Let's go home."
Home.
Emotions begin to shift inside me.
My anger dissipates as quickly as it rose up—toward him and my brother.
Relief takes its place.
I feel relieved. I'm okay with the life my brother led. I have to believe he was doing what he wanted, and the money was an added benefit for him.
But with that relief, fear also rises.
Death doesn't care about happiness—it strikes when it's ready.
The air in the club feels suffocating, and I have to get out of here. I shrug out of Nate's hold and walk toward the exit. My pulse is racing and my vision seems a little blurry, but I realize it's just the strobe lights.
With each step, that old nagging worry rises beneath my feet.
What am I even doing here?
Destiny's out there and it's coming for me. Happiness won't stop it.
"Zoey!" he yells.
I don't stop.
I can't.
I just keep walking.
Finally, I'm breathing the fresh air that I so desperately need.
Joining the 27 Club isn't something you get to decide.
Trying to fight off the looming darkness, I start running.
I need to escape my own thoughts.
My heels clack along the concrete.
I run faster, passing people on the street.
Beep-beep! Beep-beep!
As my body goes on alert, I snap my head to the right.
Beep-Beep! Beep-beep!
The noise is coming from a car speeding through the intersection. Its headlights blind me. I hear people screaming. I look around and then I realize I'm in the middle of the street.
Beep-Beep! Beep-beep!
My breath leaves me in a gasp. All I can see is the sleek black surface headed for me.
This is it. My time has come.

Enter to win YOUR OWN COPY of THE 27 CLUB and a $10 Amazon Gift Card! TWO WINNERS! (US applicants only)
All you have to do is share this excerpt teaser post on your social media account(s) (Facebook, Tsu, Twitter, Instagram, etc). Sample message below:
@authorkimkarr Happy Release Day #The27Club #ExcerptandGiveaway #CanYouChangeDestiny @ShhMomsReading
Please make sure to post a link to your shares below. TWO winners will be chosen on Friday March 6th at 10am EST! Good luck! And thank you for sharing!