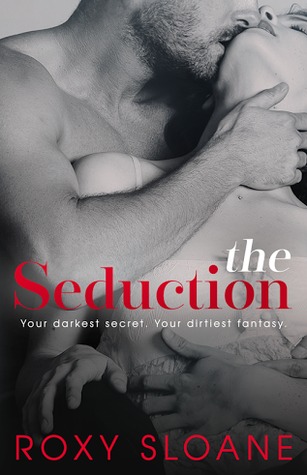 All women look the same on their knees with their lips wrapped around my cock.
You like to think you're different, special somehow. But trust me, I'll have you wet and begging for it before you can think of all those bullshit, good girl reasons why not.
I'm your darkest secret. Your dirtiest fantasy.
Who am I?
The Seducer.
And I've never lost a case.
Until her. Keely Fawes. My mysterious new target.
Someone wants to destroy her — and I'm their weapon of choice.
Her secrets could be my undoing. Her innocence will ruin me.
But I don't care.
I'm going to show her how fucking good it feels to be bad. She'll come screaming my name if it's the last thing I do.
***Part 1 of a filthy, seductive new serial***

"We meet again."

I stop dead, staring in shock. For a moment, I wonder if I've lost my mind completely and have conjured him up out of my imagination. But no, the gorgeous man from the store is sitting in Carter's empty office, watching me with a smile.

"Do you want to come in?" he asks, looking amused.

"Uh, sure," I stutter, quickly darting into the room. My heart races being near him again. He's all I've thought about for the last twenty-four hours, and now I can't resist sneaking a look to drink him in again.

God, he looks good. He's wearing another smart suit, a crisp white shirt open at his neck, contrasting with the deep gold of his tan. There's bronzed stubble along his jaw, and his blonde hair is ruffled out of place — contrasting his impeccable attire.

A man of contradictions: smooth and rough all at once. A man who likes control — and wouldn't be gentle about it.

"I didn't introduce myself," the stranger says, his voice a low, sexy drawl. "I'm Vaughn."

"Keely." I feel my cheeks burn. He casually unfolds himself from his chair and crosses the room in two short strides, hand outstretched.

I have no choice but to take it. His large fingers close around mine, warm and rough to the touch. I feel a shock as our hands meet, and look up to find his blue eyes staring intently into mine.

Deep blue, like a sapphire, or maybe like a summer's ocean – oh God, I'm thinking like a middle schooler just looking at him.

"You're blushing," he murmurs.

"I rushed to get here," I lie. I start to pull my hand away, but he holds tight. His thumb strokes softly over my palm, a shockingly intimate gesture that sends a wave of desire coursing through my body.

"You look sexy, all flustered like that," he tells me, those blue eyes flashing with wickedness. "Like someone just fucked your brains out."

I gasp, snatching my hand away. How does he say these things? Just hearing such brazen words, my nipples feel tight, and I'm damp between my thighs. Who talks like this? And why do I like it?

"What makes you think you can talk to me like that?" I turn away. "I wonder where Carter is," I say, looking around. There's no sign of him — or his assistant. Which can mean only one thing. "You'll have to make another appointment," I say over my shoulder.

I go to the door, eager to put safe distance between us.

"Why can't you take the meeting?" Vaughn's voice stops me.

"I'm not a lawyer."

"You don't want to be alone with me." He watches me, not taking his eyes off me for a second.

I squirm under his gaze. "I'm not qualified. I don't even know your case…"

"It's just a simple incorporation," Vaughn dismisses my protests. "Unless you want me to tell your boss how you said I had to leave."

"I didn't say that."

"You meant it, though." Vaughn strolls closer, looking at me with a glint of challenge in his eyes. "What do you say, Keely? Or are you worried spending five minutes with me will make you drop your panties and spread those gorgeous legs for me?"
So yes I have been reading a lot of serials lately…they are quick reads and I really can't help myself.  When a friend asked me to read this, I couldn't resist – this is a new author to me and with one hell of a blurb, how could I say no?! While I still have mixed feelings about serials because they are so short and as they are getting good, we have to wait until the next one is out…I have to say that I truly enjoyed this debut serial by Roxy Sloane and I will definitely pick up the next one!  In a few words…Mouthwateringly HOT!
So this book has all the right ingredients for a good book – it's well written, filled with mystery and deliciously sexy.
Vaughn is a hot, tempting and dirty asshole seducing women as a job; Keely is naive Paralegal unhappy with her job.  Together they are insanely intense, smoking hot and sexy.  The story surrounding why they meet is a complete mystery and I am dying to know who's framing this sweet and kind girl.
Vaughn has definitely met his match in Keely and my heart is racing to get through this book; I devoured it, I couldn't put it down.  Roxy Sloane gave us a suspenseful, exciting and intriguing debut and I am literally sitting on the edge of my seat DYING for the next installment…hopefully we don't have to wait too long!
For those who love serials, pick a copy of The Seduction – you won't regret it!

Romance junkie, mom, and legal eagle. I've got a dirty mind and I'm not afraid to use it.