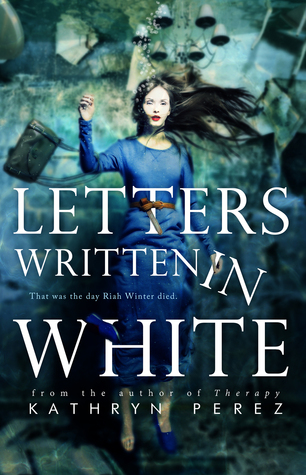 Letters Written in White

by Kathryn Perez
on November 30, 2015
Buy on Amazon, Buy on B&N, Buy on iTunes, Buy on Kobo
Goodreads

I'm dead.

I'm cold and alone and I'm dead. There's no air in my lungs. My chest is as cold and hollow as a cave on a snow-capped mountainside. My heart no longer beats there. Frigid winds whistle through my ribs and the sadness inside me weeps like my favorite tree.

Days ago, I met with death face to face. The mirror, our meeting place. My two darkened green eyes stared deeply into hers. I tilted my head to the side. She did too.

"It's time," I whispered.

"It's time," she whispered.

And with that I turned away from her, the woman in the mirror who knew all of my secrets and all of my pain. I walked away from her and yet we'd never been closer than we were at that moment. The inner struggle was over. No more arguing with the woman in the mirror. No more arguing with myself. The choice was made. She was the victor. Or was I?

That was the day Riah Winter died.
Happy Release Day to Kathryn Perez and her new book LETTERS WRITTEN IN WHITE! We have an exclusive excerpt below and a chance to win a kindle copy of this book! Enter below! We have heard such great things about this one and can't wait to read it!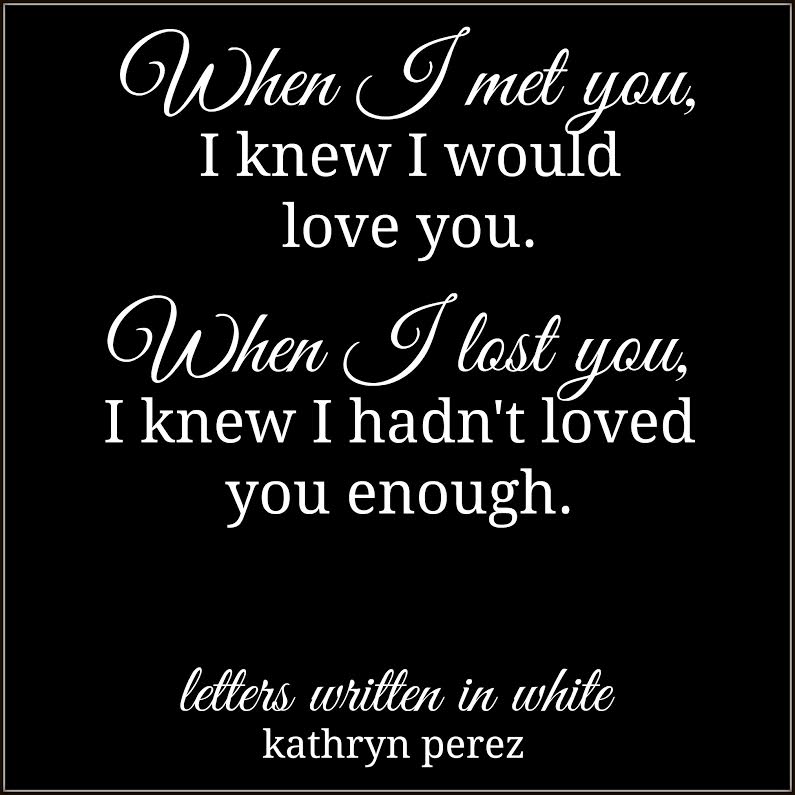 The alarm ringing in our bedroom practically pulsates throughout my skull. Switching it off, I let out an exasperated sigh. It makes my brain hurt. It's the sound of dread. Every Monday through Friday I'm awoken by this piercing ringing that tells me I have to figure out how to manage another day without my cracks being revealed. Fear overwhelms me, and I'm faced with the same daunting questions. What's worse, living when you want to die or dying while you're fighting to live?
I'm so empty inside. It's as if an army of ravenous soul suckers have latched on to me. I struggle, trying hard to get back to a place where happiness or any sense of vitality is possible. I was once happy. I used to be a balloon, inflated with love, full of color and laughter. Now, I'm a mere shriveled piece of Mylar blowing in the wind of my broken life. Lately, every morning when I open my eyes, the emptiness seems to have grown wider and deeper. I know I need to stay strong, but just like rust can weaken even the strongest of metals, depression can weaken even the strongest of people.
Grayson rustles in bed next to me. I look over at him and my heart aches. The ultimate price of love is grief. I know because I wallow in it every night. Staring at him while his eyes are closed and he's so pure and peaceful, I feel nothing but love for him. Then, just as I get comfortable in my feelings of love for him, the anger boils up. Is it possible to love someone so much you hate them?  I married the idea of unconditional love. He married the idea of the girl he met long ago. Both ideas have been sold to the highest bidder. All we have left now are bankrupt hearts and piles of emotional debt. The demise of my marriage didn't happen overnight. There weren't big glaring signs telling me it was falling apart. It was subtle. Gradual. Small things became big. Annoyances turned into bitterness, regrets into resentment. So, here we are, two parents trying to figure out how to raise kids in the midst of a losing battle. The true murderer of our love has been life.
I've managed to drag myself out of bed. Grayson's in the shower. Sounds of the kids running around the house squealing and laughing at such an early hour crawls all over me like bugs I want to swat away. It angers me. I don't know why it pisses me off so much. Maybe the fact that it doesn't bother Grayson in the least is why I just want to scream for them to be quiet for at least five minutes so I can have a moment of peace first thing in the morning. It's sad really. Their sounds of childhood joy create an irritation within me. Selfish. How selfish of me to want to drink my coffee in peace. They'll be gone to school soon, and I'll have the house to myself. Still, their laughter and loudly stomping footsteps grind on my nerves as if they're fingernails on a chalkboard. Admitting my selfishness to myself surely doesn't erase it. If only it were that easy.

Enter to win a kindle copy of LETTERS WRITTEN IN WHITE
All you have to do is share this exclusive promo post on your social media account(s) (Facebook, Twitter, Instagram, etc). Sample message below:
I entered the #LettersWrittenInWhite #EbookGiveaway #TopRead #HonestAndReal @kathrynp_author @ShhMomsReading
Please make sure to post a link to your shares below. ONE winner will be chosen on Sunday December 6th at 10am EST! Good luck! And thank you for sharing!