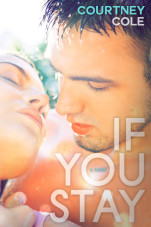 Happy Release Day to Courtney Cole and her new book If You Stay!  We are so excited to be participating in this special day with her!  Courtney will be giving away 5 signed copies of IF YOU STAY during the Blog Tour and Release Day Launch.  Please sign up using rafflecopter below.  Good luck!
---
4 STARS!!!
Summary
24-year old Pax Tate is an asshole.
Seriously.
He's a tattooed, rock-hard bad-boy with a bad attitude to match.
But he's got his reasons.
His mother died when Pax was seven, leaving a hole in his heart filled with guilt although he doesn't understand why. What he does know is that he and his dad are left alone and with more issues than they can count.
As Pax grew up, he tried to be the kid his father always wanted; the perfect golden boy, but it didn't work. His dad couldn't overcome his grief long enough to notice and Pax couldn't keep up the impossible perfect façade.
So he slipped far, far from it.
Now, he uses drugs and women to cope with the ugliness, the black void that he doesn't want to deal with. If he pretends that the emptiness isn't there, then it isn't, right?
Wrong.
And it's never more apparent than when he meets Mila.
Sweet, beautiful Mila Hill is the fresh air to his hardened frown, the beauty to his ugly heart. He doesn't know how to not hurt her, but he quickly realizes that he's got to figure it out because he needs her to breathe.
When memories of his mother's death resurface from where he's repressed them for so long, Mila is there to catch him when the guilt starts making sense. Mila is the one…the one who can save him from his broken troubled heart; from his issues, from the emptiness.
But only if he can stop being an asshole long enough to allow it.
He knows that. And he's working on it.
But is that enough to make her stay?
**Warning -Contains sex and violence**
Christine's Review
Wow!  Courtney Cole caught my attention from page 1!  And it was raunchy and not for the faint of heart!  But very well done so of course I had to continue 🙂
Pax Tate is a 24 year old and lives in a constant state of drug induced oblivion.  He is a trust fund baby – spoiled, irresponsible, has never worked a day in his life, is complex and is difficult to read.  He is the quintessential bad boy and so damn hot!  Pax is estranged from his father and lost his mother when he was young.  He is very much a loner.
Beautiful Mila Hill is dealing with the loss of her own parents, owns a small art studio while working with her older sister Madison at the family restaurant.  She utilizes her creative outlet in paintings and photography.  Mila is taking pictures one night when she stumbles upon Pax lying in his vomit and barely alive.  And she does everything she can to save him.
When Pax finally meets Mila, they are drawn to each other.  She is so innocent – she is like a ray of sunshine, a breath of fresh air.  Conversely, she is attracted to his hard outer shell and fascinated by his dangerous personality.
"You've seen me at my worst.  Maybe you should see me at my best."

"When are you at your best?" she asks hesitantly.

"In bed."
Mila takes a chance on this bad boy because she sees the good in him.  And with her, Pax feels out of his normal character – he is a complete gentleman for her, he wants to be a better person.  There were many moments that put a smile on my face with their funny banter and flirting.  When eventually Pax's backstory is revealed, we understand why he is the way he is and its heartbreaking.  We understand why he relies on drugs and alcohol to block out the pain and avoid reality.  And in the process of his own self destruction, Pax shuts Mila out and chooses again to live in the darkness because that's where he can hide, this is what he feels that he deserves.  Mila uses her strength and love to try to remain at his side and to be his constant but there is only so much pushing that someone can take.
Will this couple be able to make it work?  Can she forgive him for shutting her out?  Will he feel that he is worthy of her love?  Will he give her reason to stay?
"If there is anything that you should take away from this is that you need to live for today.  Tomorrow is not promised to you."
I truly enjoyed this book.  It was my first by Courtney Cole and will certainly not be my last.  Pax's story touched upon many real issues and it is very scary to see how some people cope with life and the many dangers that people face every day.  As a mother of three, I wanted to help Pax, I wanted to protect him and fix him.  I enjoyed reading his journey and appreciated that Mila didn't want him to fix himself for HER but for himself.  That is the true test if someone really wants to change – it's if they do it for themselves and not for others.  The epilogue for this story truly touched my heart – be ready for some tears…
Because true love never fails.

It never dies.

It just goes on and on and on.

Forever.
Great job Courtney!  I look forward to reading more from you!  Thank you for such a beautiful story!
Character Inspirations
If You Stay Theme Song – "The Last Time" by Taylor Swift and Gary Lightbody
---
GIVEAWAY
 
a Rafflecopter giveaway

About the Author
Courtney Cole is a novelist who would eat mythology for breakfast if she could. She has a degree in Business, but has since discovered that corporate America is not nearly as fun to live in as fictional worlds. She loves chocolate and roller coasters and hates waiting and rude people.
Courtney lives in quiet suburbia, close to Lake Michigan, with her real-life Prince Charming, her ornery kids (there is a small chance that they get their orneriness from their mother) and a small domestic zoo.
Twitter  https://twitter.com/Court_Writes
Website https://twitter.com/Court_Writes
Facebook https://www.facebook.com/#!/courtneycolewrites
Goodreads  http://www.goodreads.com/author/show/3112212.Courtney_Cole