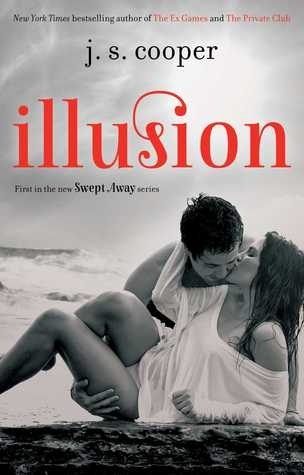 Illusion

by J.S. Cooper
on November 11, 2014
Pages: 352
Buy on Amazon
Goodreads

The day started like every other day...

Bianca finds herself kidnapped and locked up in a van with a strange man. Ten hours later, they're dumped on a deserted island. Bianca has no idea what's going on and her attraction to this stranger is the only thing keeping her fear at bay.

Jakob wants only to figure out why they've been left on the island and how they can get off. But as the days go by, he can't ignore his growing fascination with Bianca.

In order to survive, Bianca and Jakob must figure out how they're connected, but as they grow closer, secrets are revealed that may destroy everything they thought they knew about each other.
ILLUSION IS LIVE!!!
What would you do if you woke up on a deserted island tied to a mysterious hunky stranger?
Do you like hot, sexy romances that are full of mystery and surprises? Then it's time for you to read Illusion.
♥BUY THE BOOK♥


I looked up at him. He wasn't smiling as he stared at me in silence. There was a very primal feel about everything. All of a sudden we weren't just two strangers kidnapped on an island. We were the last two people on earth. My stomach roared as I stared at his almost naked body. This time my hunger wasn't for food, it was for him. He took a step toward me and his fingers brushed water off of my shoulder. My skin felt like it had been branded by his touch.
"If I didn't know better, I'd think you were a siren trying to seduce me." His voice drifted as he looked out to the water. "Or a nymph. You could be a water nymph."
"I'm not trying to seduce you."
"I know." He scratched his chest. "What would you say if I touched you right now?"
"I wouldn't say anything." I moved away from him slightly. "I would slap your hand away." I took a deep breath, trying to calm my nerves.
Join the JS Cooper Mailing List to be notified of all new releases.
Don't forget to enter the giveaway for a $20 Amazon Giftcard and a signed copy of Illusion!!