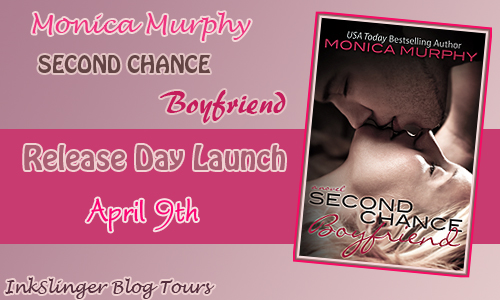 Happy Release Day to Monica Murphy and Second Chance Boyfriend! I LOVED Book 1, One Week Girlfriend, so much and couldn't wait to get my hands on Second Chance Boyfriend. Monica Murphy did not disappoint! I LOVE these characters more than ever! This is an author to keep your eyes out for – job well done!
Enter to win some amazing giveaways using Rafflecopter below! Good luck!
---
4 STARS!!!
Synopsis
Lost. That one single word best describes my life at this very moment. I lost the last games of the season and both my team and my coach blame me. I lost the last two months because I drowned in my own despair like a complete loser. And I lost the only girl who ever mattered because I was afraid being with me would destroy her.
But now I realize how truly lost I am without her. She has become my story…and even though she acts like she's moved on, I know she still thinks about me just as much as I think about her. She's beautiful, sweet—and so damn vulnerable, all I want to do is help her. Be there for her. Love her…
If only I could convince Fable to give me a second chance. Then I wouldn't feel so lost anymore, and neither would she. We could be found together.
Forever.
Christine's Review
This is a beautiful story of two troubled souls on a journey to find healing and true love.  I LOVED this second book of the Drew + Fable series.  Monica took me on an emotional roller coaster as we learn more about these characters and whether they saw the potential within themselves to accept, trust, depend on and love one another and to feel that they actually deserved happiness.  I truly rooted for these characters to work out their differences and issues and felt in my heart that they belonged to one another.
SCB starts off from where OWG left off.  Drew had left a goodbye note to Fable and she is completely broken hearted and lost.  I appreciate that Drew realizes that he needs to seek counseling as it is very apparent that his coping mechanism is to run and to not deal with the truth.  This broken boy needs to get it into his beautiful head that he is good enough to deserve Fable's love and to be happy despite his secrets from his past.
Drew and Fable run into each other at her new waitressing job at The District.  Fable receives this job offer from handsome arrogant (and oh so much trouble!) Colin – my defenses are totally up when I meet this new character because he causes reactions in her that she has not felt since Drew – I want to hate him because he is stepping on Drew's turf but he wants to help her realize the potential within herself so I can't help but like him (and hope that he gets his own book one day! HINT HINT!)
When Drew and Fable see each other for the first time, I'm so happy yet scared for them because I don't know how they will react.  I am pleased to see that their connection to each other has not wavered or changed.  They complete each other – Fable has taught him to feel again after everything he has been through and I have to mention here that Drew is quite the poet and I fell a little in love with him myself! Sighhhhh!!!!!!
"Loving someone is taking a constant risk with your emotions.  When you find the right person, the one you know you want to be with, that person becomes worth the risk."
I admire Fable's strength – she works hard to take care of herself and her brother.  She is so independent but it comes with some faults as it's hard for her to rely on others and to trust and depend in someone – which is her constant battle with Drew.
Without giving any of the story away – crazy Adele (the step mom from hell) is in this book.  Will she reveal Drew's secrets and break a family apart?  Will Drew and Fable be able to recognize how much they are meant for each other?  Will love be able to conquer all?
You will have to read this book to find out!  I am sad to see this book complete the story for Drew and Fable but am so HAPPY to see the new meaning for MARSHMELLOW!
Great job Monica!  I will continue to read your books as you are an amazing story teller and have created such wonderfully beautiful characters that will not easily be forgotten! <3
About the Author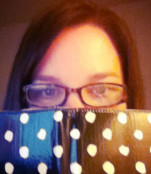 Monica Murphy writes books with boys and kissing in them. She also likes to read books with boys and kissing in them. Writer of new adult contemporary romance-ish stuff. Mom and wife. Native Californian.
---
GIVEAWAY
a Rafflecopter giveaway

Book 1 – One Week Girlfriend – Read Christine's 4 STAR review here!