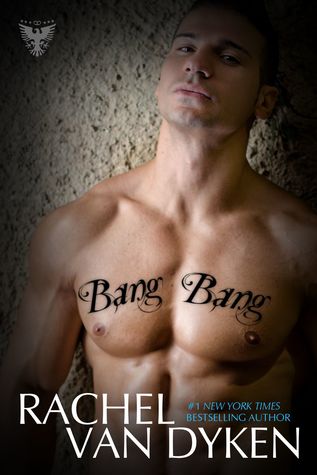 Bang Bang

by Rachel Van Dyken
on September 8, 2014
Buy on Amazon
Goodreads


He was my best friend.
Until he became my enemy.
All within the span of one night.
Bang, Bang, Bang, Bang.
The rapid fire of gunshots became the soundtrack to my life.
This is the Mafia. Lines are blurred. Choices are never black and white. And the life you thought you knew is... one giant lie.
He was dead.
And I didn't want his life to be in vain, so I tried to make something of myself. I tried and failed.
Now he's back. Alive. And he wants something...
Me.
Nobody ever said the mafia played fair.
Welcome to The Family.
Rachel gets me EVERY SINGLE TIME with her captivating prologues that welcome us into this Mafia world she has created. I strongly urge you to read the entire series as seeing the characters is like seeing family. Though this can be read as a standalone seeing the interactions, the bantering and getting to know this cast of characters is what makes this series so special.
Ax and Amy grew up as friends, with Ax always protecting her until truths are revealed and life as they know it has changed forever. Poor Amy is sent to foster homes and Ax is off the grid until he is called back into the family to help find Amy years down the road.
Though Ax's feelings have never changed and we come to learn that he has always loved her, Amy doesn't trust him and who could blame her after everything she has been through?
This is a novella and without revealing too much about what happens – can trust be won again? Can the feelings and chemistry that are so apparent to us be rekindled and will this couple get a second chance to start again?
You will have to read this book to find out!
What I love MOST about Rachel's Elite series is how each and every man she has created know how to love and talk to their women. They will make you swoon! And Bang Bang is no different!
For those who haven't read this series – what are you waiting for?? You will love the Eagle Elite family!!!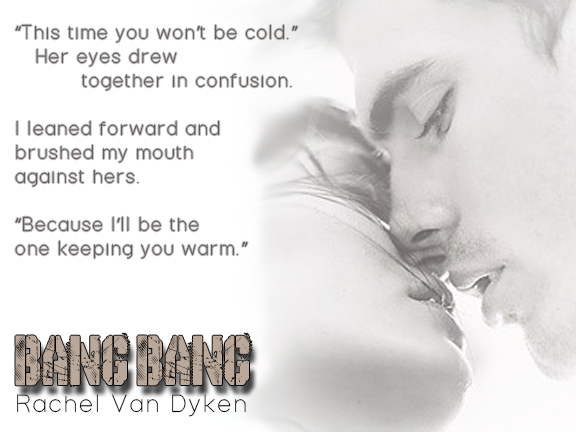 I wanted his lips more than I wanted my next breath, but how long before those lips were taken away? How long before my heart would get ripped from my chest a second time? I almost didn't survive the first — I knew I wouldn't live through the second.
With a jerk I pulled back and slapped him across the face. "How dare you!"
Ax swore and hit the steering wheel. "I'm sorry, I'm sorry I shouldn't have assumed—"
"Assumed, what?" I yelled. "That I wouldn't be completely pissed off? That I wouldn't be shattered!" My voice wavered. "Totally wrecked forever because I've been mourning the loss of my best friend for five damn years only to find out he's very much alive and suddenly wanting to play the white knight?" My body started to shake. "I died that day!"
Ax's face twisted with pain. "Amy, I had to protect you… at all costs I had to protect you."
"Your protection broke my heart," I whispered.
He sighed, running his hands through his hair before answering. "Ames, sometimes what's the best for us — is exactly what hurts the most."
I refused to look at him. Instead I looked down, down at my bare legs, at the outfit I'd almost paraded about in before a crowd of horrible drunk men in order to make money. I wasn't the same girl he'd left. I was damaged in the worst way. Because by saving me, Ax had taken away all purpose from my life. When I thought he'd died, my only goal was to live because he hadn't.
And now? Now the shame of my situation was crippling.
Foster care kid.
Unwanted.
Unloved.
And completely and utterly alone. Abandoned, even by my best friend.
"Five years, Ax. And now you come for me…" I licked my lips. "I'm not vain enough to think it's because you can't find anyone to warm your bed at night, and I'm not confident enough to think it's because you missed me so much you just couldn't stay away. What do you want?"
"You."
"Try again."
He swore and looked away. "It doesn't have to be like this. Had I known you were in this position—"
"What?" I snorted then bit down on my lip to keep from crying. "You would have driven here faster? You would have rescued me sooner? Pitied me more? Take your pick, Ax. Now tell me the truth. Don't start off this new-found relationship with a lie."
He was silent for a while then whispered, "You have something I need."
"A brain?"
Ax's smile nearly took my breath away "Besides that."
I pressed my lips together and looked out the window at my dark and cramped apartment. "I have exactly one stuffed animal from my old life, the one you gave me when I was six. I have a Polaroid picture, a toothbrush, enough clothes to get me through a week and a half of living, a hairbrush, two elastic hair bands — Do you see where I'm going with this?" I sighed and ran my hands through my hair. "I have nothing you need, let alone want. Believe me."
Ax studied my face, his expression softened as he said, barely above a whisper, "Let me be the one who decides that."
I looked away.
"Don't do that, Ames," he murmured. "Don't shut me out."
"Five years, Ax." I looked straight ahead. "Five years where my tears were the only thing keeping me company at night. I think you lost the right to tell me what to do."
He swore. The car door opened. I gasped as humid air filtered in. "What are you doing?"
"Getting out of the car." He shrugged and gestured at the building. "Going into your apartment and packing you up. We'll stay at a hotel tonight."
I snorted. "My apartment not good enough for you?"
"No." He pulled a gun from his jeans, thumbed off the safety, and held it out in front of him. "I just hate getting woken up in the middle of the night with gunshots ringing out, don't you?"
"Yeah." I gulped, my eyes still trained on the gun.
"Guns don't hurt people… people do," Ax said softly. "Remember that."
"I do." I met his gaze. "Because in the end, it wasn't the gun that broke my heart — it was you."
♥READ THE SERIES♥
Book 1 – Elite
Book 2 – Elect
Book 3 – Entice
Book 4 – Elicit
Book 5 – Bang Bang