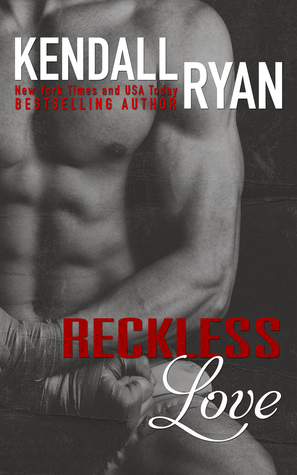 Reckless Love

by Kendall Ryan
on March 17, 2015
Pages: 335
Buy on Amazon
Goodreads

One reckless fighter.

One night of passion he can't forget.

The battle between sex and love is fierce and unrelenting.

And love is about to knock him on his ass.

Reckless Love can be read as a standalone novel, but is a follow up to the New York Times and USA Today bestseller Hard to Love.
Happy Release Day to Kendall Ryan and her new book RECKLESS LOVE!

I could have just sat there looking into his eyes all night, but his lips were only inches from mine. With that realization, a need grew inside me. I had to taste him. I needed to kiss his lips and let him know that I was his. Slipping my arms around his neck, I closed the distance between us, gently kissing his bottom lip.
He grunted, and I pulled away.
"Did I hurt you?" I asked.
His mouth tugged up in a playful smirk. "Sweetheart, I hurt all over. But don't ever stop kissing me. It's worth the pain."
His swollen eye grabbed my attention again. I brushed it lightly and then kissed his eyebrow and his swollen cheek. I wanted to kiss away all the hurt.
I pulled away and took his injured hand. "Ian, we need to—"
He didn't let me finish, instead he pulled me into his arms and kissed me hard. I tasted metal and salt in his mouth; he tasted like a fighter. Brutal and powerful and strong. I wanted more. Even with his injured hand, he pulled me onto his lap so that I was straddling him.
"We need to take care of some unfinished business," he grunted as he pressed my center into him. He was already hard, and my body ached for his.
♥READ THE SERIES♥
Book 1 – Hard to Love
Book 2 – Reckless Love