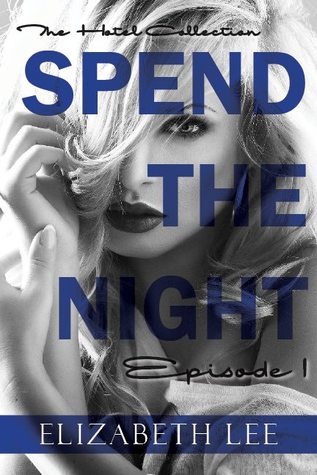 Spend the Night I

by Elizabeth Lee
on January 20, 2015
Buy on Amazon
Goodreads


Spend the Night – Episode 1

Welcome to The Wellesley-Crawford...
Hannah Wellesley has spent her entire life running the halls of her family-owned hotel, the infamous and opulent Wellesley-Crawford. Noted as one of the city's richest, most luxurious hotels in Chicago, the WC is what Hannah has devoted her life and career to.

The hotel's Annual Masquerade Gala is the event of the year, but this year Hannah's evening involves more than just handing out masks. After a mysterious rendezvous in a secluded stairwell with an irresistible and unidentifiable man, Hannah becomes consumed with discovering the identity of her masked lover. Just as she's about to give up the search, two men blow back into her life with drastically different intentions. They both have secrets and uncovering them will lead Hannah down a darkly dangerous path.

Drawn to both of the intriguing bachelors, she'll have to determine which one is after her heart and which one plans to do her deadly harm before it's too late.
So I have said this a lot of times I feel….but I have to say it again…Serials don't really do it for me. I enjoy a complete read and to read a short installment and then have to wait for the next to come out to find out what happens KILLS ME!
That being said, when a good friend asked me to read Spend the Night, I couldn't resist.
I enjoyed this book. This was my first read from Elizabeth Lee and my interest is definitely piqued to continue reading. What you have to know is said in the blurb so I want to tell you what worked for me….
I LOVE mystery and intrigue in my books lately…it keeps me curious, makes my mind work while I am constantly second guessing who or what is going on…this is definitely present in this book
Sexy writing…like I mentioned before this is my first by Elizabeth Lee and I liked the steaminess incorporated into this story as well as the different sources that it came from
I liked the main heroine – Hannah Wellesley who came from a rich family but worked hard to gain her degree and is now the Events Coordinator at her family's hotel; soon to be CEO…she is motivated, focused and organized regarding her life plans so I enjoyed watching her unravel a bit when things don't go as expected
So serials are fun because they are quick reads in between all of the madness of my TBR list. For me, what doesn't work with them is that time will pass when the next installment comes out and I just hope that I still have the interest to continue. I like when I have a full complete story so that I know what the outcome is; not necessarily having to wait for 2 more installments to come out before I know what finally happens. It keeps me connected to the story when it is a full read.
Regardless of that, fans of serials should take a look at this one because the storyline is definitely one that readers will enjoy for the people who love romance combined with mystery.


I scanned the room as I walked through the door. Checked my watch, four minutes after ten. No sign of Carter yet. I knew the restaurant shut down at nine-thirty that night. He probably wasn't done closing the kitchen down. I made my way over to an empty barstool and sat down.
"Hey, Hannah!" Myles, my favorite bartender, shouted over the music coming from the in-house deejay. "What can I getcha?"
"Hi, Myles," I smiled. "I'll think I'll have a rum and diet tonight."
He quickly went to work mixing up my drink. Myles was probably the nicest guy who worked at the hotel. He was average height and build. His hipster style suited him so well. Tonight he was wearing a pair of straight-legged black jeans, a pair of black converse tennis shoes, a vintage AC/DC T-shirt with his signature thick-framed black glasses. His thick, brown hair was styled in his just-got-out-of-bed way, which could be described as perfected chaos. He placed my drink down in front of me and started wiping down the bar with the towel he had tossed over his shoulder. "Want me to run this on your tab?"
Before I could answer, a twenty-dollar bill appeared next to I drink. "I've got it."
I assumed it was Carter, but was surprised when I looked over my shoulder to see Trent standing there.
"Sure thing, Mr. Crawford." Myles took the cash and made his way towards the cash register.
"I can buy my own drink," I interjected, placing my clutch on the top of the bar. "Here Myles," I started to hand him my own twenty-dollar bill, when Trent held up his hand.
"I know you that you can afford your own drinks, Hannah," he said waving Myles off. "Keep the change. And call me Trent," he said, as they exchanged courteous nods. He turned his attention back to me. "Consider this a peace offering." He clinked his beer bottle against my glass.
"It's going to take more than just a drink," I scoffed, pulling my glass to my lips. After the way he'd embarrassed me in front of the board, he could have shown up with a truck load of Bacardi and I still would have been pissed.
"Sorry for being a dick today. That was not at all the way I wanted you to find out that I was interested in running the hotel."
"It was a pretty shitty way for me to find out. You could have said something last night."
"I know," he agreed. "It's just…my family has a really complicated way of doing things."
"I'm well aware," I reassured him. I may have been young when the drama with Damien happened, but I'd heard enough over the years that 'easy' and 'breezy' were not words that were often associated with the Crawford name. "What I'd really like to know is why you have a sudden interest in running this hotel at all? You haven't been here for years."