by Nicole Edwards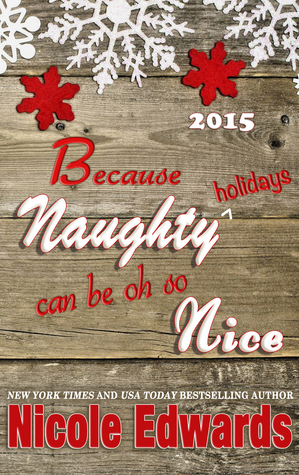 It's LIVE! 
The readers voted and the winners for the 2015 holiday book are: Alluring Indulgence: Travis, Kylie, Gage; Sniper 1 Security: RT and Z; Club Destiny: Luke, Sierra, Cole. Come and see how they are heating up the holidays this year!
The Walker brothers are at it again…
Travis Walker won't deny he has a competitive spirit, and this year, when his brothers decide to go all out with the holiday decorations, Travis is intent on winning this free-for-all.
What's the best gift you can get for the man you love?
Ryan Trexler is hell-bent on getting his husband the best Christmas gift. One that will make Z think about him all year. Only he doesn't have the slightest clue what to get him.
Spend New Year's at the hottest fetish club in town
Luke McCoy has been known to throw a good party, but this year, he wants the New Year's celebration at Devotion to be the best yet.
Contemporary Romance, Gay Romance, Romantic Erotica

Because Naughty Holidays Can Be Oh So Nice contains three all new stories by Nicole Edwards:
Walker Brothers' Free
for All
  is a holiday visit with Travis, Gage and Kylie, the stars of
Travis
(a m/m/f menage read) 
http://amzn.to/1YpWOLm
.  This short provides a fun glimpse into this family's life while also updating the reader on the Walker Family. The reader is able to witness Lorrie, Curtis and all of their boys living out their happy! I so enjoyed this visit with the whole Walker Family and I am now even more excited for Coyote Ridge the spin-off series Ms. Edward is releasing.
The Second Short 
Gift Dilemma
 stars RT and Z from
Never Say Never
http://amzn.to/1YpXcJJ
, a m/m easily read standalone if you haven't read it already.  I absolutely loved this short story, it captured the essence of the holiday spirit as it brought the reader into RT and Z's world.  The premise this story is the search for the perfect holiday gift something I think many in love have battled; the resolution Ms. Edwards provides in this one truly moved me and made me love these men even more!  This story captures the meaning of the holidays in spades!
Now the third story….
Happy New Year
 stars Luke, Sierra and Cole the trio whose story is told in
Temptation
http://amzn.to/1X9VfDY
 and
Devotion
http://amzn.to/1X9W93w
 two books that combined tell a beautiful story of love, a love these three never imagined but wouldn't have any other way.
In this New Year's Eve story, Ms. Edwards not only pulls the reader into this trio's world but she masterfully pulls the reader into an entire world of her creation as she weaves characters from every series she has written into this New Year's Eve gathering.  Each character has place in the world and much of it builds to the reader wanting to know more about how these relationships and the dynamics that may play out as relationship and business ventures expand!
Luke is still the man wanting to build a successful business, Cole is still the man who grounds him and Sierra is the woman they love and the woman who adores them right back!  Add to these three, a little girl and baby boy and this family forever has a place in my heart! Witnessing life move forward surrounded by love kept me glued to my kindle with a smile from ear to ear!
The stories are hot but each one adds so much more than just sex to the readers imagination of these characters so many have come to love! The reader is able to see love working, love in daily life and love prevailing!
I have no idea how Ms. Edwards keeps track of all these characters but hats off to her for the amazing ability to keep all true to what she created while allowing the reader to fall deeper in love.
For die hard Nicole Edwards fans or those who adore the Walker Brothers, this book also contains a fourth story; as a bonus Walker Brothers' Fall Festival! The family dynamic in this one is so much fun to witness.
That's right! The Nicole & Colt Edwards 3rd annual Count Down to Christmas is in full swing! Join the fun, and get your chance to win some cool prizes! 
Plus we have an AWESOME grand prize this year! 
What the heck is this? Only the most awesome 31 days of giveaways of the year! 
and follow these important pages to stay informed of the daily giveaways:
Don' forget to enter the Nicole & Colt Edwards Countdown to Christmas Grand Prize: