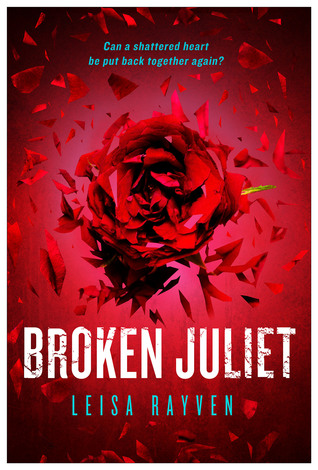 Broken Juliet

by Leisa Rayven
on April 28, 2015
Pages: 288
Buy on Amazon
Goodreads


How do you fix a love that's been broken beyond repair?

For years, Cassie Taylor tried to forget about Ethan Holt. He was the one great love of her life, and when he failed to return her love, a part of her died forever. Or so she thought. Now she and Ethan are sharing a Broadway stage, and he's determined to win her back. Claiming to be a changed man, he's finally able to say all the things she needed to hear years ago, but can she believe him? What makes this time different from all his other broken promises?

Ethan knows he can't change their tumultuous past, but if he's going to have any chance of being with the woman he loves, he'll need to convince Cassie that her future belongs with him.

Don't miss this stunning conclusion to the unforgettable love story that captivated over two million fans online.
Happy Release Day to Leisa Rayven and BROKEN JULIET – one of Christine's most anticipated reads for 2015!!!
Admittedly, I couldn't wait to get my hands on this book as we were left feeling "What the….??" at the end of Bad Romeo. This is one of my most anticipated reads of 2015 and Ms. Rayven did not disappoint.
Broken Juliet picks up where we left off at Bad Romeo and Ethan is at the door trying to convince Cassie that he has changed and to give him another chance to prove his love for her. Cassie understandably was left broken and in pieces for what Ethan has done to her time and time again and boy, does he have his work cut out for him.
So because I don't want to give away too much of the story because this is one that EVERYONE has to experience and get the feels for themselves, I do want to say some things about this book….
Ms. Rayven knocked it out of the park with this book! Told in past and present POV's, the reader will get a deeper understanding of these character's pasts and feelings and just how broken their relationship was. So deeply emotional and heartbreaking torture, the feels were literally breaking my heart and making me cry as I devoured page after page of this book not wanting to stop to even take a breath.
I completely adored Ethan who has grown so much from his feelings of self worth to realizing what was most important to him in his life – Cassie. I LOVED how hard Ethan was willing to work to regain Cassie's trust and his relentless pursuit and love and patience for her just warmed my heart.
I loved loved LOVED how Ethan shared his feelings with Cassie (I won't tell you how as you have to see for yourself); experiencing both of their vulnerabilities and honesty – yes sad but enlightening for both sides as so many questions are answered. Ms. Rayven  truly outdid herself with this aspect of the story; giving readers such a well rounded look at this couple's journey from beginning to end; giving us something so emotionally broken yet beautiful and capable to be repaired. I think that's what I kept feeling the most – the HOPE in my heart that this couple would be able to mend each other and come back together to find their perfect happy.
Never has there been two people more meant for each other than Ethan and Cassie. Packed with emotion…tears, fears, heartbreak, sorrow, and love; Broken Juliet is so deeply captivating and magical that I will never EVER forget these characters because this story was truly such complete heartfelt perfection. I can't say enough about this wonderful journey of growth, forgiveness and a love so profound that I felt it in my heart and soul. Just READ IT – you won't regret one second that you spend with this masterpiece! I can't wait to see what Ms. Rayven has in store for us next – another must click author for me!
 ♥READ THE SERIES♥
Book 1 – Bad Romeo
Book 2 – Broken Juliet