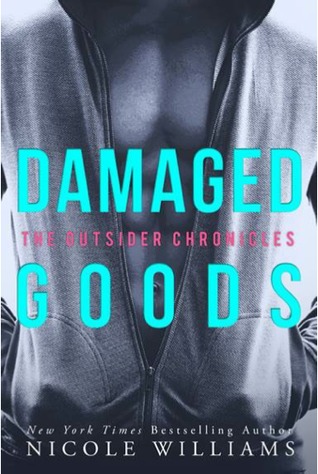 Damaged Goods

by Nicole Williams
on September 9, 2014
Buy on Amazon
Goodreads


When Liv Bennett said good-bye to her sinkhole of a hometown, she planned to leave that chapter of her life behind forever. But forever turned out to only be three years.

After her addict of a mother up and disappears, Liv returns to what she considers her own personal hell smack in the middle of nowhere Nevada to take care of her two younger sisters, and she promptly reinstitutes the golden rule that got her through her first nineteen years of life without getting knocked up, roughed up, or messed up: don't date the local boys and, god forbid, don't fall in love with one of them.

It isn't long before that golden rule is put to the test.

Will Goods grew up in the next trailer over, but the wild, careless boy who used to tear up the town with his three brothers has morphed into someone else so completely, he's almost unrecognizable. The quiet, contemplative man who works on cars every night and takes care of his mentally ill mother every day is nothing like the local boys Liv grew up avoiding.

But when Liv considers suspending her golden rule just this once, she finds out something about Will that will change everything.

Will Goods isn't who he used to be—he's not even the man Liv thinks she's gotten to know over the summer. He's become someone else entirely.

He's become . . .

Damaged Goods.
Happy Release Day to Nicole Williams and her new book DAMAGED GOODS!
I LOVED this book! I didn't know what to expect as I was reading and I applaud Nicole for trying something different and with each successive book that she writes, her stories, her writing and characters just get better and better. What I want to give credit for the most is that Nicole is able to create these guys that you simply fall in love with and Damaged Goods was no different.
Liv Bennett fled from her trailer park home and do nothing mom when it was time for college to start a new life and to follow her dreams. She studies hard but also works hard in order to save money to send to her two younger sisters to help them live at home. Her life at best is mediocre as she settles for safe (even in the boyfriend department) because its a complete 360 from the life that she knows but to me, its just boring because she isn't truly living.
When she receives a call from her sister that her mother has been gone for 2 weeks and their younger sister is sick, Liv rushes home to a place she was hoping to never return to, to help care for her sisters.
Not expecting to meet Will Goods, the seemingly good boy next door who takes care of his ill mother and has left the army in order to do so because his other brothers didn't step up to help her out.
Liv continues to protect her heart but along the way develops a relationship with Will as he isn't what she expected him to be.
As Liv struggles to keep her and her sisters afloat, she takes a job at the local high end strip club and this is where things get interesting. You see, she can be someone she isn't while she is there and can let loose and be someone completely different.
As the story progresses and secrets are revealed, I am shocked at what we learn about Will though looking back, it does make sense. I am TOTALLY being vague as I want you to go in and experience this for yourself.
This book is the epitome of living life to the fullest and with no regrets. You make life how you want it instead of letting the past dictate it for you and these characters will learn that and more as you experience their story.
As everyone knows, I am a sucker for a good epilogue and this one brought a huge smile to my face. Take a chance on Damaged Goods – if you are looking for different, emotional and just a good story – then look no further. You won't regret it!
♥READ THE SERIES♥
Book 1 – Hard Knox
Book 2 – Damaged Goods