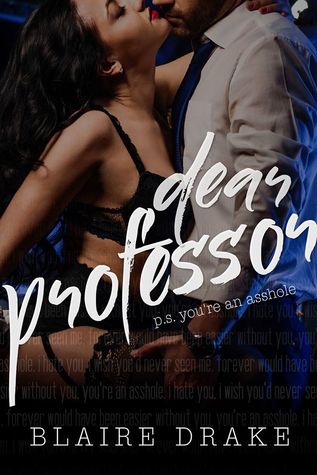 Dear Professor

by Blaire Drake
on December 14, 2015
Buy on Amazon
Goodreads


Dear Professor,

Does it bother you that you're ten years older than me?
Have you ever thought it's wrong that you watched me fuck another guy on camera for months?
What do you want from me, really? All I wanted was my letter of recommendation, but now I'm stuck, aren't I? Stuck under your thumb… And your body.
From cam girl to personal whore, and all by the age of twenty-one. You've got me good, haven't you?
But guess what? I can play too. Grab the polish, because I've found your skeleton, and it's time to dust.
I'll see you in class.
Oh and, Sir? I'm not wearing any panties.

Love, Darcy

P.s. you're an asshole.
WOW! What a debut! When you see quotes like this post on your feed from fellow blogger friends (ahem Angie!), you know are in for a hot, hot, hot read! And boy did I get it!
"I warned you not to push me," he breathed in a husky voice that had all my nerve endings tingling. 
"I didn't listen," I whispered back, gasping as he pulled my hair tighter.
"And that was your mistake." 
Truth be told, I love forbidden romance..not all the time but when I am in the mood. I just finished Eighteen by J.A. Huss (another forbidden romance that I will post a review for later this week) and just wanted…no scratch that..needed MORE!
Blaire Drake is a new author that I am very much looking forward to reading more of.
So what's it about?
Darcy is a cam girl, performing for men on a web cam while making a lot of money to help fund her college education. But Darcy isn't a dumb girl..no, she is a lawyer in the making, smart, sassy with dreams of going to Harvard. This job is a means to an end…to help her attain that better life.
She needs one more letter of recommendation and not just from any professor but her history professor, Mr. Asshole himself – Professor Jordan Keaton. But Professor Keaton is no normal teacher because he knows her secret and he will blackmail her to get what he wants in return for her letter of recommendation.
Both characters with pasts, who start off almost hating each other but as the many layers unfold, they challenge each other, they are scared to get close to one another and even more so, they are afraid to open their hearts again.
I have to say that this is probably one of the sexiest, hottest, steamiest books, I have read in such a long time. I am talking panty melting HOT! But what I loved even more about this book was the character development, the growth within the characters themselves and how there were parts that kept me on my toes to the very end because I wasn't sure how everything would play out, I didn't know if these characters would be able to break down their walls to something more than just the physical aspect that was just so undeniable between them.
In the end, I am so happy that I changed my reading schedule to add this book in. Dear Professor was completely unique when comparing to other student/teacher romances and left me with a completely satisfied smily on my face (hehe). Blaire Drake is an author to keep an eye out for…I am sure that will be taking this book world by storm! Solid debut! <3

Watch the HOT HOT HOT trailer HERE