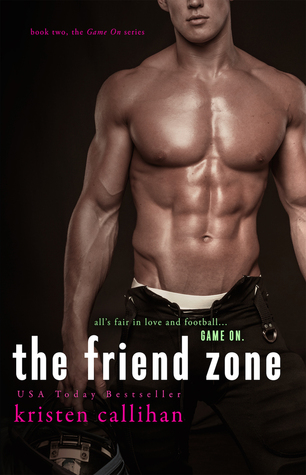 The Friend Zone

by Kristen Callihan
on May 5, 2015
Buy on Amazon
Goodreads


Gray doesn't make friends with women. He has sex with them. Until Ivy.

The last thing star tight-end Gray Grayson wants to do is drive his agent's daughter's bubblegum pink car. But he needs the wheels and she's studying abroad. Something he explains when she sends him an irate text to let him know exactly how much pain she'll put him in if he crashes her beloved ride. Before he knows it, Ivy Mackenzie has become his best texting bud. But then Ivy comes home and everything goes haywire. Because the only thing Gray can think of is being with Ivy.

Ivy doesn't have sex with friends. Especially not with a certain football player. No matter how hot he makes her…

Gray drives Ivy crazy. He's irreverent, sex on a stick, and completely off limits. Because, Ivy has one golden rule: never get involved with one of her father's clients. A rule that's proving harder to keep now that Gray is doing his best to seduce her. Her best friend is fast becoming the most irresistible guy she's ever met.

Which means Gray is going to have to use all his skills to get himself out of the friend zone and into Ivy's heart. Game on
I LOVED Gray Grayson from The Hook Up and couldn't wait to read his book. I knew when first meeting him and experiencing him drive Ivy's pink Fiat that he would put a smile on my face and make me laugh out loud and he did not disappoint.
There is so much more to Gray than football – he is not only a smart math geek but he is truly a good friend to Ivy; both protective, kind and sweet.
Ivy is nothing that I expected. Yes she is being groomed to take over her mom's business as a baker but she grew up around sports and I absolutely loved watching her talk sports, give advice and put the guys including Gray in their place.
ALL of their interactions, their text messages and conversations had me smiling from ear to ear already knowing that they mean so much to each other…hoping beyond hope that though they want to stay in that best friend zone that they will really end up being more to each other.
I love friends to lovers books – that addictive feeling of the characters wanting more from each other than just being best friends. Two people who knew each other better than anyone else; who were fated to be together as more because their hearts already belonged to each other before they were even aware of their feelings for each other.
Ms. Callihan has again given us a well written book with flawless characters that will own your heart. Fans of Kristen Callihan's The Hook Up will love The Friend Zone. And if you have not read this author yet, I encourage you to do so….she again takes a beautiful love story to the next level that will touch your heart and have you closing your kindle/book with a satisfied smile on your face <3
♥READ THE SERIES♥
Book 1 – The Hook Up
Book 2 – The Friend Zone