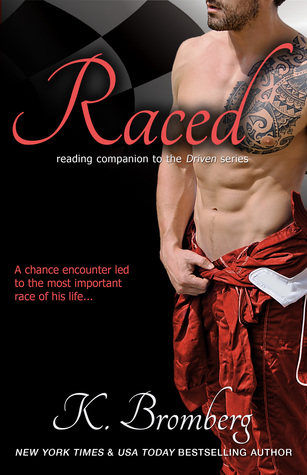 Raced

by K. Bromberg
on September 15, 2014
Buy on Amazon
Goodreads


The Colton Points of View Collection

From New York Times and USA Today bestselling author K. Bromberg comes a companion novella to the Driven Trilogy (Driven, Fueled, and Crashed). This novella is a compilation of reader requested scenes from the series retold through the eyes of Colton Donavan.

Colton Donavan lived life in the fast lane, but it took Rylee Thomas to teach him what racing was all about.

Arrogant
Rogue
Broken
Conceited
Dirty-Talking
Rebel
Egomaniacal
Voodooed
Bent
Reckless

You think you know me?

Think again.

*Raced is not a complete re-write of the Driven Trilogy. This companion explores pivotal scenes as well as some new ones written in Colton Donavan's point of view that were not previously published in Driven, Fueled, and Crashed. Hear his thoughts, experience his inner-turmoil, and laugh with him on his journey as he overcomes his demons and accepts what it means to love.

This novella is for the devoted readers of the Driven series. It is recommended that this companion be read after Driven, Fueled, and Crashed.
There are two different giveaways below. Make sure to enter!! Good luck!
Ok do NOT read this book unless you have read the prior three books in the series, Driven, Fueled, and Crashed are must reads before this book. I will also say if those three left you satisfied you do not need to purchase Raced, something the author has been wonderfully honest about.
Raced is told in Colton's POV and takes the reader through major events in Colton and Rylee's relationships, some of the scenes are ones that are re-told, some are new and some are things we never saw before.
This is truly a companion novel, if you are die-hard Driven trilogy fan and remember the story scene by scene, you will LOVE this one; if you are a casual fan who enjoyed the series Ms. Bromberg did a wonderful job at placing the scenes in the context of the larger story.  The author masterfully pulled me back into this story; a love story that has the reader feeling a wide range of emotions.
There were a few pivotal scenes I truly enjoyed reading in Colton's POV and I loved LOVED living the a major milestone through his eyes (nope not telling you which one – read the book!).
I must say I loved the scenes in Raced that featured Colton and Beckett.
I am now even more excited for Beckett is Slow Burn!!!

"So, Colton," she says, breaking through my civil war of thoughts and my absolute focus on her proffered tits and stupendous ass. "What can I do for you?"
Shit, we can start with you on your knees, me on the couch, and your mouth on my cock. The immediate image makes my head spin with need.
"Christ, Rylee!" I bark the words out, trying to stop her stretching, stop my thinking, when I'm the one that's supposed to be taking control of this conversation so I can prove my point in more ways than one. And hell if every ounce of testosterone in my body says "please don't stop." Fuck getting the upper hand in the argument because when all is said and done, all that matters is that I get to bury myself in her regardless of how the point is made.
"What?" She bats her eyelashes again. Innocent façade front and center.
"We need to talk about last night." I change the subject. Need to think of rainbows and unicorns and shit to calm my dick the fuck down. Allow me to give my apology for last night. Set one wrong to right before diving right into the next with her because deep down I know we are one of those disasters waiting to happen. Beautiful and devastating all at the same time.
The quick fuck I wanted to ease the ache for her turned out to be so much more than that. It's moved into uncharted territory for me, and no matter which way I look at this, she's added a complication to my simple, fuck-more-care-less lifestyle. She's made me want her more than once, made me pursue when I don't chase, and has me here apologizing when I'm a take-me-as-I-am-or-get-the-hell-out kind of guy.
But fuckin' A, if complicated is flexible like that, I'll take it.
♥READ THE SERIES♥
Book 1 – Driven
Book 2 – Fueled
Book 3 – Crashed
Book 4 – Raced