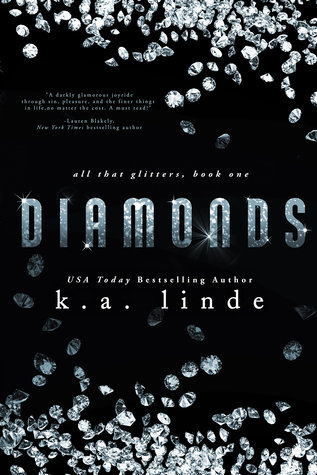 Diamonds

by K.A. Linde
on April 21, 2015
Buy on Amazon
Goodreads

Bryna feels his eyes on her.

Hot, seductive, enticing.

He's at least ten years older than her seventeen years, and he knows exactly what he's doing to her with that look.

Walking away would be the smart thing to do…

But she can't. Not that first night when he takes her home and claims her body. Not when he shows up in her life again with expensive gifts to win her trust. Not even when she's falling for him, and everything else is falling apart…

Find out how Bryna goes from golden girl to gold digger in this tantalizingly scandalous first book in the USA Today bestselling author K.A. Linde's All That Glitters series.
Happy Release Day to K.A. Linde and book 1 in her new All that Glitters series – DIAMONDS! Our review of this book will be coming soon so be on the lookout!


Join us at the Diamonds After Party on April 23rd from 7-11pm for fun and games HERE on Facebook.

♥READ THE SERIES♥
Book 1 – Diamonds
Pre-Order Book 2 – Gold