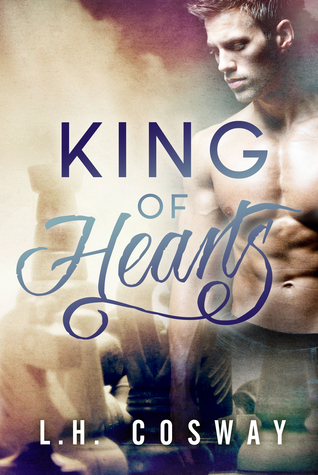 King of Hearts

by L.H. Cosway
on July 16, 2015
Buy on Amazon
Goodreads


Welcome to the City, London's most prestigious square mile, where finance reigns and Oliver King is a rising prince.

I used to rule the world.

There might be wolves on Wall Street, but there were crocodiles in Canary Wharf. Some of us craved money. Some of us craved power.

I liked money, and power had its advantages, but what I really wanted was to excel, to surpass the men who came before me. I never cared much for love and romance until I met Alexis.

I could feel it the very moment she walked into the interview, with her outspoken charm and vivacious personality. She cast all the others in shadow, made me laugh when life held no humour. Our friendship should have remained professional, but it wasn't long before the lines started to blur.

You know what they say about the best laid plans of mice and men? Well, I never foresaw where my plans would lead, and only in my darkest hour did I finally see the light…

You can have all the money and prestige in the world and still be the poorest man alive. And love, well, I hate to use a tired old cliché, but love can be the thing that truly sets you free.
Having met Oliver King in Hearts of Fire, I couldn't want to know more about his story and L.H. Cosway really delivered.
In the previous book, we see Oliver as a broken man. He is an alcoholic and moody and I wasn't sure that I could ever find a place for him in my heart. Yet Ms. Cosway surprised me in King of Hearts. You see this is the "before" story – what happens that makes Oliver the way he is and King of Hearts takes the reader on a journey where we see Oliver King as a successful businessman, on top of his game, and someone I completely fell in love with.
In this book, we meet Alexis Clark, the woman behind the picture that we know King carries with him and treasures above all else when we first met him. You see Alexis interviews for a job with King as his secretary and I completely adored their relationship from the start. Alexis is feisty and bold and just funny. There were so many times throughout my read that I found myself smiling or laughing at their bantering.
Yes, there is the push and pull of the attraction between them but above all else is the professionalism and ease that they have between them. This journey of the before and after for this couple and really learning what makes Oliver King tick, really broke my heart.
The thing I want to highlight is that Cosway knows how to write emotionally gripping stories that pull at your heart strings. King of Hearts was heartbreaking and sad yet heartwarming and joyous. Cosway proves time and time again why she is an author to be on everyone's To Be Read list because she writes stories and characters that captivate you. Nothing is ever the same and in the book world where there are so many similar stories, Cosway shows us something different each and every time. And it just works.
There are so many types of stories that I gravitate to and most especially when love can save everything….Cosway writes the perfect epilogue that made my heart happy and fist pump for another job well done!!!
If you have not read any of L.H Cosway's books – what are you waiting for?!?!?!

I'd almost forgotten that King and I had anything even resembling a friendship until he sidled into the office on Friday morning looking like the cat that got the cream. And all of that smug delight was being firmly directed at me. He said his usual hellos to both Gillian and Eleanor, then came to stand in front of me, arms folded, a gigantic smile on his face.
"You're looking particularly lovely today, Miss Clark," he said with a flourish.
I glanced at him for a second, frowned, and then continued typing. What was his game? Eleanor got up from her seat and went to use the bathroom, and still he remained standing there like a complete and total oddball, as Gillian's voice talking on the phone filled the room. Finally, I gave in.
"Can I help you with something?"
"I could fucking kiss you right now," he beamed and I sucked a breath.
Okay. Trying to play it nonchalant, I replied, "For what exactly?"
"That social media start-up we discussed the other day? Well, immediately after we spoke I lined up one of my clients as an investor and guess what?"
I stared at him. "What?"
"The site has gone viral overnight. Apparently, a couple of celebrities started using it and now they're getting new sign-ups by the bucket load." He leaned forward and braced both his hands on the edge of my desk. "This client was an important one and he currently thinks I shit daisies. And I have you to thank for it, Alexis. You're a flipping genius!"
I couldn't help my smile. He really was laying it on thick and heavy. "Shall I whip out my cock for you to suck now or later? Jeez Ollie, tone it down a little."
He blinked at me, and then a second later he was laughing. It was good thing Eleanor wasn't around and that Gillian was too preoccupied with her phone call to hear what I'd said.
"Did you just call me Ollie?"
Supressing a smirk, I nodded, still typing. A beat of silence passed.
"Did you also just refer to me sucking your cock?"
"Well, you've already opened the button and pulled down the fly, you might as well finish the job," I quipped and amusement lit his eyes.
He stared at me for so long that I began to get uncomfortable. His smile naturally faded, and now his expression grew serious. "I'm going to put a bonus in your first pay check at the end of the month. Think of it as a consultant's fee."
♥ READ THE BOOKS  ♥
Six of Hearts
Amazon US | Amazon UK | B&N | Kobo | Smashwords | iTunes
Hearts of Fire
Amazon | Smashwords | B&N | Kobo | iTunes
King of Hearts
Amazon US | Amazon UK | B&N | iTunes | Smashwords