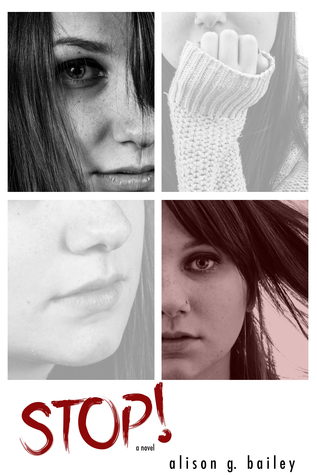 Stop!

by Alison G. Bailey
on June 25, 2015
Pages: 278
Buy on Amazon
Goodreads


Every life has a different path full of sharp turns, smooth curves, and steep drop offs.

Hollis Murphy has a plan—college, career, boyfriend, love, marriage, family. A predictable, normal life. She's on track until an outside force causes her to crash and burn. They call it an accident, because that's the only word they know to explain what happens to her. It helps everyone move on with their lives, except for Hollis. She holds on to the belief that she's been targeted for a reason.

Risher Stevenson is intelligent, caring, sweet, and the hottest boy Hollis has ever laid eyes on. He fits perfectly into her original plan for a normal life. Everyone loves him.

Benton Daniels is intelligent, caring, sweet, and the bravest boy Hollis has ever met. He doesn't fit into her life but gives it purpose and makes it extraordinary. Everyone hates him.

One is bullied. One is tormented. All are judged. How will it STOP?
Stop! by Alison G. Bailey is very different from her prior series (in a very good way). I loved the Perfect series but Stop! brings Ms. Bailey's writing to a whole other level.
You see while the Perfect series is fiction that you completely fall in love with because it takes you out of reality for a bit while you immerse yourself in a good book, Stop! is real life…Stop! makes you think about the world we live in, how we behave and act towards each other, how we want to be better people and teach our youth to act towards one another so that there is a brighter tomorrow and future for this world. Stop! just blew me away.
This is a difficult review to write because I don't want to reveal the story as it should be revealed to the reader as the author intended.
So instead I will say this…for readers looking for their next emotional read, who want to take away an important message that could change how you act towards others, who want to learn something that you don't know about and to maybe teach someone a thing or two about the importance of words and really doing onto others as you would want done to you…then pick up this book.
Yes, there are certain situations that get ugly in this book but this is reality…this happens to people daily. Rather than be oblivious as to what goes on around us, let's try and change the world to make it a better place.
I don't know about you but I am a mom of three children and daily I worry about bullying or how others will treat my kids. I worry what the world will be like for them one day when I am gone. More than anything, I want them to be good people, caring, kind and filled to the brim with compassion and understanding. But what they learn and know comes from the home and when they are older, I want them to read books like Stop! because my hope is that they learn something from books like these that will make them people that I will forever be proud of because I know that they will treat people like how they deserve to be treated. And that they will open to their hearts and minds to everyone.
I know I am not saying much about the book…and I'm sorry that I can't reveal more…just read it….learn something…and be good to each other <3

♥ BUY NOW ♥