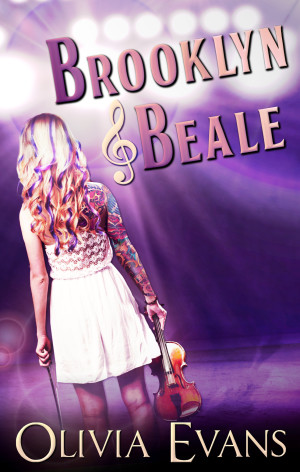 Brooklyn & Beale

by Olivia Evans
on December 1, 2015
Buy on Amazon
Goodreads


The life of a session musician is rarely easy. After consecutive tour cancellations and a stack of unpaid bills, Chloe Bennett fears her dream has come to an end.
Then everything changes.
Indie rocker Reid Ryder needs a replacement violinist for his tour. For Chloe, it's the opportunity of a lifetime. For Reid, it's a checkmark off his list. Already battling addiction, guilt, and his inability to write new music, Reid's hopeful that things are finally falling into place.
But life is never predictable.
When the tour begins, he finds himself drawn to Chloe. She challenges and inspires him. Their onstage chemistry is electric. To the outside world, they're the perfect match. To those involved, however, it's not so simple. When Reid's no longer sure that the future he planned is the one he wants, a choice must be made.
Love...or loyalty.
I have loved Olivia Evans since a good friend recommend that I read Hollywood & Vine. What she brings to the book world is a fresh voice, unique stories, and characters to fall in love with.
Brooklyn & Beale solidifies her place on my must read author list.
What I loved most about Brooklyn & Beale was the journey – the love that built from friendship to more. As a reader, I had a front row seat in experiencing this slow building romance from the beginning. I appreciated the fact that there was no instalove, no cheating, no added drama that many books have these days. This was an honest look at a musician's life – life on the road, the trials and tribulations that come with being in the spotlight and even more so, a look at what happens when choices need to be made with matters of the heart. When the choice is tough and is the difference between what you are used to and what saves you.
And speaking of the musician's life – I LOVED how music played such a big role through the course of the book. That Olivia took a chance and shared her poetic words with us as it brought us even closer to the characters – into their hearts and minds and for me, the musical piece really touched my soul.
If you are looking for a well developed story, with characters you won't soon forget and something that is different than what is out there – then look no further than Olivia Evans' books – ALL OF THEM! I promise that you will love them all!
I know that Olivia has more stories up her sleeve and I am SO looking forward to what she shares with us next. She is a new author that many should keep their eye on as I know in my heart that she will definitely rise to the top!

"I can't lose you, Chloe."
"Lose me in what way, Reid? I'm your bandmate. But beyond that, what is there?"
She was so much more than his bandmate, but he could never tell her that. "You're my best friend."

Olivia Evans BROOKLYN & BEALE Release Week Giveaway

♥ BOOKS BY OLIVIA EVANS ♥
Hollywood & Vine *on SALE NOW for $.99 until the 4th*
Amazon | Barnes & Noble | iBooks | Kobo | Smashwords
Brooklyn & Beale 
Amazon | B&N | iTunes | Kobo | Smashwords