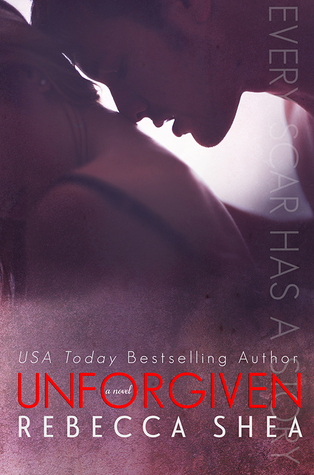 Unforgiven

by Rebecca Shea
on September 18, 2014
Buy on Amazon
Goodreads

Lindsay Christianson seemingly has it all—the perfect career, the perfect boyfriend, and the best-laid plans for a perfect life—until one phone call changes everything.

With a moments notice, Lindsay must choose between her perfect life and her professional dreams. The choice momentarily seems clear when the opportunity to propel her career abruptly sends her across the country, leaving everything she loves behind in North Carolina.

Navigating a new city with a broken heart and a job where her colleagues will do anything to sabotage her success, the pressure quickly becomes too great. When old habits resurface, Lindsay finds herself chasing demons she thought were long since buried.

With pain and destruction left in her wake, will Lindsay find a way to erase the damage she's done, or will her sins remain unforgiven?

**This book is a Contemporary Romance and contains mature subject matter. It is not intended for those under 17 years of age.**
I adore Rebecca Shea and her books – she has this way with words that completely guts you emotionally, pulls you into her books and makes you fall in complete love with her characters.
Unforgiven is no different…I have been anxiously waiting for Matt and Lindsay's story for some time having met them in earlier books. I had hoped for a happily ever after for them not realizing what Ms. Shea would have in store for us.
Unforgiven starts off with Matt and Lindsay and their seemingly perfect relationship, knowing that they have been dating for some time and finally coming out to their family and friends. Their love is what dreams are made of and I am completely enamored by them.
When Lindsay has a chance at furthering her career across the US in Arizona, it takes her but a heartbeat to decide to pursue this higher level position as it has been her hopes and dreams to make it as a TV reporter, wanting to get into the big leagues. Knowing that Matt would have chosen differently because their love is more of a priority to him breaks my heart completely and I wonder how she didn't sit and think on her decision than jumping in feet first. I understand her drive and determination but in my mind, this big of a decision needed more time to sit and marinate, it needed to be discussed with Matt and I can't help but feel this sense of impending doom for their relationship and how it will affect them individually.
So what happens??
Well…of course I am not telling!! I will say that it broke me, it hurt my heart and in some ways completely surprised me. You will have to read it to find out for yourself 🙂
I will say that Rebecca does what she does best and takes relevant real life topics and brings it to a whole new level. Rebecca's writing gets better and better with each book and I look forward to more from her.
Unforgiven is overwhelmingly heart breaking but shows the reader how much the characters grow after some soul searching and forgiveness….I adore Matt and Lindsay and you will too! <3

"Two days, Jack. I need two days. Give me that. Stall them."
There is a large sigh on the other end of the phone, and what sounds like a hand hitting a table. "You have until noon on Monday."
"Thank you, Jack." He disconnects the phone without saying goodbye. I know he's pissed. I catch a glimpse of Matt leaning against the doorframe of the bedroom. His head has fallen forward and he stares at the ground.
"Talk to me," I say as I walk over and wrap my arms around him.
"What do you want me to say, Lindsay? It sounds like you have a great opportunity—and I'll be damned if I'm going to be the person to hold you back from that." His dark brown eyes meet mine.
"What would you do if you were me?" I ask him.
"That's easy. I'd choose you because I love you and you mean more to me than any job or any opportunity. But Lindsay, I won't stop you from chasing this dream. You'll live with your decision for the rest of your life. I never want to be a decision you regret." He pulls away from me as he turns toward the hallway. "But promise me something, will you?" I nod at him as a lump forms in my throat. "Follow your heart. I know you better than you know yourself and I know how your brain works— listen to your heart."

♥SERIES READING ORDER♥
Book 1: Unbreakable
Book 2: Undone