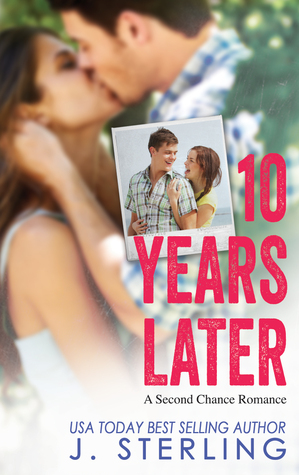 10 Years Later

by J. Sterling
on March 29, 2015
Buy on Amazon
Goodreads


Cammie:
It's been ten years since I've seen him. Ten years. I have no idea what he's doing,where he's been or if he's even still single. Have I thought about him over the years? Of course. Absolutely. But that doesn't mean anything, right? Just because you think about the boy you used to be in love with doesn't mean you're still in love with them now. Does it?

Dalton:
I haven't seen her in ten years. She's the whole reason I'm even coming to this reunion. If it wasn't for her, I would have stayed home. I made mistakes back in high school. Hell, I was just a kid then. But I'm here to right my wrongs,tell her I'm sorry and win her back. She changed my whole life and she doesn't even know it. It's time she knew.
I enjoyed this new book by J. Sterling!
When I read the blurb for the book, I instantly had to have this book. I LOVE second chance love stories!
So you know how we all love social media and are basically addicted to it? How social media allows you to search to look into people's lives that you are no longer friends with to find out what their current life is like and what they have been up to…in a word..being nosey lol
I would SO be like that if I were going to be attending my high school reunion! Heck, I am like that now lol….So here is what you have know….
Dalton Thomas is a copy who had a dysfunctional childhood.
Cammie is a radio show producer.
And it's time for their 10 year high school reunion and they are both still hung up on each other. 🙂
Seeing and experiencing their first interaction after 10 years feels bittersweet because they are both wanting the same thing. There have been so many missed opportunities and NOW is the time to make up for it.
This is a book about living in the moment, living and loving with no regrets and how love is worth taking the risk.
There were so many things I enjoyed about this book – I loved the radio aspect and having people experience Cammie's life with her. I also enjoyed the element of suspense and how it played into Cammie's history with her dad and showed her to take a chance on love. Most of all, I love romance and 2nd chances at love….Dalton is a romantic and he will make your heart skip a beat <3
With laughter, smiles, fear and love….this was a full circle journey that is fun and sweet and real – a classic J. Sterling book that will put a satisfied smile on your face when you close your kindle <3
The only thing I wished for was an epilogue because I am a sucker for what happens NEXT but I know that not everything is always wrapped up in a pretty bow so I am happy to use my imagination of where this couple will go from here 🙂