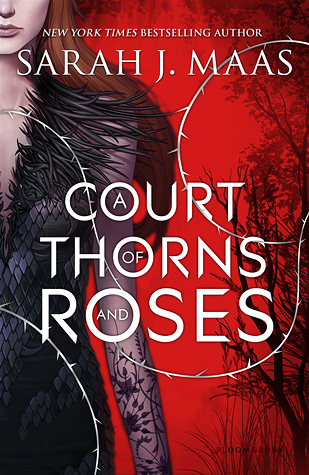 A Court of Thorns and Roses

by Sarah J. Maas
on May 5, 2015
Pages: 416
Buy on Amazon
Goodreads


A thrilling, seductive new series from New York Timesbestselling author Sarah J. Maas, blending Beauty and the Beast with faerie lore.

When nineteen-year-old huntress Feyre kills a wolf in the woods, a beast-like creature arrives to demand retribution for it. Dragged to a treacherous magical land she only knows about from legends, Feyre discovers that her captor is not an animal, but Tamlin—one of the lethal, immortal faeries who once ruled their world.

As she dwells on his estate, her feelings for Tamlin transform from icy hostility into a fiery passion that burns through every lie and warning she's been told about the beautiful, dangerous world of the Fae. But an ancient, wicked shadow grows over the faerie lands, and Feyre must find a way to stop it . . . or doom Tamlin—and his world—forever.

Perfect for fans of Kristin Cashore and George R. R. Martin, this first book in a sexy and action-packed new series is impossible to put down!
WOW WOW WOW!!! I haven't had a book hangover in ages and this book – I just can't stop thinking about it! A Court of Thorns and Roses is complete and utter perfection!
K.A. Linde recommended this book to me to cure my book funk and boy did it ever. I have never read fantasy before and this one just captivated me – the world building was top notch, the characters and story so well crafted – this story is like the blurb says – a unique blending of Beauty and the Beast with faerie lore and I am now completely addicted. It's like book crack but 100x better!!!! Sarah J. Maas is a new author to me but I will read everything and anything she writes. I heard that her prior series – Throne of Glass is a must read and I plan on going back and devouring that series too!! I can't wait!!!
So before I share with you my review..I want to share one of my favorite lines from the book…..
He brought his lips to my ear. "I would have been gentle with you, though." I shuddered as I closed my eyes. Every inch of my body went taut as his words echoed through me. "I would have had you moaning my name throughout it all. And I would have taken a very, very long time, Feyre."
Gah! I am SOOOOO IN LOVE with Tamlin and this book!!!!
So what's it about?
Nineteen year old Fayre is one of three sisters who lives with their sick father. Having once come from money and then losing it all, they are trying to make ends meet though Fayre takes on much of the burden and responsibility of caring for her family because of a vow she made to her dying mother.
I LOVED Fayre – her strength, her love for her family and most of all her heart. There hasn't been a strong heroine such as her (for me in my opinion) in a long time so I admired every thing about her.
The readers meet Fayre as she is hunting for food in the forest to feed her family. Finally aiming her arrow at a doe, she comes face to face with a wolf who she must kill first to be able to catch her prey. Not realizing her error in killing the wolf until later that night, Fayre and her family come face to face with a magnificent beast and learn that as faerie lore says, a life for a life when the beast comes into her home demanding her life in exchange for the life of the wolf she took. This beast who we eventually learn is Tamlin, a poweful faerie from the Spring Court who whisks Fayre away from her family to take her across to the immortal world.
Fayre will face many dangers coming into this new world; all so scary, so real and so vividly painted in my mind. The strong message we learn is that Tamlin can protect her as long as she remains close to him on his land but of course Fayre being herself will test this time and time again.
What I loved most about this story was the relationship between Tamlin and Fayre. Yes, Tamlin started off as brooding and angry but his attempts at being friendly to Fayre's questioning everything about him having been told over and over to never trust a faerie, had me completely captivated by them. This slow build of friendship to becoming something more stole my heart and made me feel the beauty of what the possibilities could be for them.
I don't want to reveal too much more of the plot or story as this magical world was so descriptively well thought out, the imagery and every nuance so beautiful that I think that the reader needs to experience this story for themselves.
I will say this…dangers lurk in every corner of A Court of Thorns and Roses and you will have to read the book to find out how Fayre and Tamlin fare and if they are able to overcome the darkness that threatens the livelihood of both the immortal and mortal worlds. This book was so thrilling and exciting and I couldn't devour it fast enough as the magic just exuded from the pages.
Sarah J. Mass has found a new fan in me…this is definitely one of my top books for 2015. The magic, the love, and lets not forget about the amazing characters that I will never forget…there are so many things I want to know more about and I can't wait to see who's story is next. I love when an author is able to use their creativity to work my imagination, to create such an alluring world and story that I can't put the book down or that when I walk away, all of my thoughts are on said book…Sarah J. Maas has given readers something so different yet so exciting and unforgettable that I want to recommended it to everyone – READ IT – you won't regret a moment of this perfect treasure.