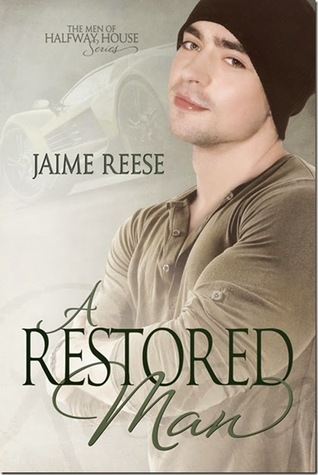 A Restored Man

by Jaime Reese
on February 17, 2015
Pages: 385
Buy on Amazon
Goodreads


Cole Renzo thinks his greatest challenge is to behave for the remainder of his term at Halfway House. Until he meets his new boss, Ty Calloway, a man who ticks off every box on Cole's list of interests.

A sought-after restorer and customizer of exotic and collectible cars, Ty had enough confidence to command what he wanted in life, until one fateful night changed everything. Almost two years later, he's slowly rebuilding his life with great control. He's defied the odds and works tirelessly to be the man he once was—but he still feels broken.

Cole's candor and unfiltered personality awaken Ty's barely-remembered desire to greet each new day with a smile, while Ty's unwavering acceptance of Cole's quirks and brash humor makes Cole feel as if he fits in for the first time in far too long. When a nemesis threatens Ty's personal restoration and the things he holds dear, Cole is determined to protect their relationship, even if that means sacrificing everything he's worked so hard to achieve.

But Ty will have to let his guard down, surrender control, and admit he needs Cole first, even if that puts himself at risk of breaking beyond repair.
The title of this book is so perfect. It layers with the profession of Ty and the obsession of Cole's and blended right into the core of this book which is both men restore the others soul.
Cole Renzo is a man trying to rebuild his life; his new position, the one he gets while living in halfway house upon being released from prison, puts him face to face with Ty Calloway, a customizer of exotic and collectible cars.
Both of these men have deep heartache from the past; heartache that has them, like it would many people, simply pushing through the day, not truly living. It was so wonderful to witness Ty start to live again, to truly enjoy life, the simple things in life and to see the smile restored to his face. Ty and Cole truly heal each other, the reader is able to see and feel that. The secondary characters are also used to highlight and hit this point home even more.
Ty's backstory is powerful and the moment Cole sees the extent of the damage done by Ty's past…..well the scene was powerful, heart wrenching and pure genius in how it was laid out.
I adored the use of Julian and Matt the halfway house owners and the stars of book 1.
The "I love you" moments in this book; yes I wrote that correctly moments.. because these are two were perfectly written to suit the characters crafted.
The end of this book has me gripping my kindle and knowing that Cole and Ty were so meant to be forever.
These two men complete each other!
♥READ THE SERIES♥
Book 1 – A Better Man
Book 2 – A Haunted Man
Book 3 – A Restored Man