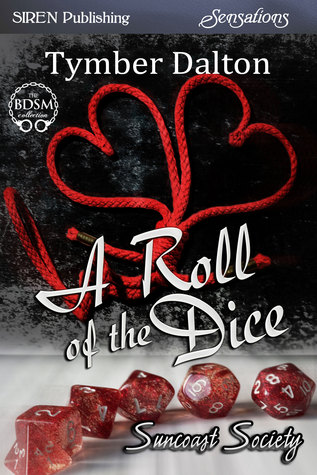 A Roll of the Dice

by Tymber Dalton
on September 12, 2014
Pages: 161
Buy on Amazon
Goodreads


After twenty-five years of marriage, Jenny wants to try something new with her husband, Mike. Her book club's been reading BDSM fiction. It's piqued her curiosity enough to make her want to brave a local munch and try things with her husband.

Mike loves Jenny and would do anything for her. But memories of the abuse his mom suffered haunt him, and he refuses to be "that" man. When Jenny tells Mike she wants them to try BDSM, he attempts to keep an open mind despite his personal issues about it.

While meeting people from the local community, Mike makes an effort to give Jenny what she needs despite his desires warring with his conscience. Once his shock and surprise wear off over who he discovers is involved in the alternative lifestyle, Jenny and Mike start forging a new path. But will that journey lead them apart, or bring them closer together?
This book is a stand alone. The Suncoast Society series revolves around people who attend the same BDSM club; though you may see a character from another book, the stories are not connected so feel free to 1-click.
I love this look at Jenny and Mike's life. When the readers  meet this couple, they have been married for 25 years and are sending their son off to college.
So Jenny and Mike now have their home to themselves and the struggle to be a couple again feels so real. I truly think this is something many readers can relate to, oh and I love reading about a mature couple!
Jenny has read a few kinky books with BDSM themes (another thing  I think many readers can relate to) and is working up the courage to tell Mike she wants to try something new.
I truly felt the tension build between this couple and it felt so real that despite being together for so many years, wanting to explore something new in the bedroom could cause for some miscommunication and on some level fear of rejection.
I adored how Jenny and Mike sought out expert information. Jenny's fear of pushing her husband away or upsetting him was so well done; the concern that the man you have spent your adult life with might feel like he is not satisfying you.
Experiencing these two slowly develop a Dom and Sub relationship, one that works inside of their marriage, made for a reading experience I think many readers will enjoy; I know I did!
In the end, the balance Jenny and Mike find and their journey to their new happy was truly well done!
I personally loved the use of Tony from The Denim Dom!
♥READ THE SERIES♥
Book 1 – Safe Harbor
Book 2 – Cardinal's Rule
Book 3 – Domme by Default
Book 4 – The Reluctant Dom
Book 5 – The Denim Dom
Book 6 – Pinch Me
Book 7 – Broken Toy
Book 8 – A Clean Sweep
Book 9 – A Roll of the Dice