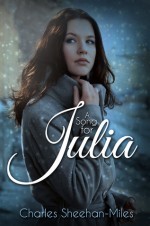 5 STARS!!!
Summary
Everyone should have something to rebel against.
Crank Wilson left his South Boston home at sixteen to start a punk band and burn out his rage at the world. Six years later, he's still at odds with his father, a Boston cop, and doesn't ever speak to his mother. The only relationship that really matters is with his younger brother, but watching out for Sean can be a full-time job. The one thing Crank wants in life is to be left the hell alone to write his music and drive his band to success.
Julia Thompson left a secret behind in Beijing that exploded into scandal in Washington, DC, threatening her father's career and dominating her family's life. Now, in her senior year at Harvard, she's haunted by a voice from her past and refuses to ever lose control of her emotions again, especially when it comes to a guy.
When Julia and Crank meet at an anti-war protest in Washington in the fall of 2002, the connection between them is so powerful it threatens to tear everything apart.
Denise's Review
A Song for Julia was an outstanding read.
Crank Wilson, yes that is the name on his driver license, a punk rocker from South Boston left home at sixteen.  He loves his music and all it appears he wants on the surface is for his band to be successful.
Julia Thompson has a life full of secrets, a life that has left her a shell of herself.  She is determined to never lose control of her emotions again which means she can not and will not fail in love.
When Crank meets Julia at an anti-war protest in Washington DC you can feel the tension and sparks between these two.
The author alternates points of view in this book, and I really enjoyed that as each of these people have very different stories, seeing both sides was wonderful.
Crank appears to come from a broken home and Julia from a perfect socialite family, well looks can be deceiving.
The author does a masterful job of using secondary characters to show what really lies beneath the surface.  The use of Crank's brother made for some touching and emotional scenes.  And there were times I wanted to scream at Julia's Mom.
There is some wonderful dialogue this book – Julia and Crank banter, the scene she finds out his given name, the conversations about him touching her the first time – all make for a memorable read.
This book is layered and powerful.  The portrayal of mental illness in this book is real, emotional and shows its affect not just on the person but the whole family.  Hats off to the author for this. I will not say any more as I want the reader to experience this for themselves.
The story Mr. Sheehan-Miles tells in this book will grip your soul, it will warm your heart and it will remind you that when the two right people find each other, they can do more together than apart.
This book is the second book Mr. Sheehan-Miles has written about the Thompson sisters; the first book Just Remember to Breathe is about Alexandra.
These books do not have to be read in order. Actually the time line for this book occurs before book 1.
I thoroughly enjoyed Mr. Sheehan-Miles stories and I look forward to reading more about this family.
About the Author
Charles has been a soldier, nonprofit executive, short order cook, IT manager and run a restaurant. He doesn't believe in specialization. He currently works as a communications and outreach specialist for a law firm representing disabled veterans.
Charles lives in Bethesda, Maryland with his wife Veronica and their two children.
Twitter CSheehanMiles
Website http://www.sheehanmiles.com
Facebook http://www.facebook.com/sheehanmiles