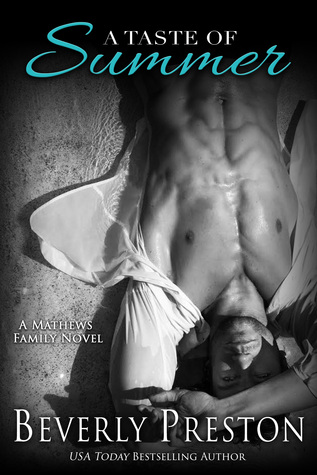 A Taste of Summer

by Beverly Preston
on July 21, 2015
Pages: 275
Buy on Amazon
Goodreads


A standalone, parallel novel in the USA Today Bestselling Mathews Family Series.
Most people know Hollywood heartthrob, Ryan Summer, as Ryan, no last name required. But once upon a time, he was just Summer to Carrie Ann—before a decade of blockbuster hits skyrocketed his success into superstardom.
Summer was smart, gorgeous, and cocky as hell. Nothing was out of his reach. Not even Carrie Ann Lowell. He was the love of her life—until he shattered her heart. Their breakup left more than a profound rift in her soul. It crushed her.
When Carrie Ann's college flame forces his way back into her life, his dirty-talking, bold self-assurance re-ignites a passion she thought had long since been extinguished. Carrie Ann didn't believe in second chances.
Not even for him.
No matter how deliciously tempting.
With sparks flying and hidden truths unraveling, will Carrie Anne be able to deny her desires to save herself from another heart break?
This book can very easily be read as a standalone as Carrie Ann is a secondary character in a few of the book in the Matthews Family series and Ryan is really introduced in this book.
Let me start by saying I adored Ryan. He was a man who knew what he wanted and witnessing him go after it, kept me with my nose in my kindle.
"I don't want to be your friend, Carrie Ann." She heard him murmur. He raised to his feet, playing with her fingers before letting them loose, dropping his hand at his side. "I want to be your everything."
Witnessing Carrie Ann feel this attraction to Ryan was hot and powerful:
"Her stomach leaped, feeling his fingers threaded through her hair and curve around the sides of her head, cradling her skull. She stiffened from head to toe in surprise when he crushed his lips to hers, kissing her long and hard. Each lick of his tongue and bite of his teeth, an rotic impact on her soul. The seduction, inexorable"
Carrie Ann's pushing back on the attraction felt true to her character. The "how" Ryan gets alone time with her was adorable and tied into the story line really well.
A Taste of Summer is a second chance romance that is really well done:
"He was the love of her life…until he broke her fucking heart."
In the end, the reader understands why things went astray in the past; they clearly feel the attraction between Carrie Ann and Ryan and are left truly believing Ryan and Carrie Ann were meant to be each other's forever!
"Everything I've been through has made me a better man…and you deserve the best version of me that I can possibly give you, Red."
Sometimes we are meant to find the right person at a different time in our lives.. A Taste of Summer felt like one of those times!
It has been wonderful experiencing Ms. Preston's writing improve with each successive book.  This is a great book to start with if you haven't read one of her books yet.