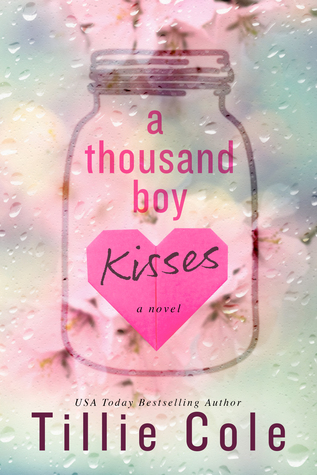 A Thousand Boy Kisses

by Tillie Cole
on March 15, 2016
Pages: 316
Buy on Amazon, Buy on B&N, Buy on iTunes, Buy on Kobo
Goodreads


One kiss lasts a moment.
But a thousand kisses can last a lifetime.

One boy.
One girl.
A bond that is forged in an instant and cherished for a decade.
A bond that neither time nor distance can break.
A bond that will last forever.
Or so they believe.
When seventeen-year-old Rune Kristiansen returns from his native Norway to the sleepy town of Blossom Grove, Georgia, where he befriended Poppy Litchfield as a child, he has just one thing on his mind. Why did the girl who was one half of his soul, who promised to wait faithfully for his return, cut him off without a word of explanation?
Rune's heart was broken two years ago when Poppy fell silent. When he discovers the truth, he finds that the greatest heartache is yet to come.

Standalone Young Adult Tearjerker Romance.
For ages 14 and up.
Truth be told, I don't read a ton of YA. I wanted to try this one out because: 1) that blurb 2) that gorgeous cover and 3) a new author to me…all these things combined just caught my attention and I had to have this book. This is my first Tillie Cole book and while this one didn't really work for me in the way that I wanted, I do plan on reading others from her in the future.
I think this book needs to be read and experienced by the reader, so I will not be revealing any spoilers. I do want to say that I think this book is receiving rave reviews and I SO wish that it worked for me as it did for my blogger friends. This could be the case of it's me, not this book so I definitely encourage those who enjoy YA and emotional reads to give this one a try.
From the blurb, we know that something happens between Rune and Poppy that forever changes their once close friendship, deep bond and can we say a forever kind of soulmate type of love. Two years later when they are reunited again, all secrets will be revealed as to why things happened the way that they did.
And here lies my problem with this book….
While there were many sweet, touching, and tearful moments that completely touched me, there were also moments that I felt that this book was a bit too much internal monologue and slow paced. I didn't connect with the characters the way that I had wanted to so desperately and I feel that this story has been done before. I did not expect that epilogue which was yes, sad but a bit far fetched for my reader tastes.
Things I did enjoy…Once Rune and Poppy decide that life is too short and to instead enjoy every adventure, I LOVED how Poppy helped this poor boy do a complete turnaround with his life, how she helped to eliminate the negativity and vice versa I LOVED how Rune gave this 17 year old girl so many romantic moments that completely took my breath away. I also loved the mason jar idea as a reminder of how precious life is and that every moment is worth truly living.
Regardless of my hang ups with the story, I won't deny that this was well written and a story that will captivate many hearts until the very end.