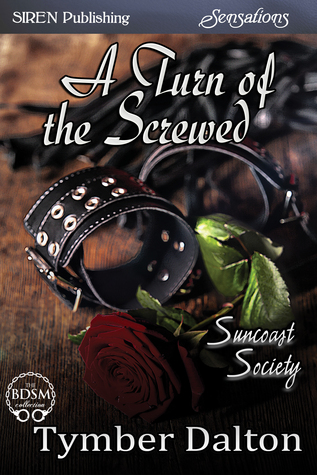 A Turn of the Screwed

by Tymber Dalton
on MArch 23, 2015
Buy on Amazon
Goodreads


[Siren Sensations: Erotic Consensual BDSM Ménage a Trois Romance, M/M/F, with M/M, HEA]

Noel has spent the past two years of her ten-year marriage to Scott trying to be his Domme after he admits he thinks he's gay and knows he's kinky. When she gives him permission to go be happy, to find a guy who can take care of his needs, he meets Keith. She wants what's best for Scott, but why'd his Dom have to be so damn hunky?

Scott loves Noel and hates breaking her heart, but he's spent his life trying to deny who he is. When he meets Keith, he realizes this is perfection. He just wishes he didn't have to leave Noel.

Keith loves Scott and admires the man's devotion to Noel. He feels for Noel and realizes that, no matter what, someone will lose to make someone else happy.

But then a stormy night changes everything, and Keith realizes maybe the obvious answer to their mutual happiness has been in front of them the entire time…

A Siren Erotic Romance
A Turn for the Screwed it is the story of Noel and Scott. They have been married for 10 years and on the brink of divorce; not because they don't love each other but because Scott thinks he is gay and is not satisfied.
Ok I am going to try to stick with only what is released in the blurb. Noel gives Scott permission to explore, she loves him enough to want him happy.
Noel releases Scott to find a man, one that will make his soul happy.  What Noel did not anticipate was the handsome Dom named Keith.
Keith was upfront, beyond honest and well hot as all get up.  As circumstances put Keith square in the center of Noel and Scott's lives, this book starts to develop a dynamic that becomes a happy neither of them imagined.
I will say early on in this book my heart was breaking for Noel. Though Scott was kind and Keith understanding, she was losing her husband and the life she thought she wanted. But as Noel and Keith bonded, Noel's new reality brings her a happy that felt so true to these three.   I adored them coming together; be warned Keith is a Dom through and through so this book is hot… like all kind of kinky positions… hot!  Ms. Dalton also managed to layer the hot with emotional and well that made me love this book even more.
For me that is what this book was truly about…the happy.  That you really are not living fully until you find your own happy, maybe that happy isn't conventional but if it works for you then embrace and enjoy.
Ms. Dalton used the end of the book to allow the reader a true glimpse into how complicated it is to have an unconventional happy but it was one that felt so truly right and forever!
Please note that although in some places you will see these books listed with book numbers, they are easily read stand alone. The characters are members of the same BDSM club and some appear in each book.  I have read a number of them but not all and not in order and each time I loved the book!