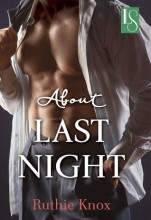 4 STARS!!!
Summary
Sure, opposites attract, but in this sexy, smart, eBook original romance from Ruthie Knox, they positively combust! When a buttoned-up banker falls for a bad girl, "about last night" is just the beginning.
Cath Talarico knows a mistake when she makes it, and God knows she's made her share. So many, in fact, that this Chicago girl knows London is her last, best shot at starting over. But bad habits are hard to break, and soon Cath finds herself back where she has vowed never to go . . . in the bed of a man who is all kinds of wrong: too rich, too classy, too uptight for a free-spirited troublemaker like her.
Nev Chamberlain feels trapped and miserable in his family's banking empire. But beneath his pinstripes is an artist and bohemian struggling to break free and lose control. Mary Catherine—even her name turns him on—with her tattoos, her secrets, and her gamine, sex-starved body, unleashes all kinds of fantasies.
When blue blood mixes with bad blood, can a couple that is definitely wrong for each other ever be perfectly right? And with a little luck and a lot of love, can they make last night last a lifetime?
Christine's Review
Opposites sure do attract! Mary Catherine Talarico (Cath) is an American, who came to London to start over and attend University. Upon graduating, she got a job working as an assistant to the Curator at a museum in London, working on the history of hand-knitting exhibit. She is a reformed bad girl who has multiple tattoos on her body in remembrance of important events that have happened in her life.
Neville Chamberlain (Nev or City) is a wealthy banker who comes from a very affluent family. He has a career working in his family's bank (which he hates) and is an aspiring artist. Neville's brother and mother are trying to force him into marriage by offering him a promotion.
Cath joins her friend on a blind date and drinks a lot of wine to help her get through the night. When she wakes up in a stranger's bed, she realizes it's the bed of the hot guy she sees at the train station every day. Cath has preconceived notions of who Nev is and what kind of guy he is. But he claims he is a bad boy in disguise. Though Cath tries to keep her distance from Nev and not resort to making the same mistakes of her past, she realizes what it feels like to feel protected, cherished and wanted. Nev wants something more with her but he knows she has intimacy issues. So he lets her call the shots. He likes her and he knows that he has to be patient with her and that she will come around on her own rather than forcing her into situations that she may not be comfortable with. Because he does this, she sees that when they are together that it's as close to perfect that she has ever known.
As their relationship and mutual attraction bring them closer together, Nev has fallen in love with her and hates that his family is pushing him to marry for a promotion. He asks Cath to trust him and she agrees with his plan to pretend that they are married for his family. Nev acts like he doesn't care by tossing the wedding rings to her but I know that deep down inside, he acts like this so as not to freak her out and to play by her rules.
This relationship was hot! I LOVED how Nev understood Cath from the beginning. I love that as time moves along that she learned to trust him and would tell him more and more about her and slowly breaks down her walls. It breaks my heart when his family doesn't immediately love her but what I ABSOLUTELY LOVED is that through it all he continued to love her and WORSHIP her as she was meant to be loved.
This was a fun quick read. I loved the characters and the hot sex scenes. I thought that the author did a great job with character development and I loved Nev's witty comments throughout the book. I had a smile on my face for a lot of it 🙂
I look forward to more books by Ms. Knox. Well done!
I received this ARC copy on exchange for an honest review
About the Author
Ruthie Knox graduated from Grinnell College as an English and history double major, and went on to earn a Ph.D. in modern British history that she's put to remarkably little use. An earlier incarnation of Ride with Me won the 2011 Maggies Award for best contemporary series romance, as well as the 2011 Romance Junkies/Carina Press contest.
Twitter ruthieknox
Website http://www.ruthieknox.com