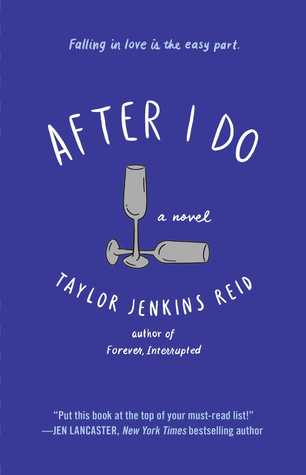 After I Do

by Taylor Jenkins Reid
on July 1, 2014
Pages: 352
Buy on Amazon
Goodreads


From the author of Forever, Interrupted—hailed by Sarah Jio as "moving, gorgeous, and at times heart-wrenching"—comes a breathtaking new novel about modern marriage, the depth of family ties, and the year that one remarkable heroine spends exploring both.

When Lauren and Ryan's marriage reaches the breaking point, they come up with an unconventional plan. They decide to take a year off in the hopes of finding a way to fall in love again. One year apart, and only one rule: they cannot contact each other. Aside from that, anything goes.

Lauren embarks on a journey of self-discovery, quickly finding that her friends and family have their own ideas about the meaning of marriage. These influences, as well as her own healing process and the challenges of living apart from Ryan, begin to change Lauren's ideas about monogamy and marriage. She starts to question: When you can have romance without loyalty and commitment without marriage, when love and lust are no longer tied together, what do you value? What are you willing to fight for?

This is a love story about what happens when the love fades. It's about staying in love, seizing love, forsaking love, and committing to love with everything you've got. And above all, After I Do is the story of a couple caught up in an old game—and searching for a new road to happily ever after.
THIS BOOK…where do I even begin?? I was so so scared to read this book after reading the blurb because its real life, people go through this all the time – that feeling of after you say I do and real life kicks in and the honeymoon is over, then what?
I will say that this is one of the BEST BOOKS I have read this year. So realistic, so detailed, so completely mesmerizing and the growth for these characters in the story was tremendous – this is what reading a good book is all about!  This book completely amazed me and I could not put it down – so much so that when I had to leave my house for a BBQ, I didn't want to leave because I had to know what would happen, I had to know if this couple could work through it all. (Ask my friends they will tell you that I messaged with them throughout – I was crazed!)
So the blurb tells you everything this story is about – this is a story of what happens after the honeymoon is over and reality sets in and it's not all butterflies and unicorns and rainbows.  This is sometimes what happens to marriage after you have been together for so long and question what makes you happy and if you are still "in love" with that person or if everything has changed.
Let it be known that marriage is work – we all have to work hard to make it a success.  This story of Lauren and Ryan is remembering why you got married in the first place, remembering each other, remembering the romance, and realizing that not everything is always perfect but that as long as you are together, it's where you should be.
After I Do is a book that every person, married or single should read. I will be completely honest and say that this book reminded me a little of what my marriage is like at times. How great it all starts out as you get comfortable with each other but how little things/nuances about the other begin to annoy you to the point that it's something that you begin to pick at each other about.  It was hard for me to read at times because it was so relatable and often times I was so deeply emotional while reading it that I didn't know if I could continue because it simply broke my heart.
I will say that the method that Lauren and Ryan took to decide whether or not they can save their marriage was not something that I could do personally but I could see how it could be somewhat liberating.
This book was a complete eye opener for me..I devoured it completely and came out learning a thing or two. I will even admit that I had my husband read it (and he is not a bookie but he read it in TWO DAYS – so proud!)
So you are probably wondering how it ends?  Do they come back to each other or is it forever over?  Well, I will not tell you one thing because you HAVE TO read this book yourself to find out the outcome!
So what else can I say other then – READ IT! This is real life…this book is a reminder that marriage is a partnership, it's not necessarily always knowing what the other needs or making assumptions but asking questions, working together, and being completely honest. It's about never giving up and always trying 100%. These simple things can make such a difference.
Try this book – you will not regret it.  After I Do is a story that is completely unforgettable and will be forever in my heart. <3