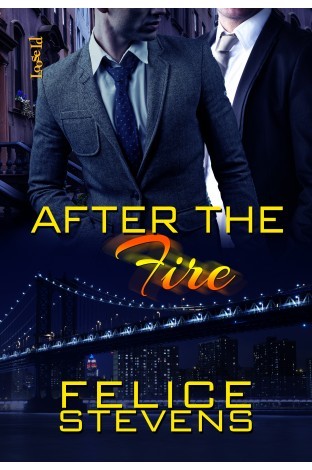 After the Fire

by Felice Stevens
on February 23, 2015
Buy on Amazon
Goodreads


A single bullet destroyed the dreams of Dr. Jordan Peterson. With his lover dead, Jordan descends into an endless spiral of self-destruction that nearly costs him his friends, his career and his life. When Jordan finds himself working closely with the aloof Lucas Conover, the investment banker's mysterious past and unexpected kindness shocks him back into a life and emotions he'd thought lost forever.

The betrayal by the foster brother he'd worshiped, taught Lucas Conover never to trust or believe in anyone. Living a solitary life couldn't free him of the nightmare of his former life; it reinforced his belief that he would never fall in love. When the death of one of his clients forces him to work closely with Dr. Jordan Peterson, he meets a person whose suffering exceeds his own. Though Jordan rejects his effort to help, something within Luke pushes him discover more about the first man to ever get under his skin.

As Luke lets down his guard and Jordan lets go of his pain, desire takes control. Each man must come to terms with past struggles if they are to create a future together. And learning to trust in themselves and love again after tragedy and a lifetime of pain, may be the only thing that saves them in the end.
I adore this series from author Felice Stevens and I truly believe it should be read in order. So if you have not read book 1, A Walk Through Fire, please stop reading this review and 1-click it because as the blurb for After the Fire (book 2) reveals, an event in book 1 happens that shapes the Dr. Jordan Peterson the reader meets in this story.
This book opens with a heart wrenching scene as Jordan's dear friend Drew and his lover Ash try to pull Jordan from his depression. Given that Jordan lost his lover Keith, a cop, to a shooting, the reader can feel his pain and anguish. What an amazing job by the author here!
The first meeting between Jordan and Lucas Conover, the investment banker, is again something that plays off events in book 1. Jordan and Lucas start off with a spark, an attraction neither truly sees a place for in their lives. As Jordan struggles with letting go of the life he thought he would have; his downward spiral felt so real that my heart broke for them.
Yes, folks Jordan loses his way. Jordan loses almost everything. This story is not a simple "a love lost and love found" but you know what? It felt so real, so pure to the man Jordan is that it kept me glued to my kindle.
The supporting cast of this book added to the story. I loved seeing Ash and Drew from book 1. I adored watching these men continue their mission to help homeless and troubled youth.
This book also brings with it some new characters. I loved Dr. Sebastian "Tash" Weber. He plays a central role in Jordan's moving forward.
Luke is deeply affected by the loss of his foster brother Ash, yes Ash the star of book 1. I will pause here and say when these two men finally come to blows over that past, it is so powerful and emotional. My heart broke for both Luke and Ash as the pain of childhood comes full circle here.
Each book in this series is about one couple but the lives of the characters are very interconnected so I highly recommend reading in order. I truly adored this cast and watching the men fall in love but more than that watching these men find family truly warmed my soul. Oh, and I love Nana!
The happy Luke and Jordan find so fit them; it took work so much work to come to this happy but for me this journey was perfect for them and love fought for is even sweeter.
I am very much looking forward to book 3 (as of yet unnamed) the final book in this series as Ash and Lucas push forward in their search for Brandon, their foster brother still out there!
♥READ THE SERIES♥
Book 1 – A Walk Through Fire
Book 2 – After the Fire