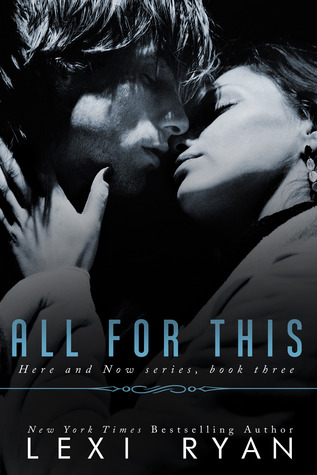 All for This

by Lexi Ryan
on August 4, 2014
Buy on Amazon
Goodreads


What if you would never remember the day you made the most important decision of your life?

That's what they're telling me about the day of my accident—the day I put on Max's ring and chose him over Nate. I'm counting on the wisdom behind a decision I don't remember making.

Max is amazing—sexy, sweet, and kind. I was starting to believe happily-ever-after might be in my future after all. Then the unthinkable happened and my world imploded. If I'm going to make this work with Max, I need my missing memories, or at least answers from about those five days before my accident.

But what does my future hold if those answers aren't anything like I imagined?
OMG! THIS book…THIS series!!! This is my favorite series of 2014 by far!  All for This was on my highly highly anticipated list and I couldn't devour this book fast enough. I stayed up until 430am to finish because I HAD to know how it would end, I HAD to know which man she would pick. Admittedly, I loved both men and in my heart Hanna had a tough choice. But there was always the one that I knew was the love of her life, her soulmate….and yes this book was an emotional roller coaster but in the end I had a huge smile on my face.
I don't want to reveal anything of the story as it is truly amazing and you MUST experience it for yourself. I will say that you must read from book 1, Lost in Me as these books can not be read as a standalones. All you really need to know about the books are from the blurbs themselves. Yes, there is amnesia, yes there is a definite love triangle and yes someone will come out as the winner in the end. To find out who, well you will have to read the books.
Ms. Ryan did an amazing job with this series because I was completely vested. I never rooted for one man over the other because in the end, I just wanted Hanna to find her happy. So to me, it was always her journey. Ms. Ryan's written words were so beautiful, emotional and heartbreaking all at the same time. Hanna was a lucky woman – she had two great men with hearts of gold vying for her love and affection.
This series really stood out to me because I love different. I love mystery, intrigue, suspense, angst and above all romance and love. This series had it all and so much more. It played with my head, my emotions, gave me belly aches of nerves and played most of all with my heart and I have NEVER been so excited to complete a series before. There were twists and OMG moments and you will be completely captivated as I was. Yes I was sleep deprived after finishing this book but in a word, it was complete BLISS.
I will read anything and everything Lexi Ryan writes and am excited for more from this amazing cast of characters who have embedded themselves into my heart like family. Well done!!! <3 <3

**SPOILER ALERT!** The following excerpt from ALL FOR THIS by its very nature contains spoilers for the first two books in the Here and Now series, LOST IN ME and FALL TO YOU. If you hate spoilers and haven't read the first two books, don't read any further.
***
Hanna
"Where's Hanna?" I know the voice, and an unwelcome thrill dances up my spine as Nate pushes into my kitchen and stalks toward me.
"Customers aren't allowed back here," Liz says behind him.
"Don't do it," he says, and those dark, broody eyes are all over me like he's trying to take me in, memorize me.
I take a deep breath and look to my sister. "You should probably go." Then I turn to Nate. "Don't do what?"
"Um…" Liz looks Nate up and down. "Are you sure? Because I can stay to protect you. Or…try." God bless her, she's standing behind Nate with her hands on her hips, ready to swing on my behalf.
"Why don't you give us a minute?"
She narrows her eyes at Nate. "Hurt her and I'll cut off your balls in your sleep." Then she pushes out of the kitchen, the door swinging wildly behind her.
"Don't move in with him," Nate says.
"What are you talking about?" I ask.
"I thought you said you weren't moving forward with Max until after the babies were born. Don't you think moving in is moving forward?"
"I don't know where you get your information, but I'm not moving in with him."
"You're not?"
I shake my head. "He asked me to, and I said no."
He must have been expecting a fight, because his shoulders relax and he drags a hand through his hair. "Thank you."
I toss my washcloth into the sink. "Is that all?"
"No." He lifts his eyes to mine. "I need to apologize."
"For what?"
"For this."
In two long strides, he closes the space between us and presses his mouth to mine. His lips are hot and hungry as his tongue sweeps inside—coaxing and demanding all at once. And it's so good. So sweet and easy and safe that, for a breath, I forget how wrong it is. I'm back in the hotel in St. Louis, finding myself in the fire between us. For a breath, I forget that I'm wearing Max's ring.
I shove at his shoulder and push him away. "Don't do that again." My stomach squeezes, and my heart is so battered and beaten that it's unrecognizable.
***
Nate
Her eyes flash with anger, disappointment, and heat. "Do you think you can win me with a kiss? Did you think I'm so fickle that your mouth on mine is enough to convince me to break Max's heart?"
I step forward, blocking her between me and the counter as I lower my mouth to her ear. "I thought maybe you needed a reminder."
"What do you want from me? You want me to admit that I want you? You know I do. You want me to tell you I'm still in love with you? It's true."
My heart swells and hammers at her words. I don't know if I'll ever feel worthy of Hanna's love, but that doesn't change that I want it, need it like I need air.
"Isn't that enough? Is it like this with him? When he's whispering in your ear, does your body hum with need? We both know I could kiss you again and make you forget him. I could kiss you until you wanted me so badly you climbed onto that counter and let me touch you everywhere, let me do anything I wanted with your body."
"You won't," she says, her voice shaking slightly.
"Are you so sure?"
"You won't," she repeats, "because I'm asking you not to. You won't because you're too good not to respect that."
"I don't want to be good," I growl. I step back so I can see her face—her parted lips, her smoky eyes. "I want you."
"I'm taken."
"What happened?" I ask, scanning her face, trying to read her shielding expression. "Between when I left LA and when I came back to New Hope, what happened to make you take him back?"
She's silent for a minute, and I wonder if she's going to tell me the truth. "I found out he bought me the bakery—that all my worries and insecurities about our relationship were totally unfounded."
"I'll buy you a hundred bakeries."
"But I don't want a hundred bakeries. I only want this one."
Here. In New Hope. I close my eyes because I can't deny that geography still stands between us.
"Please don't kiss me again."
"What if you ask me to?"
She swallows. "I won't ask."

♥READ THE SERIES♥
Book 1 – Lost In Me

Book 2 – Fall to You

Book 3 – All for This