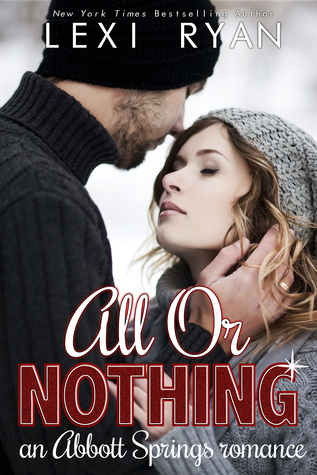 All or Nothing
Buy on Amazon
Goodreads

**ALL OR NOTHING is a short, sexy, new adult romance and is also available as part of the ALL I EVER WANTED anthology.**

After years of placing the wrong bets, all Aubree Baxter ever wanted was someone to take a chance on her. More specifically, she wants golden boy Kennedy Hale, her good friend and unrequited crush. After a seduction attempt gone terribly wrong, she knows pursuing anything more than friendship with Kennedy means sure heartbreak. If they're going to make this work, it has to be ALL OR NOTHING.
Lexi has a way with her stories that immediately draws you into her books – whether it be because of her captivating writing or the characters that you immediately root for, I I enjoyed this short novella about friends from a small town called Abbott Springs attending their annual Winterfest party. I want to mention that though All or Nothing can be read as a standalone, it was a part of the All I Ever Wanted Anthology. The other stories in the Anthology feature other friends mentioned in All or Nothing and I think it would have enhanced my reading experience if I had read the entire anthology rather than just the one book because at the end of this short story, I did want MORE.
All or Nothing features an unrequited love story focusing on Kennedy Hale and his best friend, Aubree Baxter. Kennedy has his life planned out for him though it's not the life that he wants to live. Always wanting to keep his parents happy, he never truly speaks up for himself to voice his opinions and doesn't live the life that he so desperately wants. Kennedy grew up with Bree, his family being almost a surrogate family for her, as her mom left to pursue her dreams when Bree was a teenager and her father is a non-existent workaholic. Bree has a go with the flow mentality and doesn't always make wise choices when it comes to her life.
The one thing that they could always rely on was their friendship….but what happens when feelings begin to grow and you want more? Can these two characters who have such fears of really stepping outside of their comfort zone be willing to risk it all in the name of love?
Well since it's a short story I will not tell! 🙂
So what I enjoyed….I love Ms. Ryan's characters; always so well developed and likeable. I also think that she writes some pretty hot scenes *fans self*
My reading schedule is always so jam packed…I wish I had realized this when I agreed to read this book because I think that I would have liked to read the entire anthology as a whole as several characters were introduced that I would have liked to know more about. Additionally I know that this was a short novella but I wanted more…I wanted to feel their connection, see their friendship and when everything fell into place, I would have liked to see what the future would be for these two.
Ms. Ryan does the alternate POV really well and I always enjoy being in her character's heads.
All in all I enjoyed this novella and as Lexi Ryan is a must click author for me, I can't wait to see what she has in store for us next!