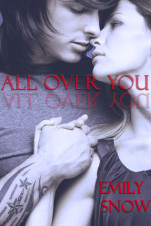 4 STARS!!!
Summary
Before Sienna was devoured, before Lucas was consumed, they were all over each other . .
Lucas Wolfe is used to getting what he wants—from everyone but one person, that is—so when he meets the wardrobe assistant hired to work his band's newest video, he's got to have her. From the moment Sienna first obediently whispers "Yes, Mr. Wolfe", he knows she's perfect for him.
Three days.
And he'll have her stripped down and bound to his bed.
Set two years before the events of DEVOURED, ALL OVER YOU is the story of Sienna and Lucas's first encounter.
Christine's Review
As you all know by now, I am a huge Emily Snow fan!  I loved Devoured and Tidal and will stop reading anything else to squeeze in anything by Emily Snow.  And that's exactly what happened when All Over You was released.
I loved this prequel to Devoured and even more so that it was the backstory of how Lucas and Sienna met.
Lucas is the same over confident dominant guy and when he meets wardrobe assistant Sienna on the set of his new music video, there is a magnetic almost animalistic chemistry between them.  He recognizes the submissive in her and MUST have her.  Kylie, his sister, strongly urges against it seeing how innocent and sweet Sienna is but it just makes Lucas want her more.
I love how they unravel each other.  And when they kiss, you can feel it in your core – she is possessed by him.
"I don't do…dates…often, but I want this with you."
"Why?" I whisper.
"Because," he says, a thoughtful look forming on his handsome face, "I want you for dessert."
We, the readers, recognize how Sienna means more to him than his normal hook-ups – she is his first everything – his first real date, the first to go to his house for dinner, the first that he could possibly feel something for.  He is seductive and knows the right things to say.
But with the constant issues with his ex – what will become of them?  Can he move forward from a troublesome relationship?  Can she forget the hurt?
I know one thing now after reading Devoured first – he will surely never forget her.  And I'm so glad that we heard it from Lucas' POV because in Devoured we only read it from Sienna's POV about how he hurt her and pushed her away but it was fascinating to see it from Lucas' side where there was an actual reason for what he did and that his feelings were true even from so early on when they first met.
A definite MUST read!  And if you haven't read Devoured yet, definitely read this one first!  Another great job Ms. Snow!  You know I can't wait to read more from you!
Here are Emily's inspiration for her main characters:
Sienna
Lucas
Kylie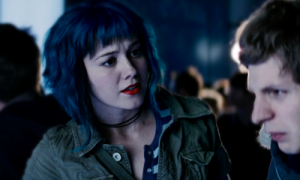 About the Author
A native of Southwest Virginia, 26-year-old Emily Snow is the author of the forthcoming DEVOURED series (2012, 2013) and TIDAL (2012).
Twitter EmilySnowBks
Website http://emilysnowbooks.blogspot.com/
Facebook www.facebook.com/pages/Emily-Snow/363370467075260
Goodreads http://www.goodreads.com/author/show/6519108.Emily_Snow