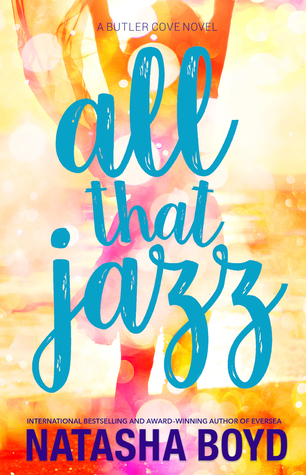 All that Jazz

by Natasha Boyd
on March 22, 2016
Buy on Amazon
Goodreads


There's something totally inconvenient about falling for your best friend's brother. Especially when he's turned into a pompous, arrogant, albeit annoyingly sexy a-hole that you'd like to punch or kiss to death at any given moment.

After a stupid favor that blurred the lines from friends to lovers the summer she turned eighteen, Jazz Frazer accidentally lost her heart to Joey Butler. For three years they've pretended there's nothing between them anymore. Jazz is finally ready to move on with the rest of her life. She's determined that experiences and relationships will be fun, casual and easy. After all, she learned the hard way that men just don't stick around anyway. But when her best friend gets herself into a relationship with a celebrity, Jazz has to do the one thing she never thought she'd do, call Joey and ask for help.

Repeatedly thrown together, Jazz tries everything she can to protect her heart and not fall back in love with Joey. But when Joey finally admits that Jazz is the one he's always wanted, all bets are off.

This is a full length, standalone contemporary, friends to lovers and second chance romance. It is a spin off from the Eversea series and may therefore contain minor spoilers. This book is recommended for ages 17+ due to strong language and sexual situations.
I love the Butler Cove gang and visiting with them again and seeing characters we came to love in Eversea was like returning to old friends. Natasha has a way with words that makes the reader feel that they are not only a part of the story but that you become so immersed in the book that you feel that you are there too; loving the beauty of the low country in the author's descriptions and through the eyes of our main character Jazz Frazer.
Some parts of All that Jazz take place in the same timeline as Eversea and I LOVED seeing Jack and Keri Ann again through the eyes of KA's best friend.
This is a beautiful 2nd chance love story that has been a long time in the making. I always knew in my heart that there was something special between Joey (Keri Ann's brother) and her best friend Jazz and to be a part of their journey and to see how it all came about was wonderful to experience.
I won't give away any spoilers, but there were so many things that I loved about this story. First and foremost were the characters themselves. Jazz and Joey had this camaraderie between them…something that always toed the line between friendship and something more in my opinion. Yes, I loved their easy going interactions, their funny bantering, the way that they put each other in their place. But beyond that, I could feel the flirtatious undertones, the side glances, the beating of their hearts at every touching moment. I could literally feel the "more" that the author wanted us to feel; that feeling of pure love.
I absolutely loved the tension between them because who doesn't want two people who are obviously so fit for each other to make it through and come out on top. This book is told in both past and present day POV so you get the full gamut of how this relationship started and how it will end up to be.
I admired Jazz's strength and how she didn't hold back on her dreams because of a boy. I adored Joey finally laying all of the cards out on the table and his fight. This is pure romance and my heart was brimming with joy.
I would have loved to get Joey's POV because there was so many times while reading that I would have loved to hear his voice and what he was thinking.
This book was a 3.5-4 star for me. Natasha Boyd is an author who writes beautiful words and stories and I will continue to read her books <3
♥ READ THE SERIES ♥
Book 1 – Eversea
Book 2 – Forever, Jack
My Star, My Love (An Eversea Holiday Novella)
Book 3 – All That Jazz