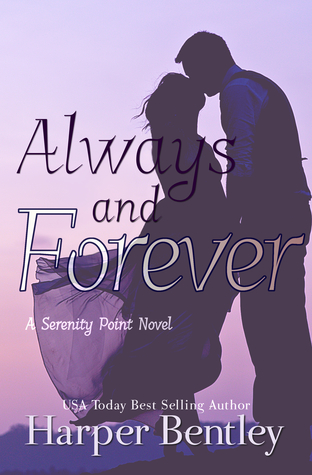 Always and Forever

by Harper Bentley
on June 28, 2015
Buy on Amazon
Goodreads


Does wanting to slap the hell out of Brody Kelly make me a bad person? How about setting his hair on fire?

No, I'm not a psycho.

Yes, I AM angry.

See, a year ago, my sweet and sexy firefighter boyfriend and I broke up over something extremely ridiculous. We'd been together since we were sophomores in high school, but that was the end of that. Almost twelve years of that, mind you.

The looks he gives me tell me he still wants me. Our latest encounter has me thinking he's trying to win me back.

But I'm not willing to give in so easily.

I don't know why he used our argument as an excuse to break up, but I'm going to find out. I've lived in Serenity Point all my life and have connections and I'm not afraid to use them to get to the bottom of things.

What I am afraid of is finding something I won't be able to handle.

He used to call me his Always and Forever.

But the secrets he's keeping might tear us apart for good. (
If you love second chance romance stories… then this is a book I recommend you 1-click asap!
Even if you aren't a huge fan of this genre with a blurb that starts like this you may also find yourself clicking this one…
Does wanting to slap the hell out of Brody Kelly make me a bad person? How about setting his hair on fire?
No, I'm not a psycho.
Yes, I AM angry
See, a year ago, my sweet and sexy firefighter boyfriend and I broke up over something extremely ridiculous. We'd been together since we were sophomores in high school, but that was the end of that. Almost twelve years of that, mind you.
Though this is book two in the series, you do not have to read book 1, Bigger Than the Sky to enjoy this story…BUT I will pause and say if you have not read Bigger Than the Sky, a book about Brody's older brother Kade, I do strongly recommend you 1-click it NOW as I fell hard for this Navy Seal whose story is also a second chance romance.
Ok back to Always and Forever, this is the story of Brody and Piper, former high school sweethearts who when we meet them in this book are apart. They are apart because Brody walked away from their relationship, breaking Piper's heart without what she feels is a good reason.
Always and Forever pushes the reader to think about what trust means. It is easy to trust when everything is going smooth but when faced with the fear of someone's reaction or the choice to blindly trust when the situation looks grim, well then how easy is it to trust?  I loved how this played out on so many levels throughout the story.
It is so clear to the reader that Brody and Piper have a deep connection but can that connection overcome lies and the forces trying to pull them apart? Well I won't tell you how but I will say I adored watching these two find a way back to each other.  The push and pull felt so real as both battles the emotions that come with learning to trust again.
The end of this book brought a huge smile to face as I know Piper and Brody truly are each other's Always and Forever!
♥ Buy the Books ♥
Book 1 – Bigger Than the Sky
Book 2 – Always and Forever