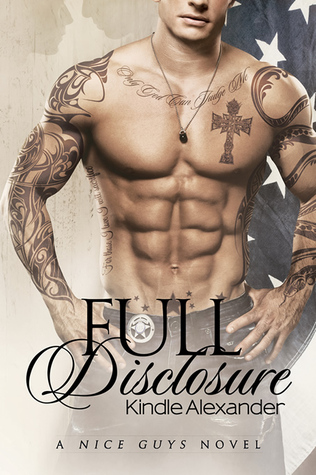 Full Disclosure

by Kindle Alexander
on September 16, 2014
Pages: 350
Buy on Amazon
Goodreads


Deputy United States Marshal Mitch Knox apprehends fugitives for a living. His calm, cool, collected attitude and devastatingly handsome good looks earn him a well-deserved bad boy reputation, both in the field and out. While away on an assignment, he blows off some steam at a notorious Dallas nightclub. Solving the case that has plagued him for months takes a sudden backseat to finding out all there is to know about the gorgeous, shy blond sitting alone at the bar.

Texas State Trooper Cody Turner is moving up the ranks, well on his way to his dream of being a Texas Ranger. While on a two-week mandatory vacation, he plans to relax and help out on his family's farm. Mitch is the last distraction Cody needs, but the tatted up temptation that walks into the bar and steals his baseball cap is too hard to ignore.

As Mitch's case gains nationwide attention, how will he convince the sexy state trooper that giving him a chance won't jeopardize his life's plan...especially when the evil he's tracking brings the hate directly to his doorstep, threatening more than just their careers.
Full Disclosure is the story of Deputy US Marshall Mitch Knox and Texas State Trooper Cody Turner. Readers met Mitch Knox in book 1, Double Full when Colt Michaels was critically inquired in what was determined to be a hate crime whose target was intended to be his partner Jace Montgomery. I am going to pause and say if you have not read Double Full stop reading this review and go 1-click now!
Full Disclosure opens with Mitch still struggling to solve that open case with no support from the Marshall's office. Another case sends Mitch to Texas and an adorable chain of events has him staying with Colt and Jace in their new home.  I adored seeing Colt and Jace; not only is the love they share clear to the reader but Colt's bantering with Mitch over his flirting with Jace is hysterical.
When these men hit the town I was so entertained, at dinner I felt like I was in the room and the moment Mitch stops Cody across a crowded club I too felt I was seeing Cody and wanted to get to know him.  Cody is so shy at first and yet again the use of Colt had me grinning from ear to year.
The connection Mitch and Cody share is tangible, the chemistry, the connection I was instantly rooting for them.
There is so much in this story that was so well done. Ms. Alexander not only created Mitch and Cody for readers to love but the whole cast of characters were so well developed that they pull readers into this world, a  world where two men are trying to make a relationship work while both having demanding careers. I loved that about this story, relationships don't live in a vacuum, love isn't always enough, you truly have to work to make it work, you have to steal a moment when you can, and these two do that!
This book also contains wonderful character interactions, not only adding more for the readers to love but allowing the reader to see so many sides of Mitch and Cody.
Cody with his family endeared him to my heart and Mitch with his US Marshall Partner Kreed Sinacola was hysterical and Mitch's interactions with the FBI agents, especially Tyler Connors were so well done.
Cody's family, the Turner family were wonderful; really allowing the reader to understand Cody. The story line for the Sinacola family was powerful, I loved the family and I so want a happy for Kreed. I hope we learn more about these events in book 3; because wow this family touched my heart.
Cody and Mitch coming to terms with a deep attraction neither expected but can't deny will pull the reader in.  And the weekend they share, their I love you revolve around an event that may break your heart  (nope not telling read the book!).
Witnessing Cody open up, watching Mitch push him a bit and Cody coming to terms with his feelings allows you to be part of this journey with Cody. And the moment Cody embraces those emotions and takes Mitch, well that scene was epic. So yes in true Ms. Alexander fashion this book is emotional and HOT.
Towards the end I will say, I was white knuckling my kindle praying Mitch and Cody could find a way to live out their happy.
In the end… OMG the end…. let's just say Mitch and Cody have their happy, one that touched my heart. The epilogue was amazing, truly bringing US Marshal  Mitch Knox full circle, witnessing this scene warmed my heart and made my giggle because yes readers you get another chance to watch Mitch and Colt banter!
The very end of this book, like the last few words well I will just say this is a suspense crime drama that just keeps giving.
I am very excited for Nice Guys #3 because Kreed Sinacola needs a happy and has a mission!
Dear Ms. Alexander please write fast!

Mitch pulled his jacket tighter across his body and hunkered down in the thick warm wool lining just as an ice cold breeze blasted off the small lake and hit the front porch of his parent's lake house. His nieces and nephews played in the deep snow that had blown in two days ago, they seemed to have no problem with the chill in the air. Of course kids never did when it meant building a snow man. Mitch on the other hand had grown more than accustomed to the warm Texas heat, making this cold weather feel a million times colder than he ever remembered growing up.
"He's adorable, but mom says he's like you the most." Mitch sat on the front porch step with his sister Candace looking out over the large tree lined property.
"I didn't know that before I got here. He kind of threw me when I walked in and saw him," Mitch said watching mini-Mitch play. He was too little to get in on the action, but that hadn't stopped him. He wormed his way right in the middle of the group, throwing snowballs like a little pro.
"I bet. He looks more and more like you every day. Jace is incredibly good with him," Candace said.
"Colt says he's got a gift with kids. I hadn't seen that before now." Mitch looked toward the door, he was waiting for Cody. He'd talked him into going for a walk to get some much needed alone time. Earlier this morning he'd gone to the pool house and did his best to clean the place up and get the heat going, hoping to talk Cody into breaking his mandatory abstinence rule he'd made when they arrived to his parents' home.
"I'm glad you found someone," Candace said breaking the silence.
"Hmm," Mitch muttered not really ready to get rid of the mental image of talking Cody out of his clothes.
"I was always afraid you were lonely. I never knew what to do about that," she confessed.
"I can't remember being lonely, but I'm so much happier now. He made me work hard to get him."
"Good. You never liked when things were too easy," she laughed as the back door opened and Cody walked outside. He was bundled up tight, smiling as he waved at someone on his way out. Mitch's family had done excellent at making Cody feel at home.
"I gotta go." Mitch never looked back at Candace, his eyes were fixed on Cody. "Let's go for a walk."

~~~

"I used to think this place was so big, now that I've been to your parent's property, I see how small it is," Mitch said, ushering Cody inside the pool house.
"It's nice here, though. We just have a farm," Cody answered walking in ahead of Mitch. He came to a stop, slowly turning to Mitch and lifting his brow. "We agreed, not here."
"Baby, I know, but I miss you and you were so sexy when you said yes." Mitch propped his arm on the doorjamb and blocked the entrance, not letting Cody leave.
"Your family could walk in anytime," Cody said, fighting Mitch's efforts to pull him closer.
"No, the door's locked. No one's been in here since summer. Please kiss me Cody, you're wasting our time, baby." Mitch finally succeeded in trapping Cody against his body. He pushed Cody back several steps until his back hit the wall. The groan that slipped past Cody's lips gave Mitch all the permission he needed. Mitch pressed in, feeling the hard arousal inside Cody's jeans. Good, if Cody was already there, he didn't want to say or do anything to spook him. He ground his hips into Cody determined to show him exactly how much he wanted him. Cody's arms wound around his neck drawing him in for a kiss.
"I don't want to get caught, but your incredibly difficult to resist," Cody panted against his lips.
"Yeah?" He unzipped Cody's jacket and shoved it off his shoulders as Cody continued to lick and nip at his mouth.
"Mmm…huh," his lover murmured. Warm rough fingers held his jaw in place as Cody plundered his mouth, tongues tangling and twisting as the heat between them grew. Breaking from the kiss he quickly shed his own coat, not taking his eyes from Cody when he tossed his jacket toward the couch.
"We don't have much time till we're missed, but I need you." Mitch bit his lip.
Cody dropped his gaze to Mitch's lips and whispered, "I need you too, Mitch." The look in Cody's blue eyes held a promising glint as Cody lifted his chin in what was most certainly a challenge. Oh hell, yeah! Mitch's cock stirred and throbbed at the flash of lust reflected in Cody's eyes.
Mitch was so lost on this man, so turned on by him, he couldn't think right. He supposed there could be a small chance his siblings might come looking for them. He'd made sure the door was locked just in case, but at the moment he could honestly care less. All he cared about was making love to Cody before the lost his mind. Mitch grabbed the front of Cody's shirt and hauled him in closer, deepening the kiss. He slid his hands down the front of Cody's body until he found the hem of Cody's shirt and lifted it to feel the warm, tight stomach against his fingers.
Cody's breath hitched and Mitch smiled at the reaction he'd caused. He'd never known he could need someone as badly as he needed Cody. Never dreamed he would find a connection like the one he'd found with his cowboy. Mitch was truly a lucky man to be able to call Cody his. And at this moment, Mitch needed to be buried balls deep in Cody, so deep he couldn't tell where he began and Cody ended. He usually preferred to bottom, but today, right now he was overcome with so much emotion and the overwhelming need to feel Cody's body surrounding and yielding to his. Mitch pulled the hem of Cody's shirt over his head and went straight back to probing Cody's mouth with his tongue.
"I need to fuck you, cowboy…need you so bad." Mitch rocked into Cody, grinding their erections together as the kiss intensified. Cody's hand pushed between their bodies and fumbled with the button on Mitch's jeans. Mitch quickly pulled his shirt off dropping it haphazardly on the hardwood floor while Cody worked the silver buttons of his jeans open and pushed them down his thighs.
"Mmm…Camando? Just for me?" Cody nipped his bottom lip, "You're such a tease, Marshal Knox." Strong fingers gripped his cock as Cody began to stroke him from tip to base. Mitch couldn't release Cody from his Jeans fast enough. He finally managed to free Cody's arousal from all the material. Damn his man had the most gorgeous cock he'd ever seen, so thick and hard, begging to be stroked. He ran his thumb across the mushroomed tip, collecting the moisture gathering there and spread it across the head before bringing his thumb to his mouth. He pushed his thumb between his and Cody's lips as they kissed. "Taste yourself, babe. So fucking good."
Cody's tongue curled around Mitch's thumb and the strokes on his dick grew faster. He pushed two more fingers into Cody's mouth, "Get 'em nice and wet for me, baby." Mitch withdrew his fingers from Cody's mouth and lowered himself, kissing along the ridges of Cody's abs before dropping to his knees in front of his man. As soon as he gripped Cody's cock and slid it in his mouth, Cody's hands went to his head and long fingers tangled in his hair, softly nudging him on.
Mitch inhaled Cody's sweet musk, making his own dick grow harder, leaving it weeping pre-come against his belly. Fuck, he loved Cody's scent. He sucked Cody hard, swirling his tongue around the swollen tip and played with Cody's sack rolling his balls in his palm. Cody used a hand on Mitch's shoulder to balance when he toed a shoe off and worked a leg out of his jeans to spread them wider. Mitch ran his fingers along the sensitive area behind Cody's balls, and then pressed them against the soft pucker at his lover's entrance. Mitch heard Cody's moan as he devoured him to the root while pushing a finger in his tight opening. Cody growled and picked up the pace with his hips, fucking Mitch's face with uncoordinated strokes while Mitch drilled his fingers in and out of Cody's tight ass.
"Mitch, please fuck me. I'm so close." Cody gasp from above. Mitch withdrew his fingers and pulled away.
"Turn around, babe." Cody did as he was told. Mitch swatted at the tempting globe of Cody's fine ass as Cody stepped into position and then with both hands Mitch spread his man's butt cheeks open wide. His hands slid around to the sides of Cody's hips and gripped Cody's ridged cock as he leaned in and licked the most intimate spot. Cody's body shook and quivered as Mitch worked his lover's hole with his tongue and mouth, and continued pumping that rock hard cock in his fist.
Raw animalistic demand clawed at his spine, his cock leaked, aching with the need to be gripped in Cody's tight passage. He stiffened his tongue and drilled into Cody's tight heat with abandon. He drew a hand from Cody's prick and gripped his lover's ass cheek, spreading Cody completely open, for his own tasting pleasure.
"I'm too close. Now, Mitch, please," Cody begged, sounding out of breath.
"I love it when you beg for my cock, cowboy." Mitch laughed and sucked two fingers into his mouth getting them wet before pushing them deep inside Cody. Cody shoved back and began fucking himself on Mitch's digits. Mitch scissored his fingers, curling them in search of the spot he knew would make Cody beg.
"Please, Mitch…now." Cody growled.
Mitch pulled his fingers from Cody's heat and searched his front pocket for the little foil packet of lube. He wasn't planning on using a condom, they were past that now, both were tested and neither planned to step out of their relationship. Besides he loved the feel of Cody bare, skin to skin.
The foil packet ripped with a little help from his teeth. He spread the clear liquid on his dick and chuckled as the smell of coconut filled the air, mixing with the smell of arousal and man. Cody and his damn coconut flavored lube. Mitch stroked himself a few times spreading the lube on his cock. Mitch slapped Cody's ass then smoothed his hand over the rounded muscle and squeezed, kneading the firm flesh in his hand.
"God, I love your ass." Mitch slapped Cody's ass again, smiling at the muffled sound his lover made when his palm made contact with Cody's backside. Cody squirmed, his face pushed into the wall as he leaned forward widening his stance. Mitch rubbed two lubed fingers across Cody's entrance then pushed in slowly, making sure he was lubed up. Mitch grabbed his dick, running it up and down Cody's crack before he found his hole and slid into him. Mitch froze as tight heat gripped his cock.
"Ahh…Fuck!" His knees went weak at the feel of Cody's body melting around his.
"Fuck…yeah!" Cody hissed. "Damn, you feel good, but you gotta move."
Mitch gripped Cody's hips and drew back, pulling almost out before thrusting back in. The mind-numbing sensation was almost too much to take. He held on tight to all that firm flesh and pumped his body in and out of Cody.
He couldn't drive himself deep enough in this position, so he reluctantly pulled out and guided Cody to the couch. Cody placed one knee up on the sofa and bent over the back, exposing his hole to Mitch. Mitch grabbed a hold of Cody's hips and pushed his dick back in and lost himself in Cody's heat.
His balls churned, heat radiated and coiled in his spine. He wasn't going to last.
"Harder fuck me harder," Cody moaned and clenched around him.
Mitch pistioned hips, dropping his chest to Cody's back and drove into him with unrestrained force. Mitch Kissed the back of Cody's neck, sucking the skin between his lips, then biting to mark him.
"More!" Cody begged pushing his ass harder into Mitch's groin.
He pulled out and slammed in again, "You feel so damn good, Cody…gonna make you come."
Mitch slid a hand to the front of Cody's body and splayed his fingers flat across Cody's abs holding him in place as he pounded into him from behind. Mitch let his hand drop to Cody's straining erection and wrapped his fingers around his thickness, pumping with purpose. Mitch licked across the vein bulging in Cody's neck before nipping it with his teeth. Cody's body gripped him, sending waves of fire racing through his dick and settling heavily in his balls. They were both so close.
"Let me feel you come, cowboy," Mitch whispered against Cody's skin. Cody turned his head just enough for Mitch to capture Cody's lips with his. He fisted Cody's dick faster, stroking him with the same rhythm of his hips.
"Yes," Cody moaned, his dick jerked, shooting hot spurts of come over the top of Mitch's fist. The smell and feel of Cody's release was all it took to topple Mitch over the edge.
"Agh…Fuck, Cody! I can feel you coming," Mitch shouted as Cody's body squeezed his like a vice. His balls drew up tight and his heart beat raced, thundering in his ears as he emptied his seed into Cody's hot ass. He kept thrusting until he was completely spent and his legs threatened to betray him.
Cody collapsed beneath him and he went down with Cody. He slowly withdrew his softening cock from Cody's ass so he could turn him in his arms and cuddle against his cowboy as their pounding hearts and breathing returned to normal.
"Damn, I love you, cowboy." Mitch hooked his leg over Cody's hip.
"I love you too, Marshal." Cody's soft lips brushed across his.
♥READ THE SERIES♥
Book 1 – Double Full
Book 2 – Full Disclosure