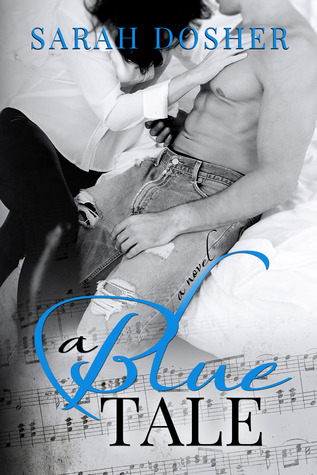 Enter to win an ecopy of this book using Rafflecopter below!!  Good luck!!!
---


The rock legend's daughter…
Eli Blue Savage doesn't trust musicians, especially those that idolize her dad. Her heart's been broken by everyone she's ever loved. Fairytale dreams and the music she locks inside her heart are all that keep her alive.
The musician with a dark past…
Deacon Chastain plays a blue guitar to match his rock idol, the man that saved him from a path of destruction. His life revolves around music; it's the only thing that saves him from the darkness.
Hearts beat to the same rhythm…
Broken and scarred by their pasts, can they find a way to heal and move forward? No matter the adversity, even the hardest of hearts can be softened by love – music is easy; life is hard.

Christine's 3.5-4 STAR Review!
Wow!  So I took a couple of days to review this book as I wanted it to settle in and sit with me for a bit.  It stuck with me and I couldn't stop thinking about it.  There were a lot of things that worked and some that did not but overall Sarah Dosher has done it again – created something so different from her Storm of Life series that was completely enjoyable, action packed, complete with sexy rockers and fun and intense scenes that kept me interested throughout my read.
Tears threaten to fall already and the story immediately sucks me in as the prologue introduces us to Eli Blue.  Eli's dad is Kirk Savage, a famous guitarist.  Much of Eli's life as a young child is following her dad on tours as he plays his beautiful music for his fans.  We the reader are treated to the behind the scenes of a famous rockstar life yet we are shown the beauty of a father's love for his only daughter.  Eli's dad dies tragically and she is left alone with a witch of a mother and now the sole heir to her father's company Savage Man, a music management company that signs new artists.
Eli has a knack for signing new talent and along with her best friend attends a concert for the band Unforgiven, where she meets guitar player Deacon.  Deacon has had a tough life growing up in foster homes and on the streets but he has always had his music.  He is so talented that even as a reader, I could feel and sense it in my bones and in my soul.  When Eli and Deacon meet, you can feel the attraction from the start.  As the story progresses, I realize that there is a history there as well which you will have to learn about yourself.  I liked Deacon – he was that mysterious and dark rockstar that you just wanted to get to know, peel the layers and get inside of his head to get to know more about.
I will say that what I loved most about this couple was the love the grew between them showing us how each one wanted to help the other conquer their demons.  I enjoyed this book because of the intensity I felt throughout.  Eli has a past that haunts her and you can literally feel the emotions emitting from the pages.  The secondary characters were amazing – from her best friend Willow to the cheating ex boyfriend, Shaw.  I want to mention that though  I loathe cheaters, I liked Shaw a lot…..He realized he made a huge mistake and attempts to win Eli back repeatedly and though she doesn't welcome his advances through it all continues to love Eli and protect her.  This is evidenced throughout the book and I really loved him!  Sometimes I almost wished that Eli would choose him!
Sarah's writing has definitely grown with each book that I have read.  She has given us something so completely different and I enjoyed the emotional intensity, the pain, suspense, sadness and ultimately true love.  The emotions were done so well!
What had me indecisive on how to rate was that at times while reading, I was confused.  I felt that some parts were rushed over and I wanted to know more.  I wanted more from Deacon's point of view, more depth into Deacon and Eli's relationship and connection and more insight into Deacon's past.  I think with more of this, I would have felt more of a connection with the characters and my rating would have been a more solid 4.
I think this book is definitely worth a read if you are looking for some intensity combined with some rocker love….Sarah did a great job and I look forward to more from this author <3


Avid reader and lover of many, many books.
On September 28, 2012 I got my first ever idea for a novel…it pretty much smacked me in the face. Two weeks later I decided to attempt writing my first novel. I am currently about half way done and hope to finish in January 2013 and then self-publish on March 30, 2013.