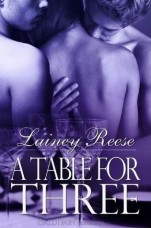 Enter to win an ebook copy of A Table For Three using rafflecopter below!  Winner will be selected on January 28th! 
5 STARS!!!
Summary
She's taking two bites out of the Big Apple.
New York, Book 1
Riley Ramirez knew that moving to New York would change her life. She just didn't expect it to start on her very first night in town. Her attraction to nightclub owner Kincade Marshall is instant, mind-blowing—and mutual. When she finds he is a Dom who requires her complete surrender, even when it comes to submitting to his best friend, Trevor Wellington, she finds herself willing and eager to embrace the sexual adventure.
From their earliest days, Cade and Trevor have shared everything, including women. Yet it only takes one night with Riley to know she is their forever lady. Convincing her that this is more than a temporary fling, though, will take every tool in their sensual arsenal.
As Cade and Trevor set their sights on Riley, however, they're unaware—until it's almost too late—that someone is targeting their fragile relationship. Someone who's taking deadly aim at Riley. Suddenly their struggle to keep their forever woman is a fight to keep her alive…
Warning: This book contains m/f/m ménage, bdsm play, lots of steamy p.d.a, and a fine dining experience that will leave you salivating for more.
Denise's Review
I have to say I LOVED A Table for Three… Cade and Trevor are YUMMY!!!!
On Riley Ramirez's first night in New York City, she asks a cabbie to take her to a nightclub. Nightclub owner Kincade "Cade" Marshall spots Riley in his club and immediately heads across the floor to her.
From the moment Riley and Cade meet, the attraction is tangible and to a very hot first encounter. When Cade invites his best friend, Trevor Wellington, over, the book gets very interesting and even steamer. Trevor starts calling her "little one" which is so endearing and adorable.
Trevor and Cade have shared many women together, and communicate with just looks, both men quickly sense Riley is different and they work to show her that she's the one they want forever.
The plot then begins to thicken as it appears someone wants Riley gone, permanently.
I loved they way Cade and Trevor played off of each other; each trust fund "men" who have found a way to make their own way in life and so sure that Riley is the one to complete their lives.
The men's reactions to the threats on Riley are powerful, you can sense their love for her; even the nurse in the hospital feels it.
The author weaves a cousin in, a police officer who I assume the next book will be about… I love when Cade and Trevor say "we don't share" when he is admiring Riley and she seems a bit unnerved. Its as if they see themselves as one.
Ms. Reese did an OUTSTANDING job at the end wrapping up the story; I have read a few menage stories and most just have to assume the HEA. Lainey's spells out HOW they made the arrangement work, including what other family members reaction; I truly enjoyed that!
About the Author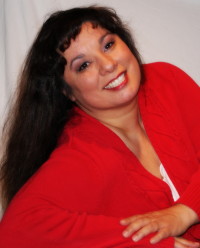 Lainey Reese wrote her first romance at the age of twelve. It was a tragic tale of two young lovers who were torn apart by their families and ended in the excessively messy death of the doomed pair. Since then her life has been filled with either the writing or the reading of all things romance.
Her first novel took her five years to complete and with a lot of blood sweat and tears, only to have it lost forever when her computer crashed. Lainey had no back ups. Although the loss was a crippling blow that left her heartbroken and crushed, she got back on the horse and tried again. This time with so much back up it borders on obsessive.
Another love for Lainey is photography. Lainey also enjoys all things movie. Movies are the next best thing to writing and Lainey takes pride in being called a film buff by those that know her. Her favorite genre' is musicals due to their innocent theatrics and the lively tunes; but a close second are all things science fiction.
Lainey lives in lovely Lake Stevens, Washington with her family and their many pets.
Website http://www.laineyreese.com/Home.html
Facebook http://www.facebook.com/#!/pages/Lainey-Reese/284485850123?fref=ts
Goodreads http://www.goodreads.com/author/show/3431863.Lainey_Reese