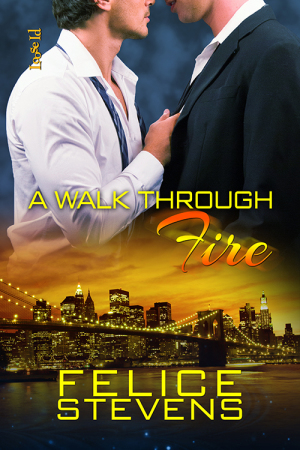 A Walk Through Fire

by Felice Stevens
on November 25, 2014
Buy on Amazon
Goodreads


Years after running away from an abusive foster family, Asher Davis still struggles with the guilt of leaving his foster brothers behind.  He's climbed to unimaginable heights as a ruthless, high-powered attorney, creating a life of power and control. He takes whatever and whoever he wants.

Blaming himself for the death of his parents, Dr. Drew Klein retreats into a shell of loneliness, merely going through the motions of life.  After a disastrous, short-lived marriage, Drew decides to leave his lucrative medical practice to set up a clinic for abused young men and women. The decision has more repercussions than Drew could ever imagine when the dark and sensual Ash Davis volunteers to help.

Although Drew isn't gay, Ash is inexplicably drawn to him. He vows to simply bed him and forget him like he's done with every other man.  However, Drew's sweet and caring nature and unexpected passion both stun and frighten Ash, who questions his right to any happiness at all.  And when Ash befriends an abused young man who unwittingly draws the clinic into danger, threatening Drew's safety and that of his beloved grandmother, Ash discovers that there is nothing he won't sacrifice to protect the love he never thought he'd find.
A Walk Through Fire tells the story of  Asher Davis and  Dr. Drew Klein. Ash is high power lawyer and Drew is a plastic surgeon who walks away from the money to start clinic for abused children. I adore the way these two men meet, it was really well done and the thing that brought them together tied in so well with the past Ash has fought so hard to keep buried.
Asher and Drew have wonderful banter and they truly form an unexpected friendship; I thoroughly enjoyed watching this developed.
This book crafts a cast of characters that I loved! I adored Drew's Nana; this wonderful lady's love for all the characters, the way she treated them and sees the best in them truly touched my heart. And I will say when Nana rolled up her sleeves during her chat with Asher, I felt the bile raise into my throat (yes you will know it when you read it)
I had so much fun watching Ash go from playboy to a man so wound up by Drew that he did not know what to do with himself.
I will say when these two finally connect, the heat is tangible to the reader but there is much more than just heat. The connection and Drew's desire for Ash to open up causes friction and though at times I wanted to shake these men the tension felt very true to the situation and the characters crafted.
It does take these two sometime to admit it,  Drew and Ash truly do complete each other; they bring out the best in each other as each find something they never thought they would have.
The event that brought them together truly worked; it felt real and the need they have for each other in that moment had me knowing that their connection runs deep.
As Drew and Ash decide how they will move forward, they are faced with obstacles but they have each other! And watching them stand strong for their relationship truly had me so proud of Ash.
The end of this book had my heart in my throat; I will not tell you why but I will say I was happy to learn Jordan, one of Drew's best friends will get a happy in book 2!
This book laid a lot of groundwork for more story in a few places; Asher has a foster brother he is searching for which I hope will weave into this story as the series develops.
The series will have books about other men; just the kind of series I love!
This is truly a series on my must read list; all the characters felt real.