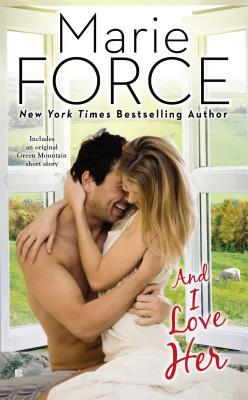 And I Love Her

by Marie Force
on March 3, 2015
Pages: 336
Buy on Amazon
Goodreads


As the oldest of the ten Abbott siblings, Hunter prides himself on his ability to solve other people's problems, but now he has a problem of his own—how to convince the woman of his dreams that his love is for keeps.

As the chief financial officer, Hunter Abbott manages the family's various business interests while "fixing" things for the people he loves. But the one thing he can't fix is his undeniable attraction to Megan Kane. Instead, Hunter is prepared to do whatever it takes to show Megan that he's the man for her.

Megan's sister rocks her with the news that she and her husband are moving overseas, leaving Megan truly alone. With her sister—and her job at the diner—going away, Megan finds herself leaning on the sexy, button-down accountant who isn't afraid to lay it all on the line for her. But Megan has watched too many people she loves leave her. Can she risk her heart on Hunter?

Contains a bonus Green Mountain short story!
Book 4 in the Green Mountain Series is the story of the oldest Abbott sibling, Hunter. I will pause and say I was a bit uneasy about Hunter's love interest being Megan Kane. Yes, the waitress from book 1 All you Need is Love; the one obsessed with Hunter's brother, Will.   I want to say upfront Ms. Force did a wonderful job at painting love for Hunter and Megan.
Hunter is the responsible Abbott, the CFO, the planner, the organizer and I want to say watching him start to lose control was so much fun!
Oh and I wanted to say Hunter's initials are epic! (nope not telling you read the book). I loved how each chapter started and set up the chapter with business and motivational speaker quotes; it truly felt so Hunter; really a masterful addition by Ms. Force.
Hunter and Megan finding love and acceptance in each other has me so glad I opened this book the minute it arrived and it has me thankful I had a whole day to just read and live in the moment with them. The backstory crafted for Megan allowed me to root for her and Hunter to find their happy! (nope again not telling read the book)
The family dynamic Ms. Force creates between the Abbott family members transcends words!
She manages to create distinct bonds between each family member and individual personalities for 10 siblings plus Mr. ( Lincoln) and Mrs. (Molly) Abbott and the adorable Elmer Stillman (the sibling's grandfather) along with the sibling's significant others.
Yes, that is a lot of people to keep track of but Ms. Force makes it feel seamless, you truly feel like you are in Vermont with the whole cast. She not only keeps the readers wanting more, wanting to see each family member obtain their happy but she does an outstanding job in keeping you updated on the couples from prior books as they build their lives.
The dialogue in this book had me feeling like a fly on the wall! And offers the reader a range of emotions as this cast interacts.
As with the prior books in this series, Elmer and Lincoln are adorable.  Witnessing these men trying to manipulate a happy to their "children" is priceless.
I am very much excited for book 5, It's Love, Only Love in November, this is Gavin and Ella's story, yes you can feel the tension growing in this book!
And for the rest of the series as I am so looking forward to watching his family grow and experiencing each sibling find love!  This is a must click series for me!
Thank you again Ms. Force for the Abbott family!
♥READ THE SERIES♥
Book 1 – All You Need is Love
Book 2 – I Want to Hold Your Hand
Book 3 – I Saw Her Standing There
Book 4 – And I Love Her