Enter for a chance to win an ebook set of AXEL, CAGE and BECK using Rafflecopter below!  Good luck!
---

DEE
I've always been good at wearing masks. Not letting anyone see the real me. I'm content being the happy-go-lucky best friend. The strong willed boss. The independent woman who doesn't need a man.
But the truth is I'm just as broken as the rest of you. I'm terrified that all it will take is one person to make all my carefully constructed walls crumble into fine dust. So I guard my heart with everything I have. Determined to never let anyone get close enough to hurt me again.
All is perfect until HE walks into my life. No… he doesn't just walk. He struts his good-looking, sex-oozing self right into my space and demands that I see HIM. Making me want what I know I can't have.
So I did the only thing I know how to do.
I run.
But he just won't let me go.
BECK
The second I see her, I know she will be mine. I see past the gorgeous smiles and heart-stopping laughter. I see HER. She doesn't want me to know her secrets or the past that haunts her, but I make it my mission to find out.
To make her mine.
She can run all she wants, but it will never be far enough to stop me from coming after her.
She's it for me and she knows it.
She's just too scared to admit it.
I truly enjoyed this story about Beck and Dee. This book was emotional and powerful, it really shows the reader so much of what they did not see in the first two books. Dee's POV during those times offers the reader an insight into her actions and allowed you to really understand what at first just seems like a woman pushing away a wonderful man, yes the wonderful man that is Beck.
My heart broke for Dee on so many levels; her backstory is gut wrenching, if you think you know Denise Roberts you are mistaken.  This woman's journey to the Dee we see at the end of Beck was true to the issues and demons she battled, it did not belittle her struggle or issues; yes I am trying to be vague as I want the readers to experience as I did Dee's struggles and her steps to move forward with those in her life in an honest and open fashion.
Ms. Sloan did a wonderful job showing the reader how deeply John Beckett saw into Dee's soul, he saw through the smile and saw what she tried so hard to hide from others.
I adored Beck, he is truly a man who fights for what he wants and understands the depth of emotions it takes to complete someone.
Oh and that brings me to Maddox.. I love Maddox even more.. and I hope readers catch the "hint" at his past because this poor man needs a happy.
Back to Dee… as I said her past will have you truly understanding the woman she is here along with many of her prior actions. As I read some of this I pondered; who would think you could hate a dead man more than you already do but yes reading Beck got me to hate Brandon (Izzy's ex) even more. It is amazing to me that one man can do so much damage.
As Dee finds a road to healing, a path forward from the heartaches of her past; the future comes barreling right into the Corps Security office and I will only say this at about 85% into this book my heart broke.. literally shattered into pieces, the imagery in the scenes that follow were outstanding and the emotions tangible!
Ms. Sloan hats off to you for creating a mental image of the Corps men that will live in my head forever.
There is a new character introduced in this one; I will not say how they play into the book but I will say I loved the introduction to "Ash", an introduction that started out as a whisper and came to a climax in a way that had me gripping my kindle.
I am very much looking forward to Cooper (Corps Security 3#) and it is not what you think… yes you have to read Beck to find out what that means too!
Thank you to Ms. Sloan for the enjoyable read and more importantly for a cast of characters that feels real!
P.S. I hope we hear more about Sway and David as you release Cooper and Locke!
P.S.S. Yes I am dying for the mystery that is Maddox.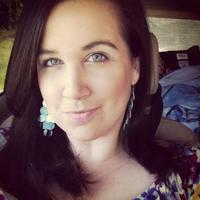 Harper lives in small town Georgia just a short drive from her hometown of Peachtree City. She (and her 3 daughters) enjoy ruling the house they dubbed 'Estrogen Ocean', much to her husbands chagrin. Harper has a borderline unhealthy obsession with books; you can almost ALWAYS find her with her eReader attached. She enjoys bad reality TV and cheesy romantic flicks. Her favorite kind of hero–the super alpha kind!
Harper started using writing as a way to unwind when the house went to sleep at night; and with a house full of crazy it was the perfect way to just relax. It didn't take long before a head full of very demanding alphas would stop at nothing to have their story told.
---
Series Reading Order
Book 1 – AXEL

Book 2 – CAGE