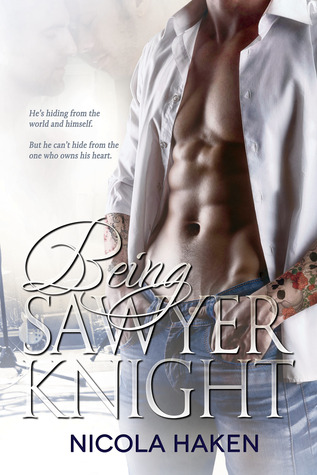 Being Sawyer Knight

by Nicola Haken
on May 27, 2014
Pages: 316
Buy on Amazon
Goodreads


As lead singer and guitarist of the internationally renowned Souls of the Knight, Sawyer Knight is living a life most men can only dream of. He's surrounded by music, fame, wealth, women throwing themselves at his feet. He has everything…

Yet he has nothing. 

Life as one of the world's most sought after rock stars is tiring, oppressive and lonely. He spends every day being who the world wants him to be, who his manager tells him to be, who his mother expects him to be… all the while fighting against who he really is. Truth is, he's used to it. He's actually gotten pretty good at pretending… at living the lie.

Until Jake Reed, his ex-best friend and the only person who's ever made him 'feel', waltzes back into his life as the band's new head of security. Jake wants Sawyer – always has, always will. Now, he just needs to get Sawyer to admit that he feels the same…


"You will be mine, Sawyer Knight. The faster you try to run the quicker you'll fall to your knees. Then, Sawyer… then you'll be too weak to resist."


(This is an M/M romance that is not recommended for under 18's due to adult language and explicit sexual situations
Being Sawyer Knight is a book I thoroughly enjoyed. Sawyer Bennett is the lead singer and guitarist of the internationally renowned Souls of the Knight. He is living a life most people only dream of, yet he is unfulfilled. The author did a wonderful job at painting Sawyer in this light without making him seem ungrateful.
Ms. Haken manages to create such a wide range of emotions, there were times my heart broke for Sawyer, there were times I was frustrated with Sawyer, there was one time I wanted to throttle Sawyer but in the end I mostly wanted to hug him and tell him it is OK to love Jake.  Oh Jake, I adored Jake.
From the moment this book opened I was drawn to Jake.
Being Sawyer Knight is told in both POV's. One man, who is so deep in the closet he is hiding from himself and the other is open about his sexuality and who he is.  I truly appreciated hearing both sides so to speak.
This book not only builds two characters but also a cast around them. One that allows the reader to feel transported into Sawyer's world.  Well not just Sawyer's world because I think one of my favorite scenes may be those with Jake's family.  These parents truly warmed my heart and had me wishing all parents would embrace who their children are.
Sawyer's bandmates were also well done, each crafted with their own personality and place in the band.  Isaac "Rip" was so well done, he not only added to the story but Sawyer's hiding wove right into Rip's happy in a way that I think many readers will end (I know I enjoyed this twist).
The end of this book had my heart racing; the way in which these two are outed worked so well. Because sadly the old adage is still true, sometimes you don't know what you want until you almost lose it.
The resolution this book comes to not just for Sawyer but for the his bandmates as well felt true to the story. I loved that these were adults with careers and goals but that time did not stand still and sometimes to move forward in life, change is part of that.  It is not about giving something up for love but about moving forward.
I am very much looking forward to reading more from Ms. Haken, I am anxiously awaiting Taming Ryder, book 2 in this series, a book written about a secondary character that truly peeked my interest.

Enjoy a look into book 2, Taming Ryder
When I got back to Ryder's apartment he was missing from the couch, the comforter tossed carelessly on the floor. Taking my shoes off and placing them neatly by the door, I wondered where he'd gone, until I saw him emerge from the bathroom. His eyes were swollen, his skin pale. He looked exhausted. Broken.
"You came back?" he said, stopping when he saw me. He ran his tense fingers through his dark messy hair and although I couldn't hear him breathing, I could see the harsh rise and fall of his bare chest.
"I just went for a run. I didn't think you'd wake up before I got back," I assured him, walking slowly over to where he stood. Placing tender hands on each of his shoulders I locked my gaze with his. "I told you I'd stay. I meant it."
"I just thought…"
"Well don't think. In fact I'm banning you from thinking unless you're with me," I said with a teasing smile.
"Yeah, I'm not quite sure that's gonna work," he laughed. It was only faint but it was genuine, and it warmed my heart.
"But you're okay?" I pressed, turning the conversation serious. "You weren't… doing stuff in there?" I stuttered nervously, out of my depth.
"I didn't cut myself if that's what you're asking," he deadpanned.
"I'm sorry, Ry. This is new to me. It's something I don't quite understand, but I'm trying."
"I know. But it's not something I do every couple of hours or something. You can trust me to be on my own."
"Well that's not true," I said with humour in my tone. "You've been an asshole without me." I winked at him and he smiled. Smiling back at him, I took my hands from his shoulders and walked away. "I should go to bed," I added, walking to the kitchen area for a glass of water. "It's been an eventful day."
"Sleep with me tonight."
My dick twitched in my pants but I mentally told it to pipe the fuck down. Of course the thought of being with Ryder, almost naked in a bed, made me hard. I wanted him like I'd never wanted anyone before, but I wouldn't allow myself to be with him that way right now. His head was confused, his heart broken. Next time I so much as kissed Ryder I wanted the only thing on his mind to be me.
"Just to sleep. Nothing more," Ryder added, obviously noting my hesitance. "I just don't want to be alone right now."
"Then you won't be." Ryder smiled awkwardly as if he were embarrassed. I didn't know how to take that away from him so instead I drank my water and decided if we started talking in bed, words would come naturally. At least I hoped they would. "I'll just take a shower. Go and wait for me in bed."
I needed a shower for more than just to clean myself and relieve my aching feet. I needed to compose myself, gather up enough courage to not go into Ryder's room, take hold of him and sob all the pain I felt for him out into his arms. I could do this. I could be strong for him. I knew I was capable, I'd done it for so long for my mom. I just didn't think, or rather selfishly I hoped, I'd never have to do it again.
After drying myself off and raking a comb through my hair I walked apprehensively into Ryder's room with a towel wrapped around my waist.
"Shit," I muttered when I reached the bed. "I don't have any clean underwear." I wasn't expecting Ryder to even talk to me today, never mind ask me to stay over at his place.
"I've seen your dick before, Mason," he said, raising an eyebrow. Shrugging, I dropped the towel and climbed into bed. It wasn't embarrassment about having my cock on show, hell I'm in porn for Christ's sake, it was because I didn't want tonight to be about anything sexual. Awkwardly, I lay down next to him and pulled the blanket up to my waist. He looked at me for a few long seconds but neither of us seemed brave enough to speak.
"You know," Ryder began. "When I saw you filming with Gio, I didn't like it. I'm not quite sure what that means."
"It's a job, Ry."
"And I know that. It's my job too. I never said it made any sense."
"Maybe it's because you didn't know where we stood."
"And I do now?"
"Well if you do you're doing better than me," I said, smiling as I reached out to touch his arm.
"I don't know what I know right now. I wasn't expecting today to happen like it did."
"Do you regret telling me?" I asked carefully, praying his answer would be no.
"No. I actually feel, I don't know…lighter. I always thought telling someone would make it worse. That I'd feel even more ashamed of myself."
"You have nothing to be ashamed of, Ryder. Nothing."
His hand reached out and he gently smoothed across my stomach with the pads of his fingers. His touch resonated through every nerve in my body, warming me, almost breaking me.
"I don't know if I can do what you want me to do," he uttered, guilt or possibly fear lacing his voice.
"I don't want you to do anything," I replied, feeling a little confused.
"You want some kind of relationship. I see it in the way you look at me. I…I wouldn't even know how."
"There isn't a rulebook, Ry. You're right, I do want a relationship with you, but this is new to me too. Guess we'll just have to learn together as we go along."
Smiling a soft, meek smile Ryder continued stroking his fingers across my stomach. I did the same to his arm, smoothing my hand up and down over his velvet skin as I stared into his eyes, trying to see past the pain.